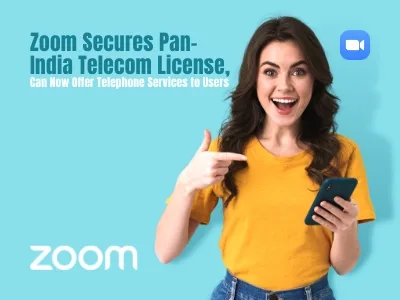 In a move that could significantly change the way we communicate, Zoom has secured a pan-India telecom license from the Department of Telecommunications of India. This allows the popular video-conferencing platform to now offer telephone services to its millions of users in India.
This development is sure to revolutionise how communication is conducted in India and beyond. With the new licence, Zoom will be able to provide a variety of capabilities, including integrated audio conferencing, voice over IP (VoIP), and more.
The article will examine the implications of Zoom's new telecom licence for consumers in India and other countries. We'll examine how this new calling period can improve your quality of life and increase your productivity. So get ready: it's time to get on board this revolutionary ride!
What Is Zoom Telephone?
Good news, everyone! With the launch of zoom telephone call features, you can now experience an all-new era of calling. This revolutionary service from Zoom is backed by a pan-India telecom license, making it the only Indian telecom provider to have its own telecom infrastructure and network.
Through the Zoom app, you can easily make calls to any landline or mobile number in India and make international calls to more than 120 countries at competitive rates. What's more, you can also make conference calls with up to 1000 participants at once—no need for any other services!
Unlike other ways of calling, zoom telephone call features allows users to call anytime, anywhere—even if they don't have an active internet connection. It's easy and secure; your conversations are protected with end-to-end encryption, making sure that all your conversations are kept safe and private no matter where they happen.
With zoom telephone call features, starting operations in India soon, this is great news not just for those who want a reliable telephone service but also for those looking for a secure way to communicate.
Know what is Google Passkey and its Benefits
Zoom Receives A Unified License For Telecom Services In India
Earlier this month, Zoom Video Communications, Inc. made headlines as it became the first non-Indian company to receive a unified license for telecom services in India. This license allows it to offer telephone services to its users via its video conference platform.
The Unified License gives Zoom permission to offer Voice Over Internet Protocol (VoIP) services in India across all 22 telecommunications circles, so now Zoom users will be able to make voice or video calls and access international voice calling services on their platform. This license also grants access to other telecommunication services like SMS and real-time messaging and lets them expand their business into the domestic Indian market.
This is a major development in the world of communication, as it opens up more avenues for people in India to stay connected with others. It also marks a new era of seamless communication across devices and networks. So now, you can use your phone, laptop, or tablet with confidence knowing that Zoom has you covered and provides world-class telephone service from one platform!
Zoom Can Now Provide Voice Calling And Messaging Services
Good news: Zoom isn't just for video conferencing anymore. The company has recently secured a pan-India telecom license from the Government of India, which allows them to offer voice calling and messaging services on the platform. This huge milestone signals a new era of calling and means that Zoom can now provide users with a full suite of telecommunication services across the country.
You may be wondering, "How will it work? Well, the voice and messaging with zoom telephone call features will be integrated into the existing Zoom platform, with no need to download any additional software or apps. All you have to do is sign into your Zoom account, and you can start using the new zoom telephone call features right away. Additionally, all your conversations are completely secure and encrypted.
Here's what Zoom's telecom license covers:
Voice over Internet Protocol (VoIP) services such as audio conferencing
SMS messaging and other multimedia messaging services (MMS)
Broadcasting services such as audio streaming, internet radio, podcasting, etc.
Video conferencing on demand
Call centre set-ups
The addition of these zoom telephone call features means that users now have access to an even broader range of services with zoom telephone call features, enabling them to stay connected better than ever before!
How Will This Impact Zoom's Business And Users In India?
This new milestone for Zoom is a game-changer and could lead to a few major changes in the way users of Zoom in India interact with the app.
Shortened Setup Time
For one, registering to use the service will become easier. Before the license was in place, those living in India would have to wait up to 45 days for their account setup to be complete; now it can happen much faster.
Easier Payment
In addition, making payments within the app will become easier and more secure as well. Users won't have to worry about entering payment or bank details; this data will all be stored securely within the app, making transactions simple and secure. And with a minimum of effort per transaction, Zoom makes it easy for anyone, from students and professionals to entrepreneurs and business owners, to make payments directly from their accounts with no fuss.
Enhanced Security
Finally, with this new license comes enhanced security for users in India. Zoom has now committed itself completely to the Indian telecom regulation guidelines. This means that calls made within the app, even outside of India, will all be encrypted using 256-bit AES encryption technology that exceeds industry standards, making it more secure than ever before.
What New Services Can We Expect From Zoom?
Zoom's acquisition of a pan-India telecom license has opened up a whole new world of possibilities for the platform, introducing a range of exciting new services. With the ability to offer telephone services, Zoom users now have access to the same communication infrastructure as traditional landlines and cellular networks.
So what can you expect from Zoom's new telephony capabilities? Here are a few highlights:
Voice Call Quality
With zoom telephone call features, users can now expect improved voice call quality on their calls with no compromise in video resolution. In addition to this, users will also benefit from zoom telephone call features such as echo cancellation and noise suppression technology, allowing them to make crystal-clear calls even in noisy environments.
International Calling
Another exciting feature that comes with the license is international calling. With access to the telecom network, Zoom can provide users with low-cost international calling options, reducing expenses associated with making international calls via traditional landlines or cellular networks.
Mobility And Flexibility
Zoom's acquisition of the license also allows it to offer more flexible solutions for businesses and organisations that need mobility solutions for their communication needs. This means that users will now be able to make and receive calls over multiple mediums, such as WiFi networks and mobile phones, making it easier for people on-the-go or in remote areas to stay connected.
How Will This Affect Other Telecom Operators In India?
The Zoom-operated telephone service isn't just a huge win for the company; it is also likely to have a big impact on other telecom operators in India.
But how exactly?
An Upsurge in Competition
Telecom companies in India will need to rethink their strategies as competitors such as Zoom get into the picture. With new players coming in and various plans to choose from, it is expected that the competition among these telecom operators will increase significantly. This could lead to better deals and better-quality services for customers.
Expansion of Service Reach
This move by Zoom could also potentially enable it to reach out to more consumer segments across rural areas and other unconnected parts of India. This could mean better coverage of services, giving citizens more access to reliable calling solutions no matter where they live.
Zoom's entrance into the telecom space opens up new possibilities for industry players as well as customers alike. For customers, it is likely that there will be more options for plans and services at competitive prices—a much-needed boost compared to current offerings from traditional players in the market.
The Future Of Communication: Blending Video And Voice
You might not know it, but Zoom's acquisition of the Pan-Indian Telecom License could open up an exciting new era of communication. With this license in hand, Zoom can now offer telephone services to its users, and this will be a game-changer for how people communicate with each other.
Think about it: what if you could enjoy all the benefits of video conferencing—like seeing others' facial expressions, body language, and more—while still being able to talk like you do on the phone? That's exactly what Zoom is striving to achieve with its new telecom license.
Combining Video and Voice
Zoom's foray into offering telephone services will allow users to not only interact with each other through video chats but also hold conversations over voice. The telecom license gives access to the PSTN (public switched telephone network) so that Zoom can provide a seamless calling experience without any interruption or latency.
Improved Quality of Communication
The combination of video and voice offers improved quality of communication for both individuals and businesses alike. No more worrying about whether someone heard or understood what was said; users can make sure that their message is heard loud and clear. And with high-end encryption protocols in place, all conversations are secure from prying eyes and ears.
Zoom Telecom In The UK
You may not be aware, but Zoom has also secured a telecom license in the UK and has plans to launch in the near future. This means that Zoom users will be able to make calls within the UK using their regular phone number.
But that's not all. Zoom's telecom license in the UK means it is now able to offer telephone service to customers across the country at an affordable price. With this new offering, Zoom users will be able to make calls both locally and internationally without any extra charges or roaming fees.
Zoom has also integrated several zoom telephone call features into its telecom service that are specifically designed for business customers. Customers can use functions including phone forwarding, transcription of voicemail, call recording, video conferencing, and more. For organisations of all sizes, all of these characteristics may be leveraged to enhance general operations and deliver better customer service.
The addition of Zoom's telecommunications infrastructure in the UK is just another step towards global expansion for the company, setting a strong foundation for them to continue innovating and bringing more products and services to customers worldwide.
Conclusion
With Zoom now having a pan-India telecom license, it has taken a giant stride towards entering the telecom sector and becoming a player in the digital calling space. With this new license, Zoom will be able to offer its users in India the ability to make and receive calls using its mobile and desktop apps. This could be a game-changer in the digital calling space as it will offer convenience, flexibility, and cost savings to users in India. With the telecom license in place, Zoom can now cement its position as one of the leading digital calling solutions in India in the years to come.