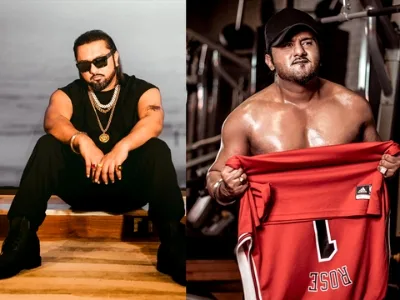 Yo Yo Honey Singh's comeback with his new album 3.0 has his fans going crazy over the news and his songs. But, where was he for these few years? Everyone was confused and shocked when Yo Yo Honey Singh suddenly disappeared at the peak of his career. But after Honey Singh's comeback, he talked about his health problems. He even opened up about suffering from Bipolar Disorder which was a huge shocker for all.
And his comeback has made all his fans the happiest as they have all been waiting for the comeback of their favourite singer, rapper, and music producer.
There's no denying the fact that Honey Singh disappearing was a loss for the music industry, be it Bollywood music or Punjabi music. His rap music and music videos were highly missed by his fans. But, where did Honey Singh suddenly disappear? Let us tell you about it!
Honey Singh Talks About Suffering With Bipolar Disorder
While Honey Singh was on the peak of his career, and his fans were all busy grooving on his most famous songs like, Brown Rang, Chaar Bottle Vodka, Blue Hai Pani, Blue Eyes and so on, this rapper and musician was slowly diving into a serious health condition. Yo Yo Honey Singh was going through Bipolar Disorder.
In an interview Honey Singh said that he was suffering with God syndrome. His Bipolar Disorder condition was getting worse due to consumption of alcohol and required seven doctors from around the world. Still, most of the doctors had given up and had just advised to keep him on medications.
But soon he started recovering. Due to his health problems Honey Singh gained a lot of weight. In another interview he expressed how people are not accepting him due to his changed looks and sudden weight gain. But, he did not give up, he not just recovered from his health problems but also focused on his fitness and transformed his body.
Honey Singh revealed that celebrities came out for his support. Deepika Padukone helped him connect with doctors for his mental health problems. Shahruk Khan and Akshay Kumar were constantly in touch with him and taking his health updates.
Yo Yo Honey Singh New Album
Honey Singh had announced his comeback with his new album 3.0. in September 2022. This one was his most awaited album as it was his huge comeback after almost 5 years.
He recorded around 48 songs for his new album and out of which he finalized 10 songs. Honey Singh had revealed that the title of his new album was given by Tina Thadani, his new lady love, whom Honey Singh has confirmed to be dating.
The first song of this album 'NAAGAN' is a Punjabi song penned and sung by Yo Yo Honey Singh and it's music is composed by Bass Yogi. Naagan by Yo Yo Honey Singh is indeed a very captivating song with very catchy beats. Just the teaser of Naagan had everyone grooving already!
Yo Yo Honey Singh's Most Famous Songs
Let us look back at some of the great hits by Honey Singh and few of Honey Singh's most famous songs.
Brown Rang: 2011
Dope Shope: 2011
Sunny Sunny: 2013
Lungi Dance: 2013
Love Dose: 2014
Party With The Bhoothnath: 2014
Desi Kalakar: 2014
Yaar Na Miley: 2014
Dheere Dheere: 2015
Chaar Bottle Vodka: 2015
One just cannot resist grooving on the top songs of Honey Singh! Don't you agree?
Well, Honey Singh's comeback has not disappointed any of us and his new album is sure to be in your favourites list!
To stay updated with the news of your favourite artists, stay tuned to Vasai Virar News. Also, get daily updates regarding local news, bollywood news, education, technology, and food.