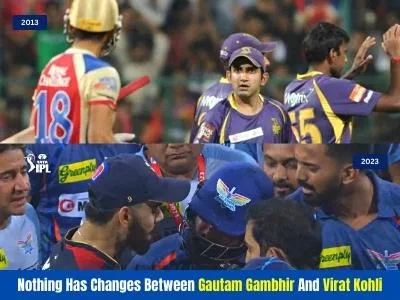 Sports News: One big news is coming from the sports world. Everyone is buzzing only about the Lucknow cricket match between Royal Challengers Bangalore and Lucknow Super Giants.
Yesterday, at Atal Bihari Vajpayee Ekana Cricket Stadium, Gautam Gambhir and Virat Kohli have fined 100% of their match amount for breaching the IPL Code of Conduct during a match.
Why did this happen?
Why management made Virat Kohli and Gautam Gambhir pay such a big penalty?
On Monday, while playing a cricket match game, RCB star batter Virat Kohli and LSG mentor Gautam Gambhir had a heated exchange during the whole match.
Want to know what exactly happened? Read the article till the end.
Fight Between Virat Kohli And Gautam Gambhir
Kohli was noticeably lively on the field during LSG's batting innings, frequently celebrating dismissals with aggressive gestures. After Krunal Pandya was dismissed, Kohli even put his finger over his mouth to shush the crowd at the Ekana Stadium. This could have been a response to Gambhir's similar behaviour at the Chinnaswamy Stadium, following LSG's narrow one-run victory.
After the match had ended and the players were exchanging handshakes, it was noticeable that Naveen and Kohli were engaged in a conversation that seemed unfriendly. It was not the first time that the two had been involved in a heated exchange, as earlier, during the game, they had a confrontation after Naveen was dismissed. Additionally, Kohli was observed having an intense discussion with Amit Mishra on the field as well.
During a conversation between Kyle Mayers and Virat Kohli, Gautam Gambhir interrupted and approached Kohli. Despite efforts from KL Rahul and Avesh Khan to prevent Gambhir from getting too close to Kohli, the situation escalated, and the players had to intervene to separate them. Initially, Kohli attempted to defuse the situation, but it soon became tense.
Kohli and Gambhir have had a history of altercations, with a notable incident taking place in 2013 during an IPL match where Gambhir was captaining the Kolkata Knight Riders and Kohli was leading RCB.
Twitter Reaction After The Fight Between Virat Kohli And Gautam Gambhir Match
Amazing win tonight. Love the massive support for us at Lucknow. Thank you to all the fans for supporting us ❤️ pic.twitter.com/lzmWwb34My

— Virat Kohli (@imVkohli) May 1, 2023
Heated conversation between Virat Kohli and Gautam Gambhir. pic.twitter.com/69VR0EIWv2

— Mufaddal Vohra (@mufaddal_vohra) May 1, 2023
Virat Kohli has the 100% record of giving it back. pic.twitter.com/zPU08t7ndx

— BALA (@erbmjha) May 1, 2023
Gangs of Wasseypur part 1 and part 2 pic.twitter.com/byoyo75LSU

— Sagar (@sagarcasm) May 1, 2023
The Major Highlights Of The Virat Kohli and Gautam Gambhir Match in Lucknow
LSG was defeated by RCB by 18 runs in their home game.
LSG was all out for 108 runs in response to RCB's score of 126/9.
The LSG skipper, Rahul, was unable to play for most of the game due to a hip-flexor injury and only came to bat in the penultimate over.
Both teams have played nine games each, with LSG ranked third on the points table and RCB in fifth place. Each team has won five games so far.
Last Words
Both the players Virat Kohli and Gautam Gambhir were found in violation of Article 2.21 which incorporates:
Public acts of misconduct
Unruly public behavior's
Inappropriate comments which are detrimental to the interests of the game
However, Naveen-Ul-Haq (Afghanistan Pacer) was found in violation of Article 2.21 level 1 breach, cause him fined 50% of his match fee.
this is all about the Indian cricket match. Vasai Virar News always try to bring viral news and trending news to our valuable readers. So stay updated with us for such an amazing news.