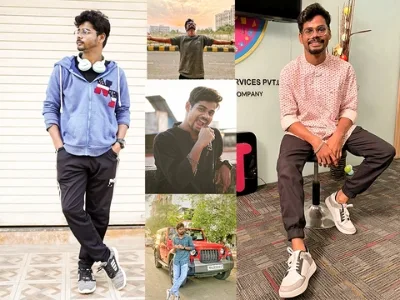 Do you know who Davesh Pokale is? He is a viral Vasai Virar creator who has a huge audience on his social media platforms. He is among the famous Influencers of Vasai Virar. Davesh is known for being a successful Instagrammer and YouTuber.
Mainly known for his vines, Davesh Pokale who is a Theatre Artist, Video Creator and Video Editor, has also been invited to the screenings of many marathi movies. He has been promoting marathi serials and marathi web series on his social media platforms along with the cast which is a huge milestone for every aspiring influencer.
But, did this happen easily? No! Nothing comes easy, and Davesh has shown how true hard work can help you reach your goals no matter how big they are.
How Did Davesh Pokale Start?
Born in Ratnagiri and brought up in Nalasopara, Davesh decided to take Science for his 11th and 12th studies. While he was in 12th, he experimented with his writing skills. Soon he performed a mono act on his own writeup and stood third in the event held in his college. He then realised his liking towards the field of acting and decided to explore more.
After 12th he took BMM and also kept taking part in theatres and dramas. Davesh's parents were always very supportive of him being into this field of entertainment.
Also, reach about the Famouse Vasai Virar Creator Soochna Shetty
He soon started working consistently on growing his social media platforms with funny, unique, and entertaining content. Since then there's no stopping him and he has been very consistently creating amazing videos.
Davesh Pokale On ZEE Marathi, ZEE Yuva, Screenings & Award Show
This Vasai Virar Creator is not just a social media star but he has also been seen on big channels like Zee Marathi and Zee Yuva. It is such a proud moment for all Vasaikars to see him on such big channels.
He has met a lot of marathi celebrities as well and has just a few months ago promoted a Marathi serial of Zee marathi.The serial is named '36 Guni Jodi', that stars Aayush Sanjeev and Anushka Sarkate. You will be surprised to know that he promoted this serial along with the main leads and on top of that in collaboration with the official Instagram page of Zee Marathi.
He also promoted the marathi web series 'Athang' on his instagram account, starring marathi actress Tejaswini Prakash.
That's not it, Zee Marathi planned to bring together 36 Influencers for the promotion of this same serial. A reel with 36 Influencers was posted on the official Instagram page of Zee Marathi and Davesh Pokale was one of them.
On ZeeYuva, one of Davesh's Reel was featured in the 'Laav Re Toh Video' segment of the channel. How amazing it is that his hard work and creativity is reaching such huge platforms. To have one's Reel being featured on a big channel on television is a dream for many Instagrammers and Davesh is surely an inspiration for them. His Reels were also featured on a news channel 'Saam Tv News' in its segment 'Reel Cha Feel'.
Recently, he was also invited on a Marathi Award Show, 'Navarashtra Film & OTT awards 2023' whose telecast partner was Sun Marathi. The award show was by Planet Marathi. During the event he met many known faces of the Marathi Entertainment Industry like, Samir Chaughule, Shiva Rangole Kulkarni, Akshay Tanksale, Kiran Gaikwad and so on.
Davesh has also been invited to a few screenings namely, 'Escaype Live' streaming on Disney Plus Hotstar, then screening of Armaan Malik's song 'Ohh Isha' from the movie 'Major',
Brand Collaborations
Davesh has also been a part of a few brand promotions like, BountiFul- a vegan cosmetics brand, then Daiso Japan which has opened in Capital Mall Vasai, and also Zingoy cashback.
Not just brand promotions but he has also posted many reels in collaboration with big names like Zee Marathi, Planet Marathi, Marathi Actress Sayali Sanjeev.
Davesh Pokale's Videos
He is known for making comedy Marathi videos on Social Media Platforms like Instagram, Facebook, and YouTube. His videos are very engaging and get a lot of views on all the platforms. His Reels especially are featured on a few Tv channels as well.
Whether being an Instagrammer or a YouTuber, Davesh has set his example in creating videos and entertaining audiences of all groups. Not just the audience but even celebrities of the Marathi Industry are quite entertained by his videos and some are also a part of his Reels.
Do you want to know about his growth on Instagram and YouTube? Let us tell you about it and we are sure you will be inspired by his journey on social media.
Instagram
On Instagram Davesh has been experiencing a very good growth. He has 35.7K followers and has a very good engagement on all his posts and reels. His most watched Reel has around 18.3 Million views on Instagram which is a very huge number and a dream for many.
And the best part is that this one is not the only Reel of Davesh that has crossed the milestone of a million views. You won't believe but not just one or two, Davesh's around 26 Reels have crossed 1 Million views. What a talented and hardworking creator he is can be seen in the growth of his social media platforms.
And if not a million then still almost all his Reels have a big number of viewership on Instagram
YouTube
Davesh Pokale has his own YouTube Channel named 'Davyaaaaaa'. He has a good number of subscribers, right now his subscribers on YouTube are around 7.69K and he has posted 174 videos on his YouTube channel. He has consistently been posting entertaining videos and has also received a good number of reach.
Davesh Pokale is an inspiration for Vasai Virar Creators who want to grow seamlessly on social media and entertain their audiences.
For more such updates, stay tuned to Vasai Virar News. Here you will also get daily news updates and information on health, technology, food, and Bollywood news.