Finally on 6th December 2022 Vasai Passport Office has started and citizens of Vasai Virar are availing these services. But now two different political parties are claiming to be behind the establishment of Passport Seva Kendra Vasai Virar.
Want to know what is this controversy and who is making this controversy.
Let's know more about it.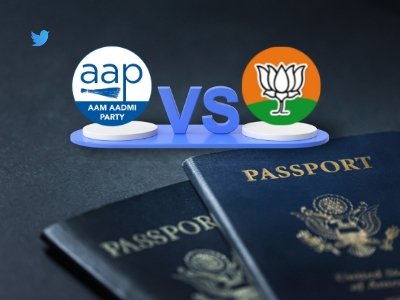 Claim By BJP and AAP
Members of AAP (Aam Aadmi Party) are saying that Aam Aadmi Party has tried to set up Vasai Passport Office Seva Kendra. The Aam Aadmi Party had been appealing to the government for years for a passport office in Vasai. They also saying that they faced many hurdles in the process like land issues, and location issues. Still, they keep sending appeals to different authorities.
Aam Aadmi Party was concerned about more than 15 Lack people of Vasai Virar. They don't want people to rush for passports to Mumbai, Thane or other regions as most people from Vasai-Virar go abroad for study or business and need a passport for that.
Whereas members of the BJP (Bharatiya Janata Party) are stating that they took efforts to establish Passport Office in Vasai East. They were appealing to the government to start an office in the Vasai Virar region.
History of the Vasai Passport Office
Vasai Passport Office was approved after 2 years and established on 6th December 2022. It started at the post office in Evershine City, Vasai East.
Earlier Vasai-Virar came under Thane district, but after the separation of Thane and Palghar, Vasai Virar division came under Palghar district and lost the passport office for the district. There are more than 25 lacks residences in the Vasai Virar region. People of this region visit other countries extensively for study and tourism. For that, they require Passport and these region were not having any passport offices nearby
In 2001, a passport office was started in Thane and its branch was opened in Mumbai. So people have to visit these cities to get their passports made and visiting these cities is very hectic and time and money-consuming. Even though the passport application process is online, you have to visit an actual Passport Seva Kendra to submit the documents. Then it was becoming more hectic and time-consuming when it comes to police verification.
Therefore, it was necessary to have a passport office in the Vasai Virar division.
Click here to Know Online Passport Applying Process and Documentations Needed
Controversy on Twitter
Members of both AAP and PJP are twitting about the establishment of the Vasai Passport Office. They even commented and debated on each other's tweets stating they were the reason behind the Passport Seva Kendra at Vasai East.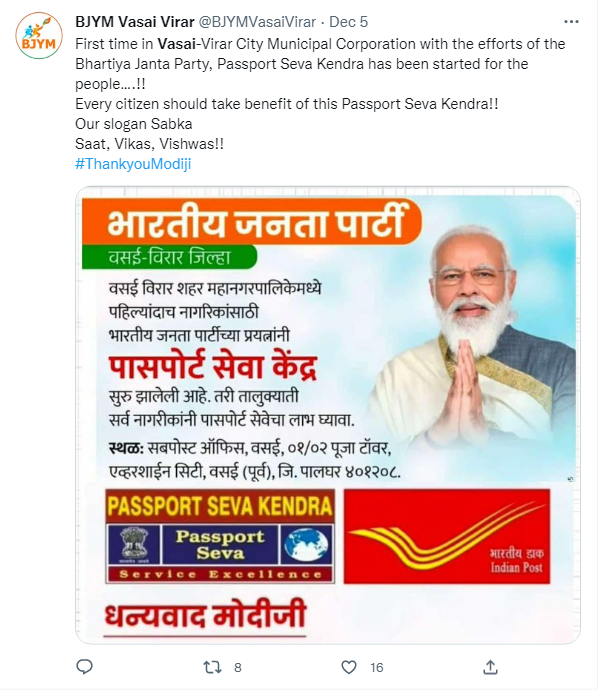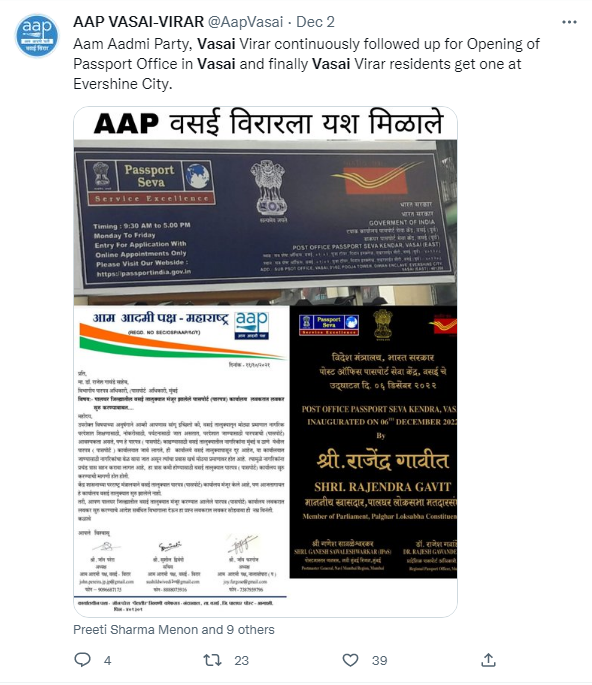 Last Words
Whoever was the reason for the Vasai Passport Office establishment, Vasai Virar people are happy and going to enjoy this service at its fullest.
To know more about the Passport Office in Vasai east stay tuned with Vasai Virar News.
Also, get information about Food, Education, Health, Jobs, Entertainment, and the Top 10 things.