Are you about to participate in Vasai Marathon 2022? Or planning to participate in the future?
Then you must know a few details about the marathon.
Marathon is a good source of good physical and mental health benefits with other advantages. Hence you should participate in the marathon to lead a healthy life. It also creates confidence to get social.
Let's dive into the essential details of the Vasai Marathon 2022.
History of Vasai Marathon
With the scenic beauty of Vasai-Virar, strategically located cheering zones, and excellent facilities for runners, VVMCM offers the best running experience in India.
2011 was the year when the Vasai Virar Municipal Corporation Marathon (VVMCM) started as a state-level event. Since then, it has grown into one of the country's premier National level running events. It also provides the highest prize money for Indian athletes, including professional and amateur.
In 2012, conceived by Aryanz Sports PR and Events for Vasai-Virar City Municipal Corporation, VVMCM came under the Athletic Federation of India (AFI). The Vasai Virar Municipal Corporation Marathon started with 700 participants and now has more than 18,000+ runners across various categories.
It was started in 2011, and due to COVID-19, the marathon race was canceled; hence 2022 is the 10th year of the Vasai Marathon 2022.
Now, let's know more about this marathon race in 2022.
Vasai Marathon 2022 Important Details
| | |
| --- | --- |
| Marathon/ 11K Run/ 5K Run/ Dhamaal Dhaav Venue | New Viva College, Virar West |
| Half Marathon Venue | VVCMC Chimaji Aappa Ground, Vasai Goan, Vasai West |
| Race Flag Off: | |
| – Marathon | 6 am |
| – Half Marathon | 6.20 am |
| -11 Run | 6.10 am |
| -5K Run | 7.25 am |
| – Dhamaal Dhaav | 8.30 am |
Rout Map for Vasai Marathon 2022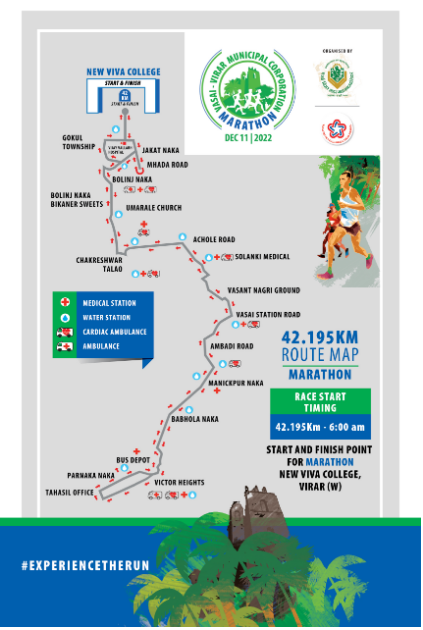 What Are The Rules For Marathon 2022?
Applying candidates need to be of 18 years or more (born on or before 11th December 2004) for Marathon and Half Marathon.
Applying candidates must be 15 years or more (born on or before 11th December 2007) for the 11K Run and 5K Run.
Races like Full Marathon, Half Marathons, 11K, and 5K Run are compulsorily timed categories.
One applicant can apply for the Vasai Marathon using a single form. Sending multiple entry forms can cause the rejection of all forms.
Group Entries are acceptable for all race categories.
On entry confirmation, runners will be further classified into age categories for prize money.
Valid proof of residence is a must for foreigners residing in India who wish to participate. Eligible candidates for prize money will get prize money in Indian Rupees only.
If a candidate requests the cancellation, they will not get a refund.
Once the category is selected at the time of registration, candidates are not allowed to change the category in the future.
Dhamaal Dhaav participants are not eligible for a medal or a t-shirt. This race is all about refreshments and fun, as it is not a timed race.
Running bibs of confirmed participants will not be given on race day.
Participants not belonging to Vasai Virar (Outstation) can collect their running number and timing chip from New Viva College, Virar West.
Confirmed participant's identity and proof of residence may be verified.
An age-category race requires a minimum of 15 participants. If it receives 15 participants, it will be dismissed, and the applicants can claim a refund or apply for the nearest age-category race.
Marathon Certifications
Rules During The Race
Participants need to keep big tag data, which must be reflected at the starting and end points, and middle of the race.
Runners need to start the race on the start time. Starting running before or beyond the permissible time limit will not permit running.
Who Is On Leading Board Of Vasai Marathon?
Following is the list of all the record breakers marathon participants:
| | | | |
| --- | --- | --- | --- |
| Bib No. | Name | Finished Time | Overall Rank |
| 9 | Mohit Rathore | 02:24:15 | 1 |
| 6 | Sukhdev Singh | 02:31:36 | 2 |
| 3 | Dharmender | 02:32:33 | 3 |
| 4 | Pankaj Dhaka | 02:35:03 | 4 |
| 8 | Brahmprakash | 02:35:51 | 5 |
| 10 | Harender Chauhan | 02:36:57 | 6 |
| 7 | Abhimanyu Kumar | 02:49:14 | 7 |
| 12 | Mahesh Wadhai | 03:27:00 | 8 |
Questions Related To Vasai Marathon (FAQs)
Question: How to Register Online for the marathon?
Answer: Visit the official website for the marathon, www.vvmn.in, to register. 
Question: What things do you get along with Bib?
Answer: At the time of Bib collection, candidates will receive a running bib timing chip.
Question: What is the Offline Marathon Registration process?
Answer: Candidates who wish to register themselves offline for a marathon can visit Marathon Office Vasai Virar at Vasai-Virar Municipal Corporation Head Office, Bazar Ward, Virar East-401305.
Question: What is the Registration Fee for Online and Offline registration and other race?
Answer: Rs.750 is the fee amount for both online and offline registration. Rs.700 is the fee for a half marathon, 11K Run, and 5K Run. And Rs.100 for Dhamaal Dhaav.
Question: What is the time duration for entry confirmation and Bib number?
Answer: As soon as you register, you will receive the confirmation email. Whereas the Bib number, you receive within 15 days on the email.
Question: Can candidates change their selected race categories after registration?
Answer: No. Candidates needed to change their selected race category once registered.
Question: Is there any refund policy in case?
Answer: No. The authority doesn't entertain refunds.
Question: Can someone else collect someone's Bib and timing chip?
Answer: Yes. Someone can collect Bib and timing chips on behalf of applied candidates. But the collecting person needs to show a few things like;
-Printed copy of confirmation email, email confirmation, or SMS forwarded by the participant on the smartphone.
-Identity proof of participant (Example: Aadhar Card)
– Identity proof of collecting person (Example: Aadhar Card)
Question: Can candidates collect the Bib number and timing chip on race day?
Answer: No, they cannot.
We hope you received all the essential details regarding the Vasai Marathon 2022. And you are ready to take participate in the coming future.
Also, get information about Food, Education, Health, Jobs, Entertainment, and the Top 10 things.