Vasai Fort is one of the popular spots for Bollywood movie shooting in Mumbai. There have been several movie scenes, and songs shot here at Vasai Fort. And these movies and songs are of some of the best actors and actresses of Bollywood.
Recently there has been a spread of the news of Nora Fatehi in Vasai. Let us tell you about this latest buzz in Vasai.
Ayushman Khurrana in 'An Action Hero'
Ayushman Khurrana's upcoming movie 'An Action Hero' will be a surprise for his fans as the genre of this film is different from what we have always seen Ayushman in. Unlike his previous films, the movie does not focus on portraying a particular social message.
For this movie, the famous song 'Nasha' has been reprised as 'Jehda Nasha,' starring Nora Fatehi in the song along with Ayushman Khurrana. The song already has a lot of fans, and now after its remake, it has been gaining even more popularity.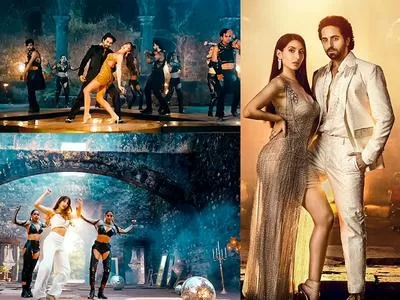 Nora Fatehi And Ayushmaan Khurrana Shoot In Vasai Fort
The 'Jehda Nasha' song features Nora Fatehi and Ayushman Khurrana. The song is a recreation of Amar Jalal Group and Faridkot's 'Nasha.' The song has some exceptional dance moves, and this won't come as a surprise that there's Nora Fatehi. But, Ayushman's dance moves are surely going to surprise his fans.
This one is a peppy dance number and will surely be on everyone's party playlist. The song is very catchy and gets everyone grooving on its beats. The duo leveled up the song's charm and made it a visual treat for all.
Well, this is not the first time the film industry has used Vasai Fort as a shoot location. You will be surprised to know how this place has been quite famous for the entertainment industry for years.
Vasai Fort Movie Shooting
Vasai Fort has been a very popular spot for shooting Bollywood Movie scenes for many years. Many Bollywood actors have been here, and the people of Vasai have enjoyed watching their favorite stars create magical scenes in their hometown.
Movies like Josh, starring Shahrukh Khan, had many scenes especially fight scenes, that were captured in Vasai Fort. This shoot dated back almost a decade ago.
Also, other movies like Khamoshi, Love Ke Liye Kuch Bhi Karega, and Ram Gopal Verma's Aag shot scenes in Vasai Fort.
There was also a buzz about Shahrukh Khan coming to Vasai Fort in a helicopter to shoot a few scenes from his movie 'Zero.'
Talking about the one in recent years, the movie 'Raabta,' which starred Kriti Sanon and Sushant Singh Rajput, also shot a few scenes in this historic beauty of Vasai.
Music Videos Shot In Vasai Fort
The Chimaji Appa Fort has witnessed many blockbuster song shoots. Vasai Fort is a favorite place for Bollywood actors. Let us tell you more about the songs that used this beautiful place to make their music videos look even better.
The song that always has everyone grooving on its catchy tunes, Whistle Bajaa from the movie 'Heropanti', which starred Kriti Sanon and Tiger Shroff, was shot here.
Then the superhit Bollywood song, Poster Lagwa Do from the movie 'Luka Chuppi' starring Kriti Sanon and Karthik Aryan, shot some beautiful dance pieces at this location. Kriti Sanon surely seems to have a special place for Vasai Fort in her heart, as a song from her debut movie was also shot here, and again she had a few songs and movie scenes shot here at Vasai Fort.
The song Peeyu Datke from the movie 'Marjavaan' which starred Sidharth Malhotra and Tara Sutaria, also has a few scenes that were shot at Vasai Fort. The song starred Nushrat Bharucha along with Sidharth Malhotra. The song was a hit, and the fort makes the music video look even better.
If we go back a decade, the song Kambakkt Ishq from 'Pyaar Tune Kya Kiya' was shot here and was quite famous. Also, the mesmerizing song, Haye Mera Dil Chura Ke Le Gaya, starring Aishwarya Rai Bacchan and Chandrachur Singh from the movie 'Josh' was again shot here.
International Hit Song Shot In Vasai Fort
2015 released, 'Hymn For The Weekend' by the famous band Coldplay has some very beautiful and notable scenes shot here in Vasai Fort. The song begins with a breathtaking view of Vasai Fort and portrays the location quite a few times throughout the music video.
The best part is seeing Beyonce and Sonam Kapoor look godly in our historic beauty. The song was an International Hit, and everyone loved how beautifully it was shot.
Vasai is not just a lovely hometown to many but is also an attractive spot for the entertainment industry, who wish to add an aesthetic factor to their work. Vasai Fort images prove how peaceful and beautiful the place is for those who have never been here.
Stay tuned to Vasai Virar News for such daily updates. Also, get information about Food, Education, Health, Jobs, Top 10 things in Vasai, Nalasopara, and Virar regions.