Do you know the breaking news of use of Indian Rupee in Foreign Trade?
This is the biggest news for the nation that Sri Lanka and Russia are about to use the India Rupee instead of US Dollars.
This is going increase our Indian Rupee in the International market and also going to help countries which are short on US dollars.
When and how this happened?
The use of Indian Rupee in Foreign Trade or International Trade occurred when the Indian Government announced that we were looking into ways to involve other nations who are specifically short on dollars in the Indian rupee trade settlement process. The notification of trade settlements between India and other countries in India Rupee was released on 11 July 2022, but the confirmation we received on 9 November 2022 by the Commerce Ministry.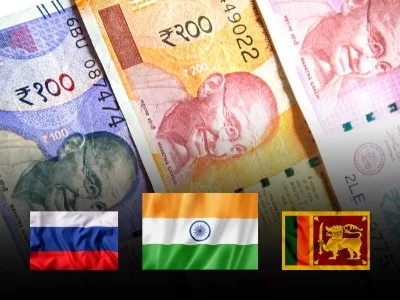 According to the reports, banks from India's neighbouring island nation have opened special rupee trading accounts called Vostro accounts. It will permit the user to make international trade invoicing, payments and settlements in Indian currency.
What exactly is the Use Of Indian Rupee In Foreign Trade going to be?
Utilizing Indian Rupee in international trade means Sri Lankan residents can now carry $10,000, which is INR 8,26,823 in physical form. More specifically, Sri Lankans, Russians and Indians can use Indian rupees instead of US dollars for international transactions or trade with each other. Since July this year, the Government of India has been trying to bring dollar-deficient countries into the rupee settlement mechanism.
Countries were going to hold Vostro Accounts which represent the special rupee account for international transactions between the designated countries.
Highlights of the Use of Indian Rupee in Foreign Trade
First of all, the Reserve Bank of India's (RBI) clearance is needed before the Indian rupee can be designated as Sri Lanka's official international currency or foreign currency.
Then you need to have an account in INR dubbed Special Vostro Rupee Account (SVRA).
Now, South Asian Association for Regional Cooperation (SAARC) region's neighbouring island country has asked RBI to support trade as well as tourism.
Shi Lanka will be the most benefits availing country for using the Indian Rupee in international trade, as it has been dealing with a server economic crisis and dollars shortage for the year.
After this event, the island countries will receive the required liquidity support.
The Sri Lankan public can now carry US 10,000, which is Rs. 826,823 in solid form.
Majorly the country Sri Lanka and Russia can make international trade in Indian Rupee.
Last Words
According to reports, the country Sri Lanka has agreed to use the Indian Rupee, whereas Russia is talking about it. Let's see who all countries are going to connect with India.
Stay tuned with Vasai Virar News to receive latest news of nations.
Also, get information about Food, Education, Health, Jobs, Entertainment, and the Top 10 things.