News Today: Recently, both Bharat Matrimony and Swiggy have been facing major backlash on Twitter. People have tagged them as 'Hinduphobic". #BoycottBharatMatrimony and #BoycottSwiggy are trending on Twitter. But, what exactly created this outrage against them? 
This year Holi and Women's Day fell quite close and many brands tried to make the most of these two events for their marketing. But things didn't go well for BharatMatrimony and Swiggy.
Their Holi Ads are the major factor that has created this whole controversy. There has been a constant backlash by a huge number of people on Twitter and both the platforms might have to face some economic loss.
BharatMatrimony Holi Ad Controversy Is Trending On Twitter
BharatMatrimony's latest Holi Ad has created a huge controversy. This known brand tried to take complete advantage of Holi and Womens falling on consecutive days but their marketing strategy went completely wrong.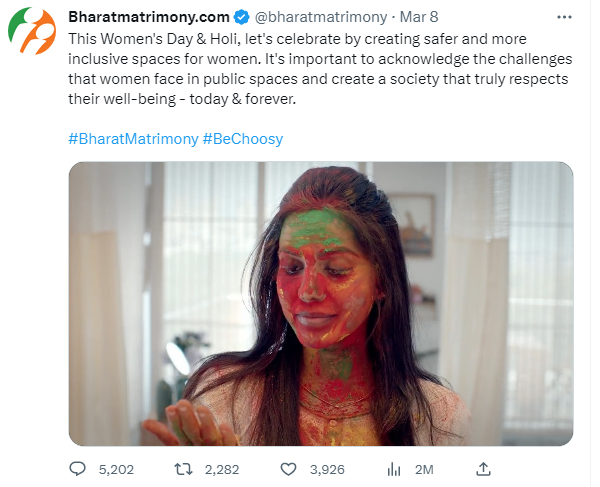 The Ad shows a woman whose face is completely splashed with colors. The woman then starts washing her face. The colors start wearing off, and a few bruises become visible. Finally when she cleans her face completely, it is full of bruises. Then there are certain phrases added to the scene which are giving a very wrong message against the festival.
The advertisement says, "Harassment during Holi leads to immense trauma. Today, a third of women who've faced this trauma, have stopped playing Holi." It further says, "This women's day let's choose to celebrate Holi in a way that is safe and inclusive for women."
It directly frames a particular festival and religion in the bad frame and responsible for women's harassment which did not go very well with the people. Everyone has shown immense outrage against the ad especially on Twitter. #BoycottBharatMatrimony is trending on twitter due to this controversial piece of advertisement.
Is BharatMatrimony Hinduphobic?
Majority of Tweets have slammed BharatMatrimony to be Hinduphobic. People are also comparing BharatMatrimony's other festival wishes posts to this particular ad. This has now become a religious controversy. There are Tweets where people have shown BharatMatrimony's wish post for Eid which is very positive and alongside this their portrayal of Holi Festival framing it as a reason for harassment against women.
The Boycott BharatMatrimony seems to be going a long way due to its controversial remark on a particular religion. This Indian Matrimonial site has been slammed for it discrimination against a religion.
Trending On Twitter: Swiggy Holi Billboard Controversy
If you think BharatMatrimony was the only brand who has to face the Boycott on Twitter then you are wrong! They are not alone. Swiggy has also been a part of a similar controversy and has been facing backlash on Twitter for its wrong portrayal of the same Hindu Festival, Holi.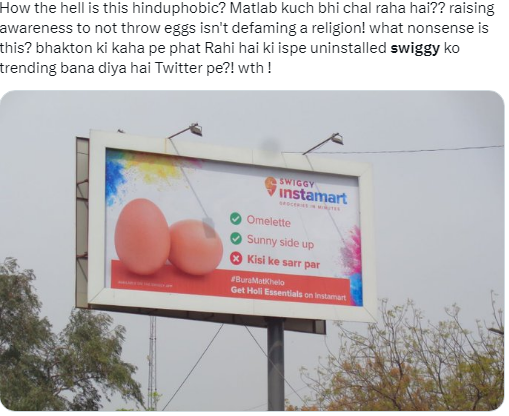 Swiggy's billboard promoting instamart on the occasion of Holi framed this beautiful hindu festival in a very wrong light. It consists of two eggs and three options of its usage. The first says "Omelette" second "Sunny Side Up" and third "Kisi Ke Sar Par", where the first two options have been green ticked and the third option has been cross marked. It also includes a hashtag "#BuraMatKhelo" followed by a line "Get Holi Essentials On Instamart".
The Swiggy billboard is very clearly portraying the festival in a wrong way. This beautiful festival of colors could be used in a very positive way to promote one's services and it went very negative with its marketing which has hurt the sentiments of many.
Swiggy Faces Backlash on Twitter
People on Twitter are not taking this lightly. They have expressed their disappointment against the brand and many have even decided to uninstall Swiggy. #BoycottSwiggy has been trending since then and there are chances that Swiggy might face extreme economic loss.
People are claiming Swiggy to be Hinduphobic as well. Many are questioning how come they never do such marketing stunts during the festivals of other religions. And tons of Tweets are urging to Boycott Swiggy.
Conclusion
People of every religion feel immense love and respect for their Festivals. No one would like their festival being used to highlight something as bad as a crime or being portrayed negatively. There are certain times when brands are so engrossed to make their marketing stand out that they forget to consider the sentiments of the people. Though they might have initially planned to give out a different message, the final output didn't go well with the people. Also, this is not the first time that a brand has hurt a particular religion or disrespected its beliefs. Hence #BoycottBharatMatrimony & #BoycottSwiggy Is Trending On Twitter.
What are your thoughts on this? Don't you think festivals are meant to spread joy and positivity? And big Brands who are followed by and looked up to by huge amounts of crowds should be responsible enough to maintain that positivity.
For more such updates and daily news make sure to stay tuned to Vasai Virar News. Here, you will also get information and news on Bollywood, Technology, Education, Food, and Top 10.