Are you looking to purchase a watch in India but need to know which brand to choose? Look no further! We have created this guide to provide you with a closer look at India's top 10 watch brands.
From the classic and sophisticated designs of Raymond Weil to the luxury and intricate craftsmanship of Patek Philippe, we will explore the best watches India has to offer. We'll also share useful information about each brand, including key features, pricing, and customer reviews.
The options are endless, whether you're looking for something fashionable and timeless or something more eccentric and daring. Read on to discover all of the top 10 watch brands in India.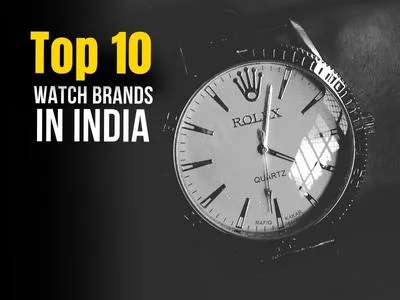 Introduction To India's Watchmaking Industry
India has a long history of watchmaking and is home to some of the world's most esteemed watchmakers. With an impressive range of brands, India offers watches that cater to every taste and budget. From traditional timepieces with intricate craftsmanship and classic design to modern luxury watches with advanced technology, India has something for everyone.
To help you find the right watch for your needs, here's a closer look at India's top watch brands:
Titan: Titan is one of India's oldest watchmakers and offers traditional yet chic timepieces for both men and women.
HMT: Established in 1961, HMT is an iconic Indian brand known for its precision engineering and classic design.
Fastrack: Fastrack is a modern brand that brings together urban style and advanced technology. It offers a range of digital watches in vibrant colours, perfect for the young at heart.
Sonata: Sonata produces affordable, yet stylish sports watches for both men and women. The brand also manufactures eco-friendly watches made from renewable materials like bamboo and recycled plastic.
Timex Group India Limited (TGIL): TGIL produces fashionable timepieces ranging from traditional wristwatches to modern smartwatches. The brand also manufactures special edition watches inspired by Indian cultures, such as the festive collection, which features intricate motifs inspired by India's architecture, art, food, culture, etc.
Ranks Of The Top 10 Watch Brands In India
India is home to a vast array of watch brands that cater to different tastes and budgets. To narrow it down, here is a look at the top 10 watch brands in India.
Titan: This Indian brand has been around since 1985 and has become one of the most popular watch brands in India. It offers both analogue and digital watches with features such as water resistance, chronographs, and interchangeable straps.
Timex: This well-known American brand has been around since 1854 and is considered one of the best watch brands in India. It manufactures a wide range of watches, from casual wear to formal attire, making it an excellent choice for any occasion.
Fossil: This popular American watch brand was established in 1984 and is renowned for its stylish designs and advanced technology. Its watches range from classic to contemporary, providing something for everyone.
Fastrack: Fastrack is an Indian-based brand that specializes in creating trendy watches for younger generations. From smartwatches to hybrid designs, Fastrack offers an extensive collection of affordable watches with modern features.
Casio: Casio is a Japanese watchmaker with over 100 years of experience in the industry. It offers sporty watches that are built tough enough to withstand any kind of weather condition or activity, making them perfect for anyone who needs reliable timepieces on the go.
Tissot: Founded in 1853, Tissot is world-renowned for its precision and quality. It offers a wide range of watches in India, ranging from casual to luxury models.
Rolex: An iconic Swiss brand, Rolex has been producing some of the world's most prestigious watches since 1905. Its timepieces are well-known for their sophistication and craftsmanship.
Tag Heuer: Established in 1860, Tag Heuer is famed for its precision timepieces and impressive collections of dive watches and clocks in India.
Seiko: This Japanese manufacturer offers an array of well-made watches that combine style with performance across several price points in India.
Longines: This Swiss watch manufacturer has been offering quality timepieces since 1832, including sporty quartz models as well as classic mechanical watches made with precision movements in India.
These are just some of the top 10 watch brands in India that you can choose from when looking to purchase a new timepiece.
A Brief History Of Watchmaking In India
India has a long and proud history of watchmaking, though the most prominent brands have only been around for a few decades.
Titan
Titan is India's leading watch brand, founded in 1984. The company boasts an extensive range of watches, with models to suit every budget and style. There's something for everyone, from the popular Raga series to the luxury Gold Plus collection.
Timex
Timex is another iconic Indian watchmaker that has been around since 1987. The brand produces sophisticated timepieces that are well-crafted and stylish yet still affordable. Timex's signature feature is a "Fast Wrap" clasp that makes it easy to adjust the straps for optimum comfort.
Maxima
Maxima is another prominent Indian watchmaker with a rich legacy of producing premium watch designs since 1985. From classic analogue watches to intricately designed digital pieces, the Maxima range has something for every taste and style. With their signature skeleton dials and tooled leather straps, Maxima watches are sure to make a statement on any wrist.
Trends In The Indian Watch Market
Watches in India are valued for their combination of craftsmanship and design, making them popular amongst connoisseurs. In recent years, the Indian watch market has seen an increase in demand for an array of different timepieces, from sporty styles to luxury models.
Sporty Styles
Sports watches have become increasingly popular, with some of the top Indian watch brands, such as Titan and Fastrack, pushing the envelope on innovation with GPS tracking and other advanced features. These watches are gaining traction amongst the younger demographic as they are perfect for outdoor activities and can keep up with their active lifestyle.
Luxury Models
The luxury watch sector has also experienced growth in demand from Indian consumers. Customers are looking for watches that combine style and functionality from brands such as Rolex, Longines, Tag Heuer, and Omega. The rise in online purchasing has made it easier for customers to purchase these high-end pieces without having to compromise on quality or design.
Also Know Top 10 Wireless Earbuds Of 2023
Factors To Consider When Buying A Watch In India
Here are some of the most crucial factors when it comes to finding the perfect watch:-
Price
Price is typically the first factor people think about when buying a watch. Indian watch brands offer a range of watches at different price points, so no matter your budget, you can find something that fits you.
Style
The style of your watch will depend on how you plan to use it. If you're looking for something with a classic, timeless design that will last for years, then try looking for watches with minimalistic or classic aesthetics. But if you're looking for something trendy and fashionable, then go for something bolder and more eye-catching.
Brand
The brand you choose speaks volumes about who you are as a person and what kind of statement you want to make. India's top 10 watch brands provide quality timepieces that can match any lifestyle or occasion, making them perfect gifts or keepsakes to last a lifetime.
Movement
Not all watches are created equal—one of the main distinctions is between quartz (battery-operated) watches and mechanical (manually wound) watches. Quartz movements are generally more accurate and require less maintenance than mechanical movements, but they also lack the charm and complexity of mechanical watches, making them ideal for everyday wear when accuracy matters most.
How To Care For Your Watch To Ensure Longevity
When it comes to ensuring the longevity of your watch, proper care and maintenance are essential. Here are a few tips to keep in mind:
Store your watch away from direct sunlight and extreme temperatures.
Make sure to keep all the parts and pieces together when not in use, as some watches may become unbalanced over time.
Clean your watch with a soft, damp cloth regularly, and avoid using any harsh cleaning chemicals or solvents.
If you notice any irregular signs of wear or tear, it is best to have it serviced by a professional watchmaker at least once a year.
By taking these precautions, you can ensure that your watch lasts for years to come.
The Impact Of Technology On The Watch Industry
The watch industry has been greatly impacted by technology, which now offers customers a degree of convenience and personalization that was previously unheard of. By introducing smartwatches, digital displays, and other cutting-edge features that make donning a watch a distinctive experience, many well-known watch businesses in India are leveraging this trend.
The introduction of touchscreen display technology in luxury watches is among the most noteworthy advancements in the sector. Although this kind of technology may have historically been considered a premium good, Indian watchmakers are now using it more frequently. With just one touch, smartwatches can now control audio playback, measure fitness, and even track stress levels.
Other popular advancements include biometric security locking systems, mobile device compatibility, and data transmission capabilities that allow users to sync their watch with other devices like smartphones or tablets. Users no longer need to carry additional devices because of these features, which enable easy access to their data wherever they are.
Additionally, technology has made it simpler for customers to find the ideal timepiece for their requirements and to personalize particular elements of their watches, such as straps or dials, in accordance with their personal preferences. With so many options accessible, Indian watchmakers have been able to produce watches at affordable prices that are both fashionable and practical.
A Comparison Of Automatic Vs Quartz Watches
Automatic watches are powered by a mainspring and rotational force, while quartz watches use a battery. Further comparisons between automatic watches and quartz watches are given below:-
Automatic Watches
Automatic watches use mechanical movements, which means they don't require batteries to power them. Many people choose automatic watches for their classic style and timeless craftsmanship. They also tend to be more accurate than quartz watches since they don't depend on battery power or external signals for their accuracy. Additionally, many automatic watches have features like a perpetual calendar, moon phase display, and power reserve indicators.
Quartz Watches
Quartz watches use the vibrations of tiny crystals such as quartz in order to keep time accurate. They're often a more affordable option than an automatic watch due in part to their straightforward design and fewer moving parts. They frequently come with features that appeal to tech-savvy customers, such as LED displays, date compasses, and chronograph functions, even though they are not as precise as an automatic watch.
The best 10 watch brands in India have something for everyone, whether you're looking for a highly accurate timepiece or one with all the bells and whistles. Prior to making your choice, compare the features of both quartz and automatic models to find the one that is the ideal match for your lifestyle and price range.
The Most Expensive Watches Available In India
For luxury watch connoisseurs in India, there are a variety of expensive, high-end options available that cater to their refined tastes. From Panerai to Rolex, a number of top brands offer an elite selection of watches that are sure to become your pride and joy.
Panerai
One of India's most expensive watch brands is Panerai, with models ranging from the Luminor 1950 3 Days Automatic Ceramic at around RS 70 lakhs up to the Submersible Carbotech at over RS 1.30 crore.
Rolex
Rolex also offers some eye-popping luxurious pieces, from the Yacht-Master II at nearly 39 lakhs to the Sky-Dweller 18-karat Everose Gold at approximately 5.85 crores.
Patek Philippe
Patek Philippe's watches are considered some of the world's best, and its loyal fans can find several luxurious models within India's priciest range of watches, such as the Aquanaut Chronograph at around 44 lakhs or the Nautilus Chronograph for about 1.30 crore.
So if you're looking for a timepiece that is truly out of this world—with prices, too—you have plenty of options from India's top 10 watch brands!
The Best Watches For Different Occasions And Purposes
India is home to a plethora of watch brands, from classic luxury models to trendy sports watches. Depending on your purpose and occasion, you can pick one of the many top 10 watch brands in India for the perfect combination of performance and fashion.
Fashionable Watches
For style-savvy individuals, there are plenty of fashionable watches that can fit any wardrobe. From Emporio Armani's elegant black and gold accents to TAG Heuer's classic stainless steel look, you'll find a selection of timeless designs that are sure to make a statement.
Sporty Watches
If you're looking for something more practical, consider one of the many sporty watches available in India. Brands like Fossil, Casio, and Timex offer a variety of features, such as water resistance and shock resistance, that can handle anything from rough hikes to weekend beach trips.
No matter your style or activity level, with India's top 10 watch brands, there will always be something to suit your needs. Whether you're dressing up or down, there's bound to be a perfect timepiece out there for you.
The Emergence Of Smartwatches In India And Their Popularity
Smartwatches have become the must-have accessory for Indian consumers in recent years. In addition to being a fashion statement, they are also useful for everyday tasks such as keeping track of your activity levels and staying connected with your friends and family.
The top 10 smartwatch brands in India include:
Apple Watch
Fitbit Versa
Mi Band 5
Fossil Hybrid Smartwatch
TicWatch Pro
Amazfit GTS 2e
Garmin Vivoactive 4S
Samsung Galaxy Watch 3
Huawei Watch GT 2e
Huami Amazfit GTR 2e
These top smartwatch brands all offer different features to cater to different needs, from fitness tracking and sleep monitoring to contactless payments and blood oxygen level tracking capabilities. They also vary in price range from budget-friendly models to higher-end options, so there is something available for everyone's needs and preferences.
Luxury Watch Brands In India
Whether you are looking for something traditional or something more statement-making, these brands have you covered.
Here's a look at some of the top luxury watch brands in India:
Rolex: One of the top luxury watch brands in India is Rolex, which has been in business for over 100 years and is known for its precision engineering and timeless styling.
Omega: Omega watches are renowned for their high-quality Swiss craftsmanship as well as their innovative features such as chronometers and automatic winding mechanisms.
Tag Heuer: This brand produces watches with a stylish, modern design that makes use of innovative materials and technology.
Breitling: Breitling watches are known for their bold designs and feature a range of intricate complications that enhance the precision of their timekeeping performance.
Cartier: Cartier watches are sophisticated and elegant, featuring classic design elements like Roman numerals and intricate engraving work on the cases and dials.
Rado: Rado watches have a sleek, contemporary design that makes them perfect for everyday wear while still keeping up with the latest trends in timekeeping technology.
Longines: Longines watches feature simple yet elegant designs with a touch of luxury, making them great choices for formal occasions or everyday wear alike.
Tissot: Tissot offers classic designs inspired by traditional Swiss watchmaking techniques alongside modern chronograph models with cutting-edge technology.
Popular Watch Brands In India
There are many well-respected watch brands in India, each with its own distinctive style and appeal that makes it worth considering. Here is a look at the most popular watch brands in India today:
Titan: With a wide range of styles and collections, Titan is a very popular brand throughout India. Those looking for classic, sophisticated pieces can find exactly what they are looking for here—plus, they offer excellent customer service and warranties.
Citizen: This well-known Japanese brand offers high-end watches made with advanced technology. Especially known for its chronograph stainless steel models, Citizen is perfect for those seeking luxury watches that last.
Fastrack: An affordable alternative to other watch brands, Fasttrack offers an array of design-focused pieces that won't break the bank—perfect for those who want to make a stylish statement without sacrificing quality or value.
Casio: One of the top watch brands in India, Casio has become synonymous with quality timepieces over the years, thanks to its reliable craftsmanship and diverse selection of styles and designs.
Fossil: Bringing together fashion and function, Fossil stands out from other Indian watches through its use of materials such as leather, stainless steel, and gold plating to create timeless designs with eye-catching details.
Timex: A leader in sports watches since the 1950s, Timex has evolved over time to become one of the best-loved watch brands in India, offering great value alongside accuracy and durability, making them perfect for active lifestyles.
The Best Men's Watch Brands In India
Are you looking for the perfect watch to make a statement? Look no further—India's top 10 watch brands have something for everyone. From classic timepieces to modern, statement-making designs, these watchmakers are continually innovating and pushing the boundaries of watchmaking.
Titan
Titan has been at the forefront of Indian fashion since the release of their iconic Titan Raga, and Nebula Collections feature luxurious design elements such as diamond-studded bezels, rose gold detailing, and intricate engravings.
Fastrack
Fastrack takes a fresh approach to watches by offering bold designs that appeal to millennials. From colourful straps and dials to sleek modern styles, Fastrack provides a range of innovative options for today's fashionable consumers.
Sonata
The Best Women's Watch Brands In India
Sonata is one of India's most established watch from the top 10 watch brands and is known for its classic elegance and dependable craftsmanship. Their watches are designed with practicality in mind; their men's collection features sporty models with water resistance capabilities up to 300 meters.
In India, there is no lack of stunning watches made specifically for women. There are numerous luxury watch brands from top 10 watch brands list that appeal to the sophisticated lady, from traditional and timeless styles to contemporary and eye-catching ones. Let's examine some of the top watch companies from top 10 watch brands in India in more detail:
Titan
One of the most popular watch brands in India, Titan offers elegant and classic designs that are sure to become timeless classics. Their signature collections include skinny straps, delicate bezels, and intricate details that help to make each piece unique.
Fastrack
Founded in 1998, Fastrack has quickly become one of the most sought-after watch brands for young women. Their stylish designs feature bold colours and modern materials like silicone and leather straps. Fastrack also offers smartwatches with advanced features like fitness tracking and notifications.
Fossil
Fossil is a renowned brand for watches made with quality materials like stainless steel, ceramic, leather, and rose gold. Their collections reflect current trends with slim silhouettes, colourful accents, and contemporary styling.
No matter what style you're looking for, these top 10 watch brands in India have something to offer every woman looking for a timepiece that reflects her personality and taste.
Swiss Watch Brands In India
India is no stranger to luxury watch brands. One of the most prominent and respected names in the world of watches—Swiss watches—has been made widely available in India, thanks to advancing technology and rising disposable incomes.
Swiss watchmakers have been perfecting their craft for centuries, and no brand has been better at delivering precision than the Swiss. Swiss watchmakers use the highest quality materials and cutting-edge technology to create watches with superior accuracy, innovativeness and functionality.
The following are some of the most esteemed Swiss watch brands represented in India:
Rolex: Rolex has been a leader in luxury watchmaking since its inception and produces some of the highest-quality watches on the planet. The brand is synonymous with precision and has long been regarded as a status symbol amongst discerning buyers.
Omega: Since its founding in 1848, this Geneva-based luxury watchmaker has made defining time-telling instruments for generations of adventurers around the globe—including none other than James Bond himself!
TAG Heuer: TAG Heuer is synonymous with style, performance, and innovation, producing timeless pieces that reflect classic elegance while also offering cutting-edge features such as highly accurate quartz movements.
Longines: Longines is one of Switzerland's oldest watch companies, established in 1832 by Auguste Agassiz to serve as "the watchmaker for sports." The company is known for using traditional techniques to bring out contemporary designs, resulting in elegant timepieces that have stood the test of time for over two centuries now.
Affordable Watch Brands In India
For those on a budget, there are still a variety of great watch brands in India. Whether you're looking for something sporty and casual or traditional and timeless, there's an option that won't break the bank.
Swiss Army Watches
Swiss Army is a well-known international brand with watches to match any style and price point. You'll find something perfect for any occasion from simple analogue pieces to signature chronographs.
Fastrack Watches
Fastrak watches combine modern technology with classic designs for a contemporary look that will stay in style. The brand offers a range of customizable watches in all shapes, sizes, and materials, making it easy to create your own personalized timepiece.
Sonata Watches
Sonata is another beloved Indian watch brand known for its affordable and stylish collections. The company has been in business since 1997, and in that time, they've created some truly iconic designs perfect for both everyday wear and special occasions.
High-End Watch Brands In India
There are some Indian brands that stick out when it comes to luxury and high-end watches. These companies sell incredibly well-made watches with intricate patterns, pricey materials, and unmatched attention to detail. Let's quickly review a few of India's best watchmakers.
Titan: One of India's most popular watchmakers, Titan has been creating intricate timepieces for over 30 years. They specialize in a wide range of watches, from classic analogue styles to modern smartwatches.
Sonata: This brand is known for its elegant, sophisticated designs that feature classic details like Roman numerals and simple indices. The materials used are all top-notch, ensuring maximum durability and quality in every watch they make.
Fastrack: This is another hugely popular Indian watchmaker specializing in trendy and stylish watches with a youthful vibe. Fastrack watches come in an array of vibrant colours and styles to suit any taste or occasion.
Louis Philippe: This brand has been crafting elegant watches since 1989, offering everything from classic leather bands to sleek stainless steel styles. They also boast sophisticated automatic movement systems for precision timing accuracy.
HMT: Established in 1961 by the Government of India, HMT specializes in creating robust mechanical timepieces that are built to last for years. HMT watches offer exceptional value for money when compared to other high-end brands on the market today.
These five Indian watchmakers are just the tip of the iceberg when it comes to luxury timepiece manufacturers—there are many more out there that specialize in crafting exquisite watches perfect for any occasion or budget!
Conclusion
When it comes to impeccably crafted and stylish timepieces, India's top 10 watch brands have something for everyone. Whether you're looking for a classic and timeless look, an avant-garde design, or a statement piece, these brands have it all. There's something for everyone, from the renowned and iconic Titan to the stylish and sophisticated Timex.
So, if you're in the market for a new watch that exudes class and sophistication, there's no better place to turn than India's top 10 watch brands. With their beautiful designs, impeccable craftsmanship, and unbeatable prices, you'll be sure to find something you love. And, with so many options, you'll be sure to find the perfect watch for any occasion!