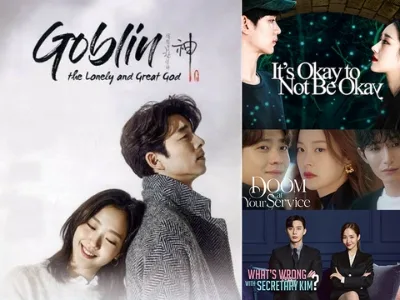 Anneyong K-Drama fans! Are you looking for the top 10 must-watch K Dramas in 2023? Well, you have landed on the right page as we have the 10 best k dramas till date listed below.
And if you haven't watched any of these K-dramas even in 2023, then you are really missing out on the best Korean web series of all time.
In the below list, you will find Korean dramas from different genres. There's rom-com kdrama, thriller k drama, supernatural kdrama, and the best part is that you will surely enjoy watching each one of them even though they are all from different genres.
List Of Top 10 Best K Dramas In 2023
Guardian: The Lonely And Great God
This K-drama is one of the most top rated Kdramas! It is also popularly known by the name 'Goblin' and was released in the year 2016. You must say it is the best k drama of all time.
Storyline: A military general named Kim Shin from the Goryeo Dynasty, is falsely framed as a traitor. Kim Shin is killed by his own master, the young king. Many of his loved one's are killed as well and thus he is cursed by the almighty to be an immortal Goblin. Only the Goblin's Bride can free the Goblin from his curse. After more than 900 years the Goblin comes across his destined bride who is a bubbly and cheerful high school student and whose life is an absolute tragic mess.
Genre: Fantasy, Romance, Comedy, Drama
Main Cast
Gong Yoo
Kim Go-eun
Lee Dong-wook
Yoo In-na
Yook Sung-jae
Episodes: 16 Episodes and 3 additional specials.
Crash Landing On You
Released in the year 2019, Crash Landing On You is almost everyone's favourite as the two main leads are now very happily married to each other. This makes it quite a dreamy drama and the best k dramas on netflix.
Storyline: After a paragliding accident leaves her stranded in North Korea, fashion company owner Yoon Se-ri finds unexpected comfort in the form of Captain Ri Jeong-hyeok. Se-ri and her North Korean comrades try to find a way back to the South, all while keeping their love a secret.
Genre: Romance, Adventure, Comedy
Main Cast:
Hyun Bin
Son Ye-jin
Seo Ji-hye
Kim Jung-hyun
Episodes: 16
What's Wrong With Secretary Kim
Released in the year 2018, this best k drama What's Wrong With Secretary Kim is a perfect blend of love and mystery. From a beautiful love story with a childhood connection, it also shows about childhood trauma. Hence it call as the best romantic korean drama.
Storyline: The series follows Lee Young Joon, the narcissistic Vice Chairman of his family's company who rarely acknowledges those around him. He has a capable and patient secretary named Kim Mi So. Kim Mi So has worked by his side for 9 years without any romance in her life. When Mi So decides to focus on herself and resign, it leads to comical misunderstandings. Their strictly professional life slowly turns into a romantic one.
Genre: Mystery, Romance, Comedy
Main Cast:
Park Seo-joon
Park Min-young
Episodes: 16
The King: Eternal Monarch
Do you love watching time-travel mysteries? Well, you will absolutely love this kdrama! It was the best k dramas 2020 and will keep you completely hooked due to its amazing twists and turns.
Storyline: The Kingdom of Korea is thrown into chaos when the King is murdered by his brother and the heir, Lee Gon, is injured. The villain of this drama Lee Lim seeks to possess a legendary flute with supernatural powers, but a mysterious figure intervenes and Lee Gon is left with a police badge from his savior. 25 years later, Lee Gon is now the benevolent King, haunted by the memory of his saviour and the police badge.
In a parallel world, Detective Jeong Tae Eul is on a mission to stop illegal gambling when she encounters Lee Gon, who believes she may be his saviour from years ago. Together, they unravel a web of mysteries that tie their worlds together.
Genre: Fantasy, Mystery, Romance
Main Cast:
Lee Min-ho
Kim Go-eun
Woo Do-hwan
Kim Kyung-nam
Jung Eun-chae
Lee Jung-jin
Episodes: 16
Business Proposal
This Kdrama showcases an unplanned office romance between a boss and his employee. The best k dramas 2022, Business Proposal kdrama beautifully presents love, relationships and friendships.
Storyline: Shin Ha-ri agrees to go on a blind date on behalf of her friend, but the man turns out to be her boss, Tae-moo. When her fake identity, except for the fact that she is his employee, is revealed, Tae-moo blackmails her into posing as his fiancée for a generous sum. Despite starting on bad terms, the two begin to develop feelings for each other. Just when everything seems to be going well, Tae-moo finds out Ha-ri's real identity of she being his employee and feels betrayed. But despite this, Tae-moo can't let go of his feelings for Ha-ri.
Genre: Romance, Comedy, Drama
Main Cast:
Ahn Hyo-seop
Kim Se-jeong
Kim Min-kyu
Seol In-ah
Episodes: 12
Also, Know Top 10 Trending Indian Web Series
True Beauty
This beautiful drama called True Beauty covers everything about school and college life, from teenage love stories to school time bullying. It tells about the harsh truth of the society while also portraying the sweetest love story. One of the best school k dramas.
Storyline: The story follows 18-year-old Lim Ju-kyung, who feels inferior due to her perceived ugliness and is bullied by her peers. She learns makeup skills from online tutorials and successfully transforms herself into a "goddess" upon transferring to a new school. However, her fears of being exposed without makeup become a reality when her classmate Lee Su-ho recognizes her bare face. Su-ho is popular but aloof and has a dark secret from his past that has caused him guilt and strained his friendship with Han Seo-jun. As Ju-kyung becomes friends with both Su-ho and Seo-jun, they share their struggles and help each other heal, forming an unexpected bond and love triangle.
Genre: Romance, Slice of Life, Coming of Age, Drama, Comedy
Main Cast:
Moon Ga-young
Cha Eun-woo
Hwang In-youp
Park Yoo-na
Episodes: 16
Doom At Your Service
If you love watching supernatural k dramas, then this one will be a great watch for you. It was the best k dramas 2021, and presents a beautiful love story that experiences many unfortunate happenings.
Storyline: Tak Dong-kyung learns she has only three months to live and drunkenly wishes for the world to be doomed. Her wish is heard by Myul Mang, a messenger between gods and humans, who fulfills her wish. She signs a hundred-day contract risking everything she has ever known, with Myul Mang. The two of them develop a complicated relationship as they navigate the consequences of their actions and try to save Dong-kyung's life. Along the way, they encounter other people with their own desires and struggles, leading to a complex web of relationships and conflicts.
Genre: Fantasy, Drama, Romance
Main Cast:
Park Bo-young
Seo In-guk
Episodes: 16
Happiness
The story is a thriller set in an apocalypse where the prevalence of infectious diseases has become the new norm. You are sure to get goosebumps while watching this series. It is a blend of love, sacrifice, selfishness, betrayal and some flesh-eating action. One of the best korean series in netflix.
Storyline: It is a story that unfolds in the future where the spread of a failed drug called "Next" has resulted in a global outbreak of the Lytta Virus, also known as "mad person disease". Those who are infected with the virus experience brief periods of insanity and a strong desire for blood before eventually turning into zombie-like creatures. In an effort to stop the spread of the virus and the drug, the South Korean military and police have implemented strict quarantine measures, while some groups advocate for the rights of the infected, claiming that they can still interact normally.
Genre: Action, Horror, Fantasy
Main Cast:
Han Hyo-joo
Park Hyung-sik
Jo Woo-jin
Episodes: 12
Extraordinary You
What if you were a webtoon character? Well, this drama tells how it would feel to be one. Released in 2019, this k-drama brought a very unique and fascinating concept which is being loved by all.
Storyline: The protagonist Eun Dan Oh is a high-school student with a heart condition. She experiences certain memory lapses and soon discovers that she is a character in a Korean webtoon and her actions are predetermined by the artist. What makes her feel worse is when she realises that she is only a supporting character and that her life is not in her own hands. But, Dan Oh decides to change her predetermined fate and find true love by using the knowledge she gains from glimpses of the storyboard she sees.
Genre: Fantasy, Romance, Comedy
Main Cast:
Kim Hye-yoon
Rowoon
Lee Jae-wook
Lee Na-eun
Jung Gun-joo
Kim Young-dae
Lee Tae-ri
Episodes: 32
10. It's Okay Not To Be Okay
This is a comforting K-drama for the one's who are antisocial or feel indifferent. It is the best k drama showing emotional healing and new bonds growing. One of the best rated k dramas.
Storyline: The drama follows the lives of Moon Kang Tae, a community health worker at a psychiatric ward, and Go Moon Young, a successful children's book author who has never experienced love and has antisocial behaviour. As they meet and spend time together, they start to help each other overcome their emotional struggles and find healing in their relationship.
Genre: Romance, Drama, Thrill, Comedy
Main Cast:
Kim Soo-hyun
Seo Ye-ji
Oh Jung-se
Park Gyu-young
Episodes: 16
If you were in search of the best k dramas to watch, then we have surely made it easier for you with our Top 10 Best K Dramas Till Date! Add these best k dramas to your watch list and enjoy their fascinating stories!
For more such web series updates stay tuned to Vasai Virar News. Also, get information about daily news, Bollywood news, technology news, education and food.