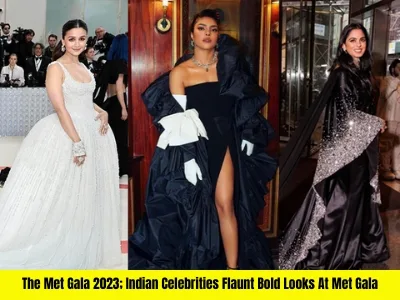 Bollywood News: The most awaited celebrity fashion event of the year, Met Gala 2023 was held on 1st May 2023. Our favourite Indian Celebrities left no stone unturned to flaunt their bold looks at the Met Gala 2023 event.
Met Gala, also known as the Met Ball or the Costume Institute Benefit, is very beautifully celebrated every year with different themes. This event is held at the Metropolitan Museum of Art in New York City
This year in Met Gala 2023, our Indian celebrities stole the show with their head turning fashion looks! Our favourite Alia Bhatt made her Met Gala Debut this year!
Below we will tell you all about the Met Gala 2023 looks of our Indian Celebrities.
Met Gala 2023 Theme
The Met Gala 2023 theme was a tribute to the legendary fashion designer Karl Lagerfeld. Every year the theme at the Met Gala is celebrated very differently by different celebrities. Similarly, this year's Met Gala theme of celebrating Karl Lagerfeld also brought in a lot of surprises for us.
The legendary fashion designer Karl Lagerfeld passed away in 2019, at the age of 85. He was one of the most celebrated fashion designers who has also been the creative director of many big fashion brands like, Fendi and Chanel along with his own brand.
The Met Gala 2023 theme 'Karl Lagerfeld : A Line Of Beauty' was amazingly aced by hundreds of Celebrities. While some celebrated this theme by wearing the designer's own creation, others decided to play around with the style that also perfectly synced with the designer's life, creations, or journey.
And, our Indian Celebrities made heads turn with how beautifully they celebrated the Met Gala 2023 theme.
Know Which Indian Celebrities Attended The Met Gala 2023
At this year's Met Gala, five Indian celebrities graced the event and represented India. These five celebrities flaunted their unique fashion looks at the event and they looked absolutely mesmerising.
The Indian Celebrities namely, Alia Bhatt, Priyanka Chopra, Isha Ambani, Natasha Poonawalla, Diya Mehta Jatia graced this celebrity fashion event.
Well, every year different Indian Celebrities walk the Met Museum stairs representing India in the most beautiful way. And our excitement to see their Met Gala looks has absolutely no bar.
Similarly, we are also quite well aware of the fact that sometimes the Met Gala looks turn out to be a huge disaster. But, this year there was a different magic in how the Indian celebrities walked the red carpet looking their best while being perfectly in sync with the theme of the Met Gala.
Head Turning Looks Of Indian Celebrities At Met Gala 2023
The images of our celebs at the Met Gala 2023 have already spread across the internet and people are going gaga over the looks. But, there lies more beauty in the details of their looks. Let us tell you more about what our Indian Celebrities wore at Met Gala 2023.
Priyank Chopra's Met Gala Look :
Priyanka Chopra has attended the Met Gala thrice since her Met Gala debut in 2017. Priyanka Chopra walked the red carpet with her loving husband Nick Jonas. Our global icon flaunted a black off shoulder, thigh-high slit gown along with a beautifully ruffled cape by designer Valentino. She looked absolutely stunning as she walked the Met Museum stairs. The jaw-dropping element was the accessory that she wore. Priyanka Chore wore a diamond necklace worth over Rs.240 crores at the Met Gala 2023. And, it was completely worth the look!
Isha Ambani's Met Gala Look :
Isha Ambani, a businesswoman and arts patron stunned everyone with her appearance in a gown inspired saree, by Prabal Gurung. It was a very beautiful representation of the Indian saree while being a part of the event's theme. The border of the saree was embroidered with thousands of crystals and pearls which completely elevated her look. She accessorised with Lorraine Schwartz's diamond necklace and embellished choker. But that's not it, Isha Ambani carried a Chanel Doll Bag which was designed with details, that completed her look in the most beautiful way.
Natasha Poonawalla's Met Gala Look :
Natasha Poonawalla being a fourth time attendee of the Met Gala has clearly cracked the code! Even this year she stunned everyone with her brilliant Met Gala look that also made her stand out. Natasha's edgy fashion look surely made heads turn. Natasha poonawalla wore a mirrored, sculpted dress with tall and sharp shoulder edges. This Schiaparelli outfit was a very smart, subtle, and stylish nod to Karl lagerfeld's cat 'Choupette'.
Diya Mehta Jatia's Met Gala Look :
Diya Mehta Jatia wore Prabal Gurung's beautiful halter neck black and emerald green satin gown. The green skirt was beautifully pleated that defined her waistline. The hero of her look was her hair accessory, which was a diamond studded Radha-Krishna hair accessory. She carried this look with much grace that perfectly suited her outfit.
Alia Bhatt Walks The Red Carpet Makes Her Met Gala Debut
Alia Bhatt made her Met Gala Debut at the Met Gala 2023 event in the most mesmerizing look! The actress had first teased her fans regarding her Met Gala look by posting a picture on her Instagram.
Alia Bhatt's Meet Gala look has everyone in awe of her beauty as she looked like a Princess in her outfit by the star designer of the event, Prabal Gurung. Alia Bhatt walked the red carpet of Met Gala 2023 in a beautiful floor-sweeping white gown. It had a plunge neck and the gown was embroidered with pearls all over. Her minimal makeup and pearl accessory just made her look breathtaking.
Alia Bhatt at The Met Gala 2023 was the best visual treat for all!
Well, if you want to stay updated with such information, stay tuned to Vasai Virar News. Here you will also get daily news updates, Bollywood news, and a lot more!