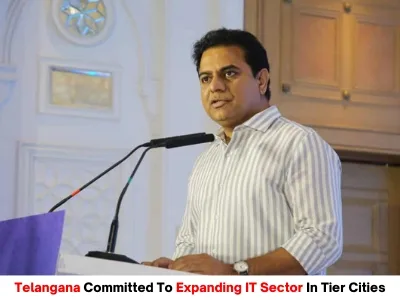 The Telangana Government is firmly committed to expanding IT sector in tier II cities. They focused on enhancing Hyderabad's reputation as a burgeoning IT hub, attracting new-age companies to establish their presence and addressing concerns associated with rapid growth. To achieve these goals, the government pursued two key strategies.
Firstly, they aimed to develop plug-and-play infrastructure in smaller towns, enabling seamless setup and operation of IT companies. This initiative sought to create an environment conducive to the growth of the IT industry outside of major cities.
Secondly, the government implemented incentives to encourage the IT industry to expand to the northern and eastern parts of Hyderabad. By providing attractive benefits and support, they aimed to promote establishing IT facilities in these regions.
In addition to these measures, the Telangana Government successfully convinced renowned IT firms such as Cyient and Tech Mahindra to establish their facilities in Warangal, the second largest city in Telangana. This achievement demonstrated the government's efforts to attract established companies to tier II cities and further strengthen the IT sector in the region.
What KTR Said About Expanding IT Sector In Tier II Cities?
IT Minister KT Rama Rao emphasised the Telangana government's dedication to expanding IT operations in tier-II cities in Telangana. In line with this commitment, the IT Tower in Siddipet is scheduled for inauguration on June 15. Subsequently, the IT Tower in Nizamabad will be inaugurated in July, followed by another in Nalgonda in August.
On May 6, an IT Tower was inaugurated in Mahabubnagar, attracting new companies and creating employment opportunities for the local population. Additionally, Warangal is emerging as an alternative IT hub, with companies like Tech Mahindra, Cyient, Genpact, and others establishing their presence.
During the IT Annual Report 2022-23 release, Minister KT Rama Rao announced the launch of four new companies in Hanamkonda: LTI Mindtree, Genpact, HRH Next, and Hexad Solutions Pvt Ltd. These developments further contribute to the growth of the IT sector in the region.
Updates On Telangana Expanding IT Sector In Tier II Cities
What is T-Hub?
Impressed by the success of Telangana's T-Hub, the Maharashtra government has decided to establish its own version called M-Hub. T-Hub has played a significant role in facilitating government engagements in Bihar by actively promoting the entrepreneurial ecosystem in the state.
To further strengthen their efforts, T-Hub has signed a memorandum of understanding with the CIMP Business Incubation and Innovation Foundation (CIMP-BIIF), which works in collaboration with the Department of Industries in Bihar to manage B-Hub. Additionally, T-Hub has partnered with HAL to be committed to collaboration and driving innovation in the IT sector in Hyderabad. They have also raised $8.5 million and engaged 75 high-net-worth individuals (HNIs).
T-Hub has been instrumental in empowering 21 startups by providing them with valuable access to national and international markets. The response from the entrepreneurial community has been overwhelming, with over 1,000 CXOs and founders eagerly joining their dynamic and vibrant ecosystem. Through its accelerator programs, T-Hub has supported 72 startups with the expertise of 112 mentors, including 13 super mentors.
What Is T-Works?
Foxconn chairman Young Liu unveiled T-Works in the presence of Rama Rao. Inspired by Telangana's rapid progress and its commitment to advancing innovative products, Foxconn pledged to contribute an industrial-grade Surface Mount Technology (SMT) line to assist T-Works, which is recognized as the largest prototyping centre globally.
Telangana Electronics Sector
The Telangana State Electronics Policy was implemented in 2016 to promote the growth of the Electronics System Design Manufacturing (ESDM) ecosystem in both the state and the country. In the fiscal year 2022-23, the state managed to attract investments amounting to more than Rs 38,000 crore in the electronics and energy storage sectors. These investments have the potential to generate employment opportunities for around 32,000 individuals. Furthermore, since 2014, the electronics manufacturing clusters and other designated parks have created jobs for over 66,000 people in electronics, electric vehicles (EV), and energy storage.
ALSO READ | Odisha News: Train Accident Odisha Updates; More Than 200 People Were Killed, And Over 900 Are Injured
What Is TASK?
The Telangana Academy for Skill and Knowledge (TASK) is a non-profit organization established by the State government. Its primary objective is to provide skill training to the youth, enhancing their employability and reducing the unemployment rate in the state.
To date, TASK has successfully trained 180,000 students and equipped 2,250 faculty members with essential skills. The organization has conducted 125 placement drives, resulting in 30,961 students securing employment opportunities.
In its efforts to reach diverse communities, TASK has opened a community skilling center in Chanchalguda and a tribal skilling center in Asifabad. Moreover, TASK has established regional centers in Hanamakonda, Mahabubnagar, Hyderabad, Warangal, Karimnagar, Khammam, and Sircilla.
This is all about Telangana committed to expanding IT sector in tier II cities and the updates about the expanding IT sector in tier II cities. For such technology news and trending news, stay connected with Vasai Virar News.