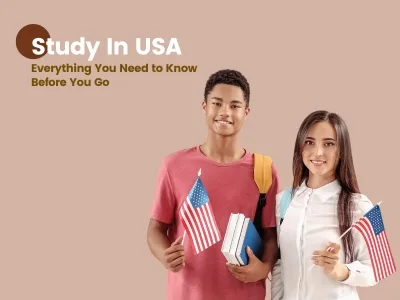 International students who want to pursue their higher education goals frequently choose the United States of America as their location. With the country's vast array of reputable universities and colleges, you can be sure to find the perfect school to suit your academic needs.
But there's more to studying in the USA than simply finding the right institution; you need to consider the cost, apply for responsible visas, and make your way through the confusing immigration process. Not to mention here that you need to develop a solid plan for adjusting to life in a new nation with unfamiliar customs and cultures.
We will walk through every step that you just need to take into consideration before beginning your studies in the United States in this article, starting from choosing a course of Study and submitting an application to institutions to locating employment and making accommodations after you get there. So read on to get all the information before taking this big leap!
Why Study in USA? World-class Education and Career Opportunities
So you're thinking of studying in the USA—good choice! Numerous internationally recognised colleges may be found in the US, and they provide some of the best educational opportunities available anywhere.
A degree from a prestigious college in the US can open some serious doors. Not only will you gain invaluable knowledge and skills during your studies, but employers will know that having a degree from an American university looks good on your resume. Plus, if you decide to stay in the US after graduation, you'll have access to networking opportunities and job fairs that will help you land a job with a great employer.
The US also has many scholarship opportunities for international students, so if money is tight, you can find some assistance with tuition fees or living expenses. And since most US universities accept students from all over the world, you'll be able to explore plenty of cultures and build valuable relationships with other students from around the globe.
Types of Degrees and Programmes in the USA
When it comes to studying in the US, know that you have plenty of options. So what type of degree or programme should you pursue? It all depends on your educational and professional goals.
For undergraduate or bachelor's degree degrees, you have basically two choices i.e.
The 4-year programme leading to a bachelor's degree
2-year associate's programme.
Both will give you a top-notch education and prepare you for your future academic and professional endeavours.
In addition, you should also consider pursuing a Master's degree, which generally takes an additional 1 to 2 years of Study after completing your Bachelor's, or a Doctoral (PhD) degree programme, which generally takes 3 to 5 years for its completion.
Or explore certificate programmes that can offer specialised training in specific fields such as business, IT, healthcare, hospitality, law, and finance. These don't lead towards a degree but will provide the necessary skills for a particular area of work.
The options are endless! So if you're considering studying in the US, take some time to research what academic programmes best suit your career path—you'll definitely find something that fits your ambitions.
The US Education System: High School, Undergraduate, and Graduate
Although studying in the United States is exciting, there is also a lot of preparation and paperwork involved. You must comprehend the US educational system and all of your possibilities before you can begin to organise your trip.
High School
To get started on your Study in USA experience, you might consider enrolling in a high school first. High school is typically a fantastic introduction for international students to American culture and language, making it simpler for you to move on to further levels of Study. Any US high school will accept you into an international programme, or you can go for a more specialised course like the International Baccalaureate (IB) Programme.
Bachelor's degree (undergraduate)
The standard undergraduate path in the US is a bachelor's degree, which normally takes four years of full-time Study. This will usually include core courses related to your major as well as electives that may help you explore different areas of interest outside your major. Most universities also offer flexible degree programmes that allow you to take classes part-time or even earn credits abroad.
Graduate Degrees (Master's and Doctoral Degrees)
After receiving a bachelor's degree, you have two main options for furthering your education: master's and doctorate degrees. While doctoral degrees can take anywhere from four to seven years to finish, depending on your research's progress and the programme requirements of each university, Master's degrees normally require two years of full-time Study.
Universities in the USA
There are some amazing universities to study in USA. Whether you're an aspiring doctor, lawyer, nurse, or English student, there are so many options available!
Medicine
If you are looking to study medicine within the USA, you can prefer Harvard Medical School, Stanford University School of Medicine, along with Johns Hopkins School of Medicine. These colleges are well known for their medical research around the globe and offer good opportunities for those interested in a career in this field.
Law
Students looking to study law will find a wide variety of options at many universities located across the US. A few of the top-ranked law colleges include Yale Law School, Harvard Law School and UC Berkeley School of Law. Each school provides its students with rigorous courses that help shape future lawyers and legal professionals.
English
There are many colleges that offer fantastic programmes for overseas students who are keen to learn more if they're trying to improve their English language abilities while studying in the US. The Extension School at Columbia University and the College of Arts and Sciences at New York University are two examples. These universities not only provide excellent academic courses but also have active student populations, which adds to the lively learning environment they generate.
Nursing
Another option is to study nursing in the USA. There are many reputable nursing schools spread out over the nation. The School of Nursing, i.e. present at the University of Pennsylvania, the School of Nursing at Duke University, and the School of Nursing at Johns Hopkins University, are a few of the top nursing schools that combine academic excellence with an emphasis on community involvement and collaborative research opportunities.
Campus Life and Student Culture in the USA
You'll definitely want to consider campus life and student culture when making your decision to Study in USA. Every campus has its own unique atmosphere, but there are some features that can be found on most.
Campus Facilities
Most US universities will offer a variety of facilities, like libraries, student centres, and recreational centres, for students to use. Before choosing a university, it's a good idea to look into the size and calibre of the facilities offered by each institution.
Student Clubs and Organisations
It's likely that you'll get involved in some type of student club or organisation if you choose to Study in USA. From fun activities like sports clubs to more serious organisations such as debate teams, there is something for everyone!
Social Life
Most US universities have vibrant social scenes with lots of events going on throughout the year. Whether it's music festivals, themed parties, or cultural celebrations, there are plenty of opportunities for you to make friends and have fun while study in USA!
So while exploring campus life and student culture is important when deciding where to study in USA, it should also be great fun!
Planning To Study In Germany? Here Are The Best Universities In Germany 2023
The Cost of Studying in the USA: Tuition Fees and Living Expenses
One of the major considerations when study in USA is the cost. It's critical to comprehend how much you'll need to allocate to living expenses and tuition in your budget.
Studying in the USA doesn't have to break the bank because of the numerous financial aid packages and scholarships available. When creating your budget, keep the following expenses in mind:
Student fees
With some colleges costing as little as $7,000 a year and prominent private universities demanding as much as $50,000 a year, tuition fees can vary widely depending on the institution and the degree you choose. That might sound steep, but remember that US universities tend to offer excellent value for money, with top-notch faculty and resources at your disposal throughout your studies.
Living Expenses
Living costs will be significantly influenced by the city you choose to attend college in; in New York or San Francisco, they are likely to be greater than in Austin or Minneapolis.
The cost of housing~ ranges between $500 to $2,000/per month
the cost of transportation~ ranges from $50 to $100/ month
the cost of food~ ranges from $200 to $400 per month
the cost of healthcare, which is generally covered by student insurance plans, are few of the additional expenses.
As a result, you won't have to rely only on your savings or scholarship money while you're in the US. It's also crucial to keep in mind that the majority of international students are eligible for internship and part-time employment possibilities during their studies. Getting part-time work could even assist you in covering some of your living expenses while also gaining you useful experience!
How to Apply to Universities in the USA: Admissions Requirements and Process
If you're thinking about study in USA, chances are you'll need to apply to universities. The good news is that the admissions process in the USA is no more complex than in other countries—as long as you follow certain steps and meet certain requirements, you're well on your way.
Step-by-step guide
Here's a step-by-step guide to applying to universities in the USA:
Research schools: Look into what schools offer your chosen programme and decide which ones fit your needs best.
Applying: Start collecting all of your documents, including letters of recommendation, transcripts, and test scores, then fill out applications.
Send supplemental materials: Depending on the university, they may require some extra materials, such as essays or portfolios.
Check deadlines: Make sure that you meet submission deadlines for applications and supplemental materials!
Submit applications: Once everything's complete, submit it online or via mail.
Await response: After submitting all of your materials, wait for an admission decision from each school you applied to.
Accept an offer. Choose an offer and send a deposit to secure your spot!
The application process may take some time, so make sure you start early so you can submit everything before deadlines approach! With the right preparation and guidance, applying to universities in the USA can be smooth sailing for any student looking for an international educational experience.
What are the Top 5 Toughest Exams in World?
Mention the List of Top Universities in the USA.
Some of the top universities all around the world are located within the United States. Hence students often opt for study in USA. The universities like Harvard, MIT, Yale, Stanford, and Princeton are undoubtedly familiar to you. There are numerous other top institutions across the nation, though, that provide outstanding educational possibilities.
Here is a list of some of the best universities in the USA, regardless of whether you're searching for a top-tier school with a good reputation or an undervalued university that might give an even better education than the big names:
Harvard University
Massachusetts Institute of Technology (MIT)
Yale University
Stanford University
Princeton University
California Institute of Technology (Caltech)
Columbia University
Dartmouth College
Johns Hopkins University
Cornell University
Duke University
A list of 10 Reasons to Study in USA
If you're still on the fence about studying in the USA, here are 10 reasons to help you make your decision:
High-quality education: US universities offer some of the best education you can find anywhere in the world, and their faculty are top-notch.
Variety of courses: American universities provide a wide range of courses with flexible curriculums. You can study everything from engineering to psychology to business.
State-of-the-art technology: Universities in the US provide cutting-edge technology for their students, which helps them grow and develop their skills.
Accessibility and Diversity: Universities in the US are extremely diverse, so whether it's culture, ethnicity, or religion, your preferences will be met easily.
Multicultural Environment: One great thing about studying in the US is its multicultural environment, where students from different places come together and share their experiences and learn from each other.
Global Networking Opportunities: Studying in the USA provides you with plenty of networking opportunities with a global reach, resulting in even more career prospects when you return home after graduation.
Leading Research Centres: Many US universities are international leading research centres that offer access to advanced knowledge and skills not available elsewhere in the world, as most of them have strong links with industry leaders as well as government funding agencies that enable ground-breaking research every day.
World Renowned Education System: International students from all over the world who want to earn a top international degree without going over their budget are drawn to the American higher education system because it is known for offering quality education at a lower cost than many other nations, including Canada, the UK, and Australia.
Language Immersion and Learning Opportunities: Studying abroad not only allows you to experience different cultures but also provides excellent language immersion and learning opportunities if English is not your native language.
Scholarship Programmes and Financial Aid: Many universities offer financial aid packages and scholarship programmes that can help make studying in the US more affordable.
Conclusion
Studying in the United States can be daunting, with so many things to consider before you go. But with enough research and planning, you can make the most of your experience. Whether you're looking to study at a prestigious university, gain valuable experience in an internship, or explore a new culture and city, studying in the United States can be an incredibly rewarding experience. We hope you gained enough knowledge before you take the decision of study in USA.
From researching programmes, applying for visas, setting up housing, and figuring out insurance, there's a lot to consider. Planning beforehand will allow you to make the most of your stay abroad and take advantage of the unique opportunities that living in the US has to offer.