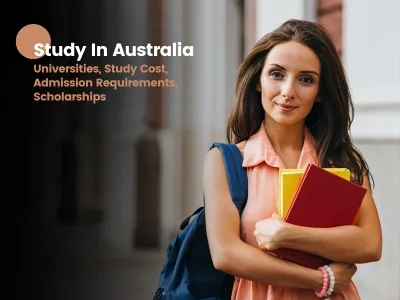 So you're thinking about studying in Australia? Excellent choice. Australia offers a high quality of education, stunning natural scenery, and a perfect climate. Whether you want to lounge on sunny beaches, explore the Outback, or just focus on your studies, Australia has something for everyone. This guide will cover all you need to know about studying in Australia, from choosing a school and a subject of study to applying for a student visa.
Why Study In Australia?
Australia is a popular study destination for good reason. Here are some of the major benefits of studying in Australia:
Beautiful natural scenery. Australia is home to iconic beaches, the Great Barrier Reef, the Outback, and unique wildlife.
High quality of education. Australian universities are ranked among the best in the world. You'll receive a prestigious, globally recognized education that will benefit your career.
Cultural diversity. Australia is a multicultural society with influences from Europe, Asia, and its indigenous peoples.
Adventure activities galore In your free time, you can go surfing, skydiving, rock climbing, whale watching, and more. Australia offers endless options for thrill-seekers and outdoor enthusiasts.
Welcoming environment. Australia welcomes over 600,000 international students each year. The government and universities provide support services to help you adjust to life in Australia and succeed in your studies.
Post-study work opportunities. Many international students find job opportunities in Australia after graduating. You may be able to apply for a post-study work visa to gain valuable work experience.
An Australian education will prepare you for success in today's globalized world. What are you waiting for? Start your adventure down under!
Types of Degrees and Universities in Australia
Australia offers a variety of degrees and universities to choose from. Here are the main options:
Undergraduate degrees: bachelor's degrees (3–4 years) in fields like business, engineering, science, the arts, etc. These provide a broad education and prepare you for work or postgraduate study.
Postgraduate degrees: for those who want to specialize in a field or advance their career. Options include:
Master's degrees (1-2 years): in areas like business (MBA), education (MEd), engineering (MEng), etc.
Doctoral degrees (3+ years): Doctor of Philosophy (PhD) for research or professional doctorates (JD, MD, etc.) for careers like law or medicine.
Vocational education: certificates and diplomas (6 months to 2 years) in practical fields like hospitality, tourism, design, etc. Hands-on learning for specific jobs
Australia has 43+ universities, many of which are top-ranked worldwide. You can choose from large research universities, smaller regional campuses, or private colleges.
With exciting cities, stunning natural scenery, and a safe, welcoming culture, Australia offers an unforgettable student experience. The degrees and universities provide high-quality education and training for global careers.
What is the Admission Requirements to Study In Australia?
To Study In Australia, you'll need to meet certain admission requirements depending on the level and program of study. The main requirements are:
Language Proficiency
You'll need to prove your English language proficiency for most programs. The most common ways are:
IELTS (International English Language Testing System): minimum score of 6.5 for undergraduate and 7.0 for postgraduate study.
TOEFL iBT (Test of English as a Foreign Language Internet-Based Test): minimum score of 79 for undergraduate and 93 for postgraduate study.
PTE Academic (Pearson Test of English Academic): minimum score of 58 for undergraduate and 65 for postgraduate study.
Cambridge English: Advanced (CAE): Minimum score of 176
Some universities may accept other evidence of English proficiency. Check with your chosen institutions for their requirements.
Academic Requirements
You'll typically need a secondary school certificate or equivalent for undergraduate study. For postgraduate study, you'll need an undergraduate degree. Some programs may require specific prerequisite subjects or a certain GPA. Provide certified copies of your academic transcripts with your application.
Additional Requirements
Some courses may have additional requirements, like:
Portfolio: For creative arts or design courses
Interview: For some postgraduate or professional programs May be conducted in person, by phone, or by video call.
Work experience: for some master's degrees or professional programs
Standardized tests: for some postgraduate degrees, like the GMAT or GRE
The admission requirements can vary between different Australian universities and study programs. Make sure you check the requirements for your chosen course on the university website. Meeting the admission criteria is essential to being accepted into an Australian university.
How much does it cost to Study In Australia?
Study in Australia can vary in cost depending on the level of education and the institution. Here are some average costs for international students:
School: $14,000 to $30,000 annually.
English language studies: around $300 per week.
Undergraduate bachelor's degree: AUD 20,000 (USD 13,675) to AUD 45,000 (USD 30,769) [3].
Postgraduate master's degree: The average tuition fee is about AUD 31,596 per year.
Please note that these costs can vary depending on the university and course chosen.
Popular Programs for International Students in Australia
There are many programs tailored to overseas students across various fields of study.
Law Programs
Australia's legal system is based on common law, similar to that of other Commonwealth countries. Studying law in Australia will provide you with a globally recognized qualification. Some options for international students include:
Bachelor of Laws (LLB): A basic law degree to become a solicitor or barrister, Usually 3–4 years.
Juris Doctor (JD): A postgraduate law degree for non-law graduates Around 3 years.
Master of Laws (LLM): A postgraduate degree to specialize in areas like commercial law, international law, etc. 1-2 years.
Nursing and Healthcare Programs
Australia's healthcare system ranks highly in the world, so studying nursing or healthcare in Australia will provide you with a high-quality education and opportunities for work experience. Some options include:
Bachelor of Nursing: A 3-year undergraduate degree to become a registered nurse
Master of Nursing: A postgraduate degree to specialize as a nurse practitioner, clinical nurse specialist, etc. 1-2 years.
Bachelor of Physiotherapy, Occupational Therapy, etc.: undergraduate degrees in various healthcare fields Around 4 years.
Healthcare programs typically include substantial clinical placements in hospitals and healthcare facilities. Renowned universities for health degrees include the University of Queensland, the University of Adelaide, and Curtin University.
There are many scholarship, grant, and loan options for international students in Australia. The cost of living in Australia is high, so you will need to budget at least A$20,000–30,000 per year for expenses outside of tuition. With the right preparation, study in Australia can be a rewarding experience!
Scholarships and Financial Aid for International Students
Study In Australia is an exciting opportunity, but the costs can be high for international students. Luckily, many scholarships and funding options are available to help make your Australian education more affordable.
Government Scholarships
The Australian government offers a range of scholarship programs for international students in Australia. The Australia Awards Scholarships are prestigious scholarships that provide full tuition, travel, and living expenses for undergraduate or postgraduate study at an Australian university. The Destination Australia Program also provides funding for students in certain priority areas like engineering, health, and IT.
University Scholarships
Most Australian universities offer scholarships and bursaries for international students based on academic merit or research areas of study. These include tuition waivers, stipends for living expenses, and travel grants. Check with the international student office at the universities you're interested in to learn about options and application deadlines.
Private Organization Funding
Various non-profit organizations, private companies, and religious groups offer scholarships for international students in Australia. These include:
Rotary Clubs and AFS Intercultural Programs: Offer scholarships based on community service, cultural exchange, and global citizenship.
The Smith Family provides living expense grants for disadvantaged students, including international students, to Study In Australia.
World Nomads offers travel scholarships for students focused on community service, cultural immersion, and adventure.
Student Loans and Payment Plans
If scholarships don't fully cover your costs, you have other options:
Student loans: Some Australian banks offer student loans and lines of credit for international students. Interest rates are often higher than those for government loans, so compare options carefully.
Payment plans: Most Australian universities offer payment plans to pay tuition and fees over the course of your program rather than upfront. This can make costs more manageable, even if you have limited funding.
Part-time work: International students in Australia are allowed to work up to 40 hours per fortnight while studying. Finding a part-time job can help supplement your living expenses and minimize the amount you need to borrow.
An Australian education could open up a world of opportunities—don't let finances hold you back from this life-changing experience.
ALSO READ | Planning To Study In Germany? Here Are The Best Universities In Germany 2023
What is the Student Visa Application Process for Australia?
To pursue Study In Australia, you'll need to obtain a student visa. The application process is fairly straightforward but does require some time and preparation.
Gather the required documents
You'll need several key documents to apply for an Australian student visa:
Your letter of offer from an Australian education institution confirming your acceptance and details of the course
Evidence of sufficient funds to cover tuition and living costs for the duration of your study in Australia
A valid passport
Proof of health insurance for the duration of your student visa
Complete the online application.
The student visa application process is completed electronically through the Australian Government Department of Home Affairs website. You'll need to create an account, fill out an online form with details about yourself and your course of study, and upload your supporting documents. Be prepared to pay the required visa application charge, which is currently around $550 AUD.
Schedule a health examination.
You will need to find an approved immigration health examination centre, schedule an appointment, and undertake the necessary tests. The results will be submitted electronically to the Department of Home Affairs on your behalf.
Attend an interview (if required).
Some student visa applicants may be required to attend an interview as part of the assessment process, especially if there are any concerns about the genuineness of the application. The interview aims to verify the information provided in the application and supporting documents. Be prepared to answer questions about your course of study, living arrangements in Australia, and future plans.
Visa Decision
Once your health examinations and any required interviews have been completed, the Department of Home Affairs will assess your student visa application. This process typically takes around 4 to 6 weeks. You will be notified of the outcome by the provided email. If your student visa is granted, check the details carefully to ensure all conditions are clear before making final preparations to depart for Australia!
Accommodation Options for Students in Australia
On-Campus Accommodation
Many Australian universities offer affordable on-campus housing for international students. Options include:
Dorms or student apartments: basic furnished rooms with shared facilities. Usually, the most budget-friendly but less private
Studio apartments: private, self-contained units with a kitchenette and bathroom. More spacious, but usually a bit pricier.
Off-Campus Housing
If you prefer to live off campus, you have several options to choose from:
Rent an apartment: Look for listings on websites like realestate.com.au, domain.com.au, or flatmates.com.au. You can often find good deals by sharing an apartment with other students.
Live with a homestay family: Homestays provide meals and accommodation to an Australian family. It's a great way to learn about Australian culture in a supportive environment. Fees typically cover 2 to 3 meals a day and utilities.
Renting a room in a shared house is a popular choice for students. You rent a single room in a house shared with other tenants. You share common areas like the kitchen, living room, and bathrooms.
Other Considerations
Location: Look for housing within walking distance or a short commute to your campus and amenities like shops, restaurants, and public transit.
Budget: Rent and living costs in Australia can be high, especially in cities like Sydney and Melbourne. Make sure you understand all the costs involved before committing to a place.
Utilities: Unless utilities are included, budget an extra $50 to $100 per week for electricity, gas, water, and internet.
Furnishings: Most long-term rentals are unfurnished. Budget for essential furnishings like a bed, desk, seating, and storage.
Restrictions: Some accommodation options may have restrictions like no pets, no smoking, or curfews. Make sure you are comfortable with all the rules before signing a contract.
With some research, you can find safe, affordable, and comfortable accommodation for your studies in Australia.
ALSO READ | Study In USA: Everything You Need To Know Before You Go
FAQ: Common Questions About Study in Australia
Study in Australia is an exciting opportunity, but you probably have questions about what it's like. Here are answers to some of the most frequently asked questions from students considering Australia for their degree.
How much does it cost to live in Australia?
In comparison to other nations, Australia has a comparatively high cost of living, particularly for housing and utilities. For living expenditures, you should save aside at least $15,000 to $30,000 AUD annually. The exact cost will depend on where you choose to study in Australia and your lifestyle. Rent, food, and transportation will likely be your biggest expenses. Many international students are able to work part-time to help offset costs, up to 40 hours per fortnight.
What is the weather like?
Australia's climate varies greatly based on location. You'll experience a tropical monsoon climate in the north with hot, rainy summers and mild winters. Central and southern areas have a Mediterranean climate with hot, dry summers and cool, rainy winters. The southeast and southwest coasts have an oceanic climate with warm summers and cool winters. No matter where you study, be prepared for lots of suns—Australia has over 300 days of sunshine per year!
Will I be able to work while studying?
As an international student in Australia, you are allowed to work up to 40 hours per fortnight (2 weeks) while your program is in session and unlimited hours during scheduled breaks. Many students find part-time work in hospitality, retail, tourism, and administration. Working during your studies is a great way to gain valuable work experience, build your resume, and offset living costs.
How safe is Australia?
Australia is generally a very safe country, but you should still exercise normal safety precautions. Violent crime is low, but petty crimes like pickpocketing and scams do occur, especially in larger cities. Be aware of your surroundings, don't display valuables, and never leave drinks unattended at bars or clubs. Australia's natural environment also poses some hazards, like strong sunlight, insects, and wildlife. But by taking the recommended precautions, you can thoroughly enjoy your experience studying in Australia!
Conclusion
So there you have everything you need to know about study in Australia. The land down under offers a unique experience with stunning natural scenery, vibrant cities, and a high standard of living. Between the world-class universities, cultural diversity, and outdoor lifestyle, Australia has something for everyone. What are you waiting for? Start planning your adventure and take the next step toward getting your student visa. Before you know it, you'll be throwing shrimp on the barbecue, soaking in the sun, and making memories that will last a lifetime. The future is yours to discover in Australia!