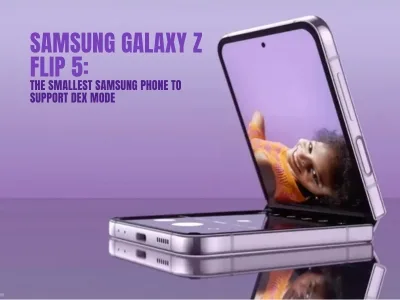 Get ready for a game-changer in the world of smartphones! The Samsung Galaxy Z Flip 5 is set to break new ground as the smallest Samsung phone to support DeX. This upcoming foldable phone is not only compact and stylish but also packs the powerful DeX feature, which is typically reserved for larger devices. While there's no official launch date for the Galaxy Z Flip 5 yet, this innovative device's excitement is already building.
Samsung Galaxy Z Flip 5 Design and Specs: Compact Yet Powerful
The Samsung Galaxy Z Flip 5 is poised to make a big splash in the world of foldable smartphones, proving that compact design and powerful performance can go hand in hand. Here's a closer look at its design and specs, revealing just why this groundbreaking device is garnering so much attention.
Design: The Galaxy Z Flip 5 features a sleek, foldable design that's both stylish and functional. The gadget is incredibly small when folded, making it simple to tuck into your pocket or purse. The clamshell design not only lends a sense of nostalgia but also offers a practical way to safeguard the phone's display when not in use. With a rumoured hinge improvement, users can expect even smoother folding and unfolding.
Display: The Z Flip 5 is expected to sport a flexible AMOLED display, offering vibrant colours and sharp visuals. While the exact screen size is yet to be confirmed, it's anticipated to continue the trend of immersive viewing experiences that Samsung is known for.
Performance: Despite its small size, the Galaxy Z Flip 5 is rumoured to pack a powerful punch under the hood. From a cutting-edge chipset to ample RAM and storage, this foldable phone is set to offer a seamless, lag-free experience for users. Additionally, with 5G support, you can enjoy lightning-fast internet speeds, making it perfect for streaming, gaming, and more.
Best Phones Under 20000: Your Essential Guide
DeX Support: The Galaxy Z Flip 5's compatibility for Samsung DeX is its most intriguing feature because it enables users to simulate a desktop environment by connecting the phone to an external monitor, keyboard and mouse. This impressive feature, typically reserved for larger Samsung devices, will now be available in a compact, foldable form factor.
Battery and Camera: Although particular battery and camera characteristics are still a mystery, we can assume that Samsung will offer a device with a long battery life and a camera setup at least as good as its predecessors.
The Galaxy Z Flip 5 is shaping up to be a true game-changer in the smartphone market. It's compact design and powerful specs, combined with the versatility of DeX support, make it a device to watch out for in the coming months. Stay tuned for more updates on this highly anticipated foldable phone!
Experience Samsung DeX on the Go with the Z Flip 5
Embrace the future of mobile productivity with the Samsung Galaxy Z Flip 5, as it brings Samsung DeX support to a compact, foldable form factor. This innovative device allows you to take full advantage of DeX's desktop-like experience on the go, making it the perfect companion for busy professionals and multitaskers alike. Here's how the Z Flip 5 is set to revolutionise the way you work and play:
Transform your workspace: With the Galaxy Z Flip 5 and DeX support, you can easily convert any space into a productive environment. Simply connect your phone to an external display, keyboard, and mouse to transform it into a fully functional desktop environment. No matter where you are, you can do your professional activities, edit documents, or even use numerous programmes simultaneously due to its versatility.
Travel light, work smart: The compact design of the Z Flip 5 makes it perfect for those who are always on the move. With DeX support, you no longer need to carry around a bulky laptop. Instead, you can have all the power and capabilities of a desktop in the palm of your hand. Plus, the foldable design ensures your device stays protected during your travels.
Stay connected: The Galaxy Z Flip 5's 5G support ensures you're always connected at lightning-fast speeds, making it ideal for video calls, streaming, and browsing the web while using DeX. Say goodbye to buffering and hello to seamless productivity.
Maximise your downtime: When it's time to unwind, Samsung DeX on the Z Flip 5 delivers an impressive entertainment experience. Whether you're streaming your favourite movies, playing games, or simply browsing the web, the desktop-like interface elevates your leisure time.
The Samsung Galaxy Z Flip 5 and its DeX support are set to redefine the boundaries of mobile productivity. This is capable and portable gadget gives you a smooth desktop experience wherever you are, making it the ideal tool for businesspeople and multitaskers who don't want to be constrained by conventional workplaces. Get ready to experience the future of mobile computing with the Galaxy Z Flip 5.
Multitasking Made Easy With the Z Flip 5's Foldable Display
With its innovative foldable display, the Samsung Galaxy Z Flip 5 takes multitasking to new heights. This innovative technology, which combines elegance, functionality, and convenience, delivers a distinctive user experience that makes daily tasks easier and boosts productivity. Here's how the Z Flip 5's foldable display makes multitasking a breeze:
Flex Mode: The Galaxy Z Flip 5 introduces Flex Mode, a feature that automatically adjusts the user interface when the phone is partially folded. You may use the top half of the screen for one app and the bottom half for another via this. You could, for instance, use the bottom half to take notes while using the top half to view a video or participate in a video call.
App Pairing: App Pairing on the Z Flip 5 allows you to create shortcuts that launch two apps simultaneously in a split-screen view. This means you can quickly open your favourite app combinations with just one tap, streamlining your multitasking experience and saving you time.
Google Pixel 7a Specifications Leaked: Check Out What To Expect
Adjustable Viewing Angles: The Z Flip 5's foldable display enables various viewing angles, allowing you to prop the phone up like a mini laptop or adjust it to your preferred angle for comfortable, hands-free use. This is particularly useful for video calls, watching content, or even following a recipe while cooking.
Drag and Drop: Drag and drop content between apps when using the split-screen mode, thanks to the foldable display, is also simple. This feature has made it easier for you to avail of multitasking by allowing you to easily move files, photos, and text from one app to another.
Compact Design: The Z Flip 5's foldable design looks stylish and contributes to its multitasking capabilities by making it easy to use with one hand. The compact form factor ensures you can effortlessly manage your tasks on the go, even when space is limited.
The Samsung Galaxy Z Flip 5's foldable display is poised to redefine the way we multitask with our smartphones. With features like Flex Mode, app pairing, and adjustable viewing angles, the Z Flip 5 is set to become an indispensable tool for busy professionals and multitaskers, helping them stay productive and efficient in their daily lives.
The Z Flip 5's Cameras: High-Quality Photos and Video in a Small Package
The Samsung Galaxy Z Flip 5's camera system offers exceptional photo and video capabilities, all packed into its sleek, foldable design. With cutting-edge features and impressive versatility, the Z Flip 5 is set to capture your memories in stunning detail, no matter where life takes you. Let's explore the impressive camera features of the Z Flip 5.
Dual Rear Cameras: The Galaxy Z Flip 5 features a dual rear camera setup consisting of a high-resolution primary sensor and an ultra-wide-angle lens. This combination allows you to capture stunning photos in various scenarios, from sweeping landscapes to close-up shots. The primary sensor ensures sharp, detailed images, while the ultra-wide lens lets you capture a broader field of view, perfect for group photos or expansive scenes.
Night Mode: Never miss a moment, even in low-light conditions, thanks to the Z Flip 5's Night Mode. This feature uses advanced AI algorithms and long-exposure techniques to produce bright, noise-free images, even when the lighting isn't ideal. Capture the magic of nighttime scenes and events with ease.
Video Capabilities: The Z Flip 5 boasts impressive video recording capabilities, with support for 4K resolution at 60 frames per second. This ensures your videos are smooth, detailed, and professional-looking. Additionally, the device offers advanced stabilisation features so that you can record steady, shake-free footage even during action-packed moments.
Flex Mode for Hands-Free Shooting: The foldable design of the Z Flip 5 also enhances your photography and videography experience. Without an external tripod, you can use Flex Mode to position the phone on a level surface and change the angle to get the ideal photo. This is really helpful for taking group shots, making time-lapse videos, or even making material for social media.
Front Camera for Stunning Selfies: The Galaxy Z Flip 5's front-facing camera ensures your selfies are always on point. With its high-resolution sensor and advanced portrait mode features, you can capture beautiful self-portraits with professional-looking background blur and flattering lighting effects.
The Samsung Galaxy Z Flip 5's camera system is designed to deliver high-quality photos and videos in a compact, foldable package. With its advanced features and impressive versatility, the Z Flip 5 is set to become your go-to device for capturing life's precious moments, no matter where your adventures take you.
Battery Life and Charging: All-Day Power That Fits in Your Pocket
The Samsung Galaxy Z Flip 5's battery life and charging capabilities are designed to keep you powered and connected throughout your busy day. With a focus on efficiency and convenience, the Z Flip 5's battery system ensures you can enjoy all its features without constantly worrying about running out of juice. Here's what you can expect from the battery life and charging options of the Galaxy Z Flip 5.
Long-lasting Battery: The Z Flip 5 is equipped with a high-capacity battery that has been optimised to provide all-day power, even with heavy usage. Its intelligent power management system ensures that energy is used efficiently, allowing you to multitask, stream content, and capture memories without constantly searching for an outlet.
Fast Charging: When it's time to recharge, the Z Flip 5's fast charging capabilities ensure you're back up and running in no time. With support for both wired and wireless fast charging, the device can be quickly topped up, minimising downtime and keeping you connected.
Wireless PowerShare: Wireless PowerShare is another feature of the Galaxy Z Flip 5 that enables you to share your phone's battery with other compatible gadgets like headphones, smartwatches, or even another smartphone. Simply place the device on the back of your Z Flip 5, and it will begin charging. This convenient feature can be a lifesaver when you or a friend need a quick power boost on the go.
Compact Design for Portability: The Z Flip 5's foldable design ensures that it will fit comfortably in your pocket or bag, in addition to making it easy to operate. No matter if you're travelling, attending a conference, or simply running errands, you can bring your all-day power with you thanks to our portable design.
The Samsung Galaxy Z Flip 5's battery life and charging capabilities are designed with the modern user in mind. With its long-lasting battery, fast charging options, and Wireless PowerShare feature, you can enjoy all the benefits of this innovative foldable smartphone without constantly worrying about battery life. Stay connected, productive, and entertained all day with the Galaxy Z Flip 5.
When and Where to Buy the Samsung Galaxy Z Flip 5
The Samsung Galaxy Z Flip 5 is expected to be announced on July 26 and will likely be available for purchase starting August 11, 2023. While the specific retail locations and online stores haven't been mentioned yet, you can expect to find the Z Flip 5 at major retailers, carrier stores, and Samsung's official website once it's released.
Please be aware that these dates are based on current rumours and may change. For the most recent information on when and where to purchase the Galaxy Z Flip 5, it's a good idea to keep a watch on official announcements from Samsung and your preferred shops.
Samsung Phone To Support DeX
With the Samsung DeX function, you can easily create a desktop-like experience by connecting your Samsung smartphone with an external monitor, keyboard, and mouse. DeX is supported by a number of Samsung smartphones, including several models from the Galaxy Z Fold and Z Flip series, as well as the Galaxy S and Note series.
The Galaxy S22 series from Samsung, which includes the Galaxy S22, S22+, along with S22 Ultra, is one of the newest smartphones to support DeX. These devices allow you to use DeX wirelessly or with a compatible USB-C to HDMI adapter, transforming your phone into a powerful workstation.
To use Samsung DeX, simply connect your compatible Samsung phone to a supported display, and the DeX interface will automatically launch. You can then use your phone as a touchpad or connect a Bluetooth keyboard and mouse for a more traditional desktop experience. With DeX, you can multitask, edit documents, and even play games on a larger screen, all powered by your Samsung smartphone.
Samsung Galaxy Z Flip 5 Review
As of now, there isn't a comprehensive review available for the Samsung Galaxy Z Flip 5, as the phone has not been officially released yet. However, based on rumours and leaks, the Galaxy Z Flip 5 is expected to have an improved camera system, better speakers, and an enhanced vibration motor. The display is anticipated to be at least a 6.7″ FHD+ Dynamic AMOLED 2X with 1080 by 2460 pixels resolution. Storage options for the phone might include 128GB, 256GB, or 512 GB.
Please be aware that these specifics could change since they are based on rumours rather than Samsung's official statements. Once the phone is released and comprehensive reviews become available, you'll be able to get a more accurate assessment of the Galaxy Z Flip 5.
Samsung Galaxy Z series
The Samsung Galaxy Z series is a lineup of foldable smartphones that includes the Galaxy Z Fold and Galaxy Z Flip models. These innovative devices feature flexible displays and unique form factors, setting them apart from traditional smartphones. Here's an overview of the Z series models:
Galaxy Z Fold: The Galaxy Z Fold series features smartphones with a larger, foldable display that opens like a book. The device offers a tablet-like experience when unfolding, providing a larger screen for multitasking, media consumption, and productivity. The Fold series includes the following models:
Galaxy Z Fold
Galaxy Z Fold 2
Galaxy Z Fold 3
Galaxy Z Flip: The Galaxy Z Flip series offers a different take on foldable smartphones with a design reminiscent of classic flip phones. The Z Flip devices have a compact form factor when folded, making them easy to carry in a pocket or purse. When unfolded, they reveal a full-sized smartphone display. The Flip series includes the following models:
Galaxy Z Flip
Galaxy Z Flip 5G
Galaxy Z Flip 3
Both the Z Fold and Z Flip devices come with high-end specifications, powerful processors, and multiple cameras, offering the latest in smartphone technology. The Galaxy Z series begins a new era in smartphone design by giving customers access to a convenient combination of cutting-edge capabilities and portability. We may anticipate even more cutting-edge products in the future as Samsung continues to improve and expand its foldable lineup.
Conclusion
In conclusion, the Samsung Galaxy Z Flip 5's anticipated arrival brings the exciting potential for those seeking a compact yet powerful smartphone with's added functionality of DeX support. It will be a game-changer for professionals and multitaskers who want the convenience of a smaller form factor without sacrificing the desktop-like experience provided by DeX.
The Galaxy Z Flip 5 represents the ideal fusion of portability, innovation, and productivity as Samsung continues to push the limits of foldable technology, making it an appealing choice for customers who want the best of both worlds. Keep an eye out for the official release to experience the seamless merging of compact design and advanced functionality that the Samsung Galaxy Z Flip 5 has to offer.