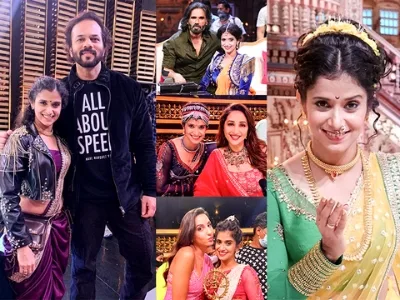 Soochana Shetty Chorge one of the most popular Vasai Virar Creator is widely known for being the finalist of Colors Tv Reality Show, Dance Deewane Season 3. Soochana Shetty, a successful Dance Choreographer, Performer, Fitness Instructor, Actor, who is also a mother of two beautiful kids, made all us Vasaikars super proud with her mind blowing performances in front of such great Celebrities on Dance Deewane 3.
We all saw her in Dance Deewane 3 but not many of us are aware that she has been a part of many Tv shows and has been working with many celebrity personalities for years.
Yes, Dance Deewane 3 wasn't her first reality show or her first appearance on Indian Television. She has been a part of many Indian Tv shows. And throughout the years, her journey has not been easy. But, all her hard work was worth it. Let us stroll through her amazingly inspiring journey.
Soochana's Childhood In Vasai & Dancing Journey
Soochana Shetty Chorge, born and brought up in Vasai, did her schooling from Carmelite Convent English High School, Sandor, Vasai. She has been into dancing since her childhood. She took professional training in Indian Classical Dance Style, Bharatanatyam. She completed her Bharatanatyam courses with certifications.
After completing her studies, Soochana decided to create her career in Dance. She started teaching and choreographing, and she also joined different groups. Soochana also started her own Bharatanatyam Classes in Vasai. Since her childhood she has been performing and taking part in dance competitions. In her childhood itself she also took part in the famous Indian Television Dance Show, Boogie Woogie.
Soochana Shetty Chorge joined the Bosco Caesar Dance Company as an assistant dance choreographer and also worked at M.A.D Mad About Dance.
Vasai Virar Creator On Colors Tv; Dance Deewane 3 Finalist
Dance Deewane is known to be India's one of the best dance shows. On 27th February 2021, Dance Deewane season 3 released. There were a number of amazingly talented dancers from around the country. This dance show is known for its unique age factor, it brings together three generations which is a very good concept.
But, what a feeling of pride to know that one of our Vasai's talented dancers reached such a huge platform. Soochana Shetty from Vasai, not only graced the big stage, but was also among the finalists of Dance Deewane 3.
She participated in the 3rd generation. Soochana's choreographer and partner in the show was the very well known dancer, Vaishanvi Patil. Their dancing jodi received immense love and social media was rooting for them by creating fanclub pages and running the hashtag '#soochnavi'. Every episode Soochana and Vaishnavi received a huge amount of appreciation from the judges, the guests, and the audience.
The judges of Dance Deewane 3 were Madhuri Dixit, Tushar Kalia, and Dharmesh Yelande. All the three judges have always praised Soochana's performance and her constant power packed energy.
Soochana's Participation In Other Shows
Apart from making a big name in Dance Deewane, Soochana has also been a part of many other famous shows of India.
Boogie Woogie Dance Show
This famous Indian Dance Competition Show started in the year 1996. This show was indeed a very successful one and had not just one or two but 7 seasons. And the surprising fact is that Soochana Shetty-Chorge has been a part of Boogie Woogie not once but twice.
And both at completely different ages. Once during childhood and the second time when she was married and pregnant. Soochana performed at Boogie Woogie while she was pregnant and this needs special appreciation.
Just Dance
Just Dance was another dance-reality tv series that aired on star plus. This dance show was judged by none other than one of the finest dancer's of India Hrithik Roshan. It was a very successful show. Soochana Shetty-Chorge was a part of Just Dance and it is no surprise that her energetic dance and versatility was highly appreciated.
Crime Patrol
Another very well known TV series of India, Crime Patrol, has showcased many talents. Soochana Shetty has shown her dancing skills in many shows but she is also an amazing actor. Soochana has been part of Crime Patrol and has showcased her acting skills very beautifully.
Social Media Platforms
Soochana Shetty-Chorge is very active on her instagram. Her Insta name is Suchana Shetty. Her followers on instagram are around 29.1K which is amazing. She regularly posts her dance videos along with her students, her own kids, and her dance partner. Soochana has very beautifully presented her journey of Dance Deewane season 3. If you want to rewatch her performances from the show you must surely checkout her instagram profile.
She has been judging many events, participating in fashion events, and has also been collaborating with other dancers namely, the panvelkars, rupesh bane, and her Dance Deewane partner Vaishnavi patil.
It indeed is a visual treat to watch her dances on social media.
Career
Apart from being a part of many famous TV Series, Soochana runs her own dance institute. Since many years she has been running Bharatanatyam classes in Vasai, namely Nrityalaya. And in recent years she has established another dance class at Mira Road. She is the co-owner of Avighnaa- The Creative Hub based in Mira Road. Soochana runs this creative hub along with her dance partner and the co-owner, Santosh Anchan. Here they teach dance, fitness, art,jolly phonics, jolly grammar and also organise many events and workshops. Soochana is also a fitness instructor and has trained many to follow the path of fitness. 
Family
Soochana Shetty- Chorge is married to Sudesh Chorge and is a mother of two boys, Sudayva and Sudhanva. Soochana's mom also stays in Vasai itself. Soochana was born and brought up in Vasai.
Being an amazing dancer, talented actor, skilled choreographer, fitness instructor, and a mother two, Soochana Shetty sure is a true inspiration for all and is making Vasai proud!
For more such information about Vasai Creators, stay tuned to Vasai Virar News. Also, get updates on local news, entertainment, education, technology and top 10.