Do you like feeding pigeons? But not anymore!
As Pigeons Spreading Lung Disease, Vasai people could not feed pigeons as there is Rs. 500 fine on feeding pigeons, taken by the Vasai Virar Shahar Mahanagarpalika.
What? Why? This could be your reaction with confused expressions. How could feeding pigeons be a crime?
Let us tell you what exactly the scenario is!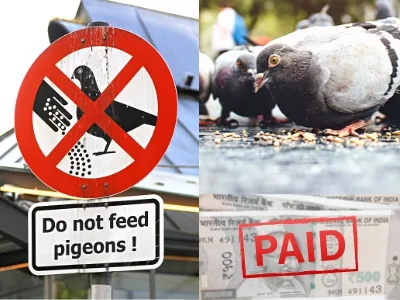 Pigeons Spreading Lung Disease In Mumbai
Yes it is true that Pigeons Spreading Lung Disease. After treating several cases related to lung disease, Doctors stated that people with interstitial lung disease or stiffening of the organ in Mumbai could be linked to the nesting of pigeons. Doctors from the Breach Candy Hospital states that exposure to pigeon dropping is the cause of developing pneumonia in several patients. This is not it, but a few of the patients land up on ventilator support because of pneumonia which is caused by exposure to pigeons droppings.
So feeding them could be bad for your lungs.
What Exactly This Hypersensitive Pneumonia Causing By Pigeons?
Hypersensitive Pneumonia (HP), or Bird Fancier's Lung, whatever you call it, is an inflammatory lung condition caused by bird dropping that is highly allergenic to humans. In simple words, HP is a rare immune system disorder that affects the human lungs. This can be very dangerous if a human has repeated exposure to allergens; the inflammation in your lungs can cause permanent damage. Let us tell you that according to a study they is a big role of pigeons in spreading diseases such as Histoplasmosis, Cryptococcosis, and Salmonellosis.
Symptoms of Hypersensitive Pneumonia
You need to know that there can be acute or chronic symptoms when it comes to HP symptoms. If any person gets acute symptoms, it holds less risk as they come on within a few hours of being around an allergen and only last a few hours or days. But when people get chronic symptoms, they develop slowly and worsen over time.
Symptoms Of Acute Hypersensitive Pneumonia Are:
Shortness Of Breath
Dry Cough
Chest Tightness
Chills
Fatigue
Fever
Muscle Aches
Symptoms Of Chronic Hypersensitive Pneumonia Are:
Shortness Of Breath, Especially With Activity
Cough
Fatigue
Weight Loss
Finger Or Toe Clubbing
Is Vasai Virar Shahar Mahanagarpalika Taking Fine From The Vasaikars For Feeding Pigeons?
Yes, It is true. For the health care of the Vasaikar's, Vasai Virar Shahar Mahanagar Palika, they were charging Rs.500/- if they found anyone feeding pigeons. Mahanagarpalika has placed banners/hoarding of the Pigeons feeding fine and reasons not to feed them.
The image of the banner/hoarding by the Vasai Virar Mahanagpalika says:
"Beware of Pigeons"
The prevalence of Hypersensitive Pneumonia (HP) disease due to germs released from pigeon feathers and droppings is on the rise in Pune as well as in Mumbai. 60 to 65% of cases of hypersensitive pneumonitis are among lung-related diseases. However, pigeons should be kept from being given food in the open. If found, a fine of Rs.500/- will be levied. Make a clear note of this.
 Conclusion
Pigeons are infestations in residential areas as people in society love to feed birds, especially pigeons on daily basis. Yeah, it is very good that you take care of birds by feeding them, but now they are causing lung disease to us. So now it isn't good to feed them in a public area. It is important controlling pigeon populations to prevent disease spread. Try not to feed them for the health purpose of you and your family and the rest of society.
And if you are from the Vasai region, you have to pay a fine of Rs. 500/- if found feeding pigeons.
For such local news and national news stay updated with Vasai Virar News.