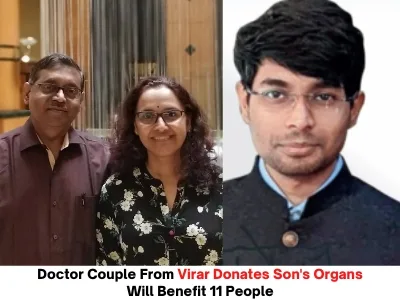 Virar News: In a touching act of kindness and bravery, a couple of doctors from Virar showed incredible heroism by making a remarkable decision during a heartbreaking personal tragedy. They decided to donate their son's organs, who sadly lost his life in a motorcycle accident in Bengaluru. These doctors, driven by their strong dedication to saving lives, became an inspiration for others through their selflessness.
The young man's recently married wife also wholeheartedly agreed to the organ donations, which will positively impact the lives of 11 individuals.
On May 15, something unexpected happened to Saket Dandawate, an engineer and avid biker. He was on a road trip from Pune to Bengaluru, where he worked at a digital app company. Everything was going smoothly until he reached Chitradurga, a small town on his way. That's where the unexpected collision occurred but with a twist: the vehicle that hit him was unidentified.
Fortunately, Saket was wearing a helmet at the time. A kind-hearted passerby immediately came to his aid, taking him to a nearby hospital in their car. They also contacted Saket's parents, Dr Vinit and Dr Sumedha, informing them of the incident. The compassionate individual even covered the initial hospital expenses until Saket's family arrived, as a friend of the Dandawate family reported.
Doctor couple from Virar donates son's organs; will benefit 11 people https://t.co/6x3FIaqHo2

— The Times Of India (@timesofindia) May 22, 2023
Saket suffered severe brain injuries and was transferred to Narayana Hospital in Bengaluru and placed on a ventilator. Tragically, he passed away on a Friday morning. Dr Vinit, a respected physician and President of the Indian Medical Association in Virar, with Dr Sumedha, a skilled ophthalmologist, made an extraordinary decision: they chose to donate Saket's organs. This generous act included his liver, kidneys, eyes, heart valves, and skin. Apoorva, Saket's wife, who works in the IT sector in Bengaluru, also consented to organ donations. The couple had gotten married approximately five months ago.
According to friends of the doctor couple, the Dandawate family has a long-standing tradition of engaging in organ donations. A doctor friend mentioned that the Dandawate family has a progressive background and has actively participated in organ and body donations. In fact, even Saket's grandparents had previously donated their organs. Saket himself had expressed his intention to donate his organs at an early stage.
Know The Best Hospitals In Virar
Saket, the elder of two siblings, returned to India in 2017 after completing his masters in the United States. His primary motivation for coming back was his passion for motorbikes. Prior to his studies in the US, Saket pursued his engineering degree in Vellore, Tamil Nadu. According to family friends, Saket was an active member of a professional biking group and frequently embarked on extended rides during weekends.
How Can Organ Donation Help People?
Donating organs can have a significant impact on the lives of people in need. Here are several ways in which organ donation can help:
1. Saving lives: Organ donation can save the lives of individuals suffering from end-stage organ failure. Organ transplantation provides them with a chance to regain their health and lead productive lives. Organs such as the heart, liver, kidneys, lungs, and pancreas can be transplanted to recipients who require them to survive.
2. Improving the quality of life: For individuals with organ failure, receiving a donated organ can significantly improve their quality of life. Transplants can restore normal bodily functions and allow recipients to engage in previously unable activities.
3. Alleviating suffering: Organ failure often leads to severe pain, discomfort, and limitations in daily life. Organ donation offers hope to those suffering by providing a means to overcome their medical condition and alleviate their pain.
4. Enhancing longevity: Organ transplantation can extend the life expectancy of individuals who would otherwise face a limited lifespan due to organ failure. By receiving a donated organ, they can enjoy more years with their loved ones.
5. Supporting medical research: Organ donation is crucial in advancing medical research and improving transplant procedures. Donated organs can be used for research purposes to develop new treatments, surgical techniques, and medications, benefiting future patients.
Know Area Wise Clinics In Virar
6. Promoting emotional healing: Organ donation can provide solace and emotional healing to the families of donors. Knowing that their loved one's organs have helped others in need can bring a sense of comfort and pride during a difficult time.
7. Building community solidarity: Organ donation fosters a sense of solidarity within communities. It encourages individuals to come together to support and save the lives of their fellow community members, promoting a culture of compassion and giving.
It is important to note that organ donation should be a personal decision made by individuals or their families. By registering as an organ donor, you can express your willingness to help others after your death and potentially save multiple lives.
Stay connected with Vasai Virar News for daily viral news and local news.