This Murder News will send chills down your spine. This psycho killer was inspired by the US show 'Dexter' and murdered his partner following the same steps.
Shradhha Walkar, a woman staying in Vasai, fell in love with Aaftab Poonawala while the two were working in Mumbai. They connected through an online dating app. Shraddha's parents were completely against the two of them dating. Her parents disapproved of their relationship and wanted them to part ways. Shraddha was so in love with the guy that she refused to listen to her parents. Unaware of how her life was about to turn into dreadful Murder News.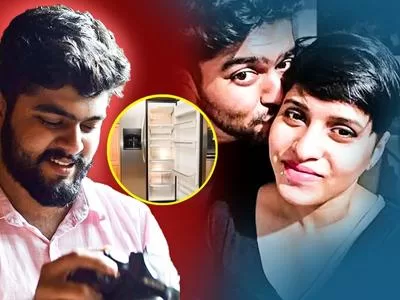 The Couple Eloped To Delhi
They decided to stay together away from their hometown due to family disagreements. The couple eloped to South Delhi. As time passed, Shraddha started expressing that she wanted to take their relationship a step ahead and get married. Aaftab kept denying it. Soon, Shraddha began to force him into marriage, and Aaftab showed his true side.
Shraddha's friends revealed that in the beginning, the couple was happy. But, slowly, as time passed, they started experiencing some differences. They started fighting a lot. Aaftab used to hit Shraddha during their fights.
This Murder News is so haunting that it will make you lose all your faith in humanity.
Aaftab Chopped Shraddha's Body Into 35 Parts
Aaftab felt pressured to get married to Shraddha, and he decided to murder her. It wasn't just any Murder; it was brutal and heartwrenching. As per the investigators, he allegedly Murdered Shraddha on 18th May 2022 by strangling her post a furious fight. That's not it; he then chopped her body into 35 Parts. He bought a new fridge to store her body parts.
The police sources revealed that after murdering his live-in partner, he read about Human Anatomy and Blood Cleaning Methods online to help him chop off the body.
Investigators have also said that he stored the body parts in the new fridge, ordered food post the murder, and kept lighting incense sticks (agarbattis) to avoid the smell; he also bought acid, disinfectants, and other things to clean the house. He normally lived in the same house while the fridge was stuffed with Shradhha's body parts to avoid suspicion.
During the investigation, Aaftab revealed that Shraddha saw him messaging someone, leading to the beginning of the fight before the murder.
He Disposed Of Her Body Parts At 2 Am In Delhi, Revealed In Murder News
Investigators also said that he left his home at 2 am on different days for over three months to dispose of Shraddha's body parts in various locations in Delhi. He also brought a new woman home for a date while some of the body parts were still in the fridge. The other woman came home not just once but a few times between June and July.
He also logged into her Instagram Account and messaged her friends to pretend that she was still alive, and he even paid her credit card bills to prevent companies from contacting her at her hometown address in Mumbai.
She Had Messaged Her Friend Saying He Will Kill Me
Shraddha's friend revealed that she was very stressed. The friend also claimed that the couple used to fight a lot, and during one such fight, Shraddha had messaged this friend asking him to take her somewhere or Aaftab might kill her. That night her friends arrived there and took her out of the house. They also warned Aaftab that they would approach the Police if he continued to be violent, but they did not inform the Police due to Shraddha's sentiments.
Another friend revealed that he could not get in touch with Shraddha for two months as she wasn't replying to any of his texts, and he noticed that her phone had been switched off since august. That's when he decided to inform her family and approach the Police.
In November, Shraddha's father approached the Mumbai Police about a missing person's complaint. As the victim's last location was found to be Delhi during the investigation, the case was handed over to the Delhi Police.
The Murderer Used A Mini Saw To Chop Her Body Parts
The Delhi Police successfully solved this six-month-old murder. After the case was transferred to them, based on the deceased's father's complaint, they traced Aaftab Poonawala and caught him.
The Delhi Police revealed that Aaftab used a mini saw to chop Shraddha's body parts. The weapon is yet to be found. The accused himself revealed how he murdered her and chopped her body parts. He also revealed how he disposed of the body parts in the nearby jungle areas of Chhatarpur Enclave. A case has been registered under IPC sections 302 and 201, and the accused has been arrested.
What do you have to say about this dreadful murder news? Let us know in the comment section below.
To know more about local news and the latest news, stay tuned with Vasai Virar News. We'll be your one-stop source to know about your local news, local business, and local things as well.