Want to know who is the Mr. Vasai And Miss Vasai?
The Vasai Kala Krida Mahotsav has been celebrated for many years in Vasai. It all started in the year 1989. In 2014 the Silver Jubilee was celebrated with great enthusiasm and in the following year the event witnessed a humongous crowd and also a huge number of participants made the most of this event. Around 50,000 participants made this event a memorable one.
Every year there are famous personalities that grace the Vasai Kala Krida Mahotsav with their presence. These include many renowned faces! You surely are waiting for the Vasai Kala Krida 2022. And it is starting soon.
The fashion show in Kala Krida Mahotsav is the highlight of the event. It was started in 1995. Many young talents participate every year and make sure that this event is a successful one. Many have the titles as well as the hearts of all with their amazing talent, skills, and hardwork. These events are organised on the Vasai Kala Krida Ground, popularly known as the Chimaji Appa Ground.
History of Mr. And Miss Vasai Event
The fashion show in Vasai Virar Kala Krida is the highlight of this event. But where did all this start? This event started in the year 1995. It was started with the contribution of many individuals among which Mr. Beno Cerejo, Mrs. Sangita Cerejo, and Late Mrs. Bharati Pradeep Deshmukh took the initiative in starting the event. Previously, this event was only limited to Miss Vasai. But soon Late Mrs. Bharati Pradeep Deshmukh made additions like adding Mr. Vasai title and group participations. The event got better and bigger with the passing years. Later on, Mr. Rajesh Vartak and Mr. Sajid Patel levelled up the event with their experience and expertise in this field of art.
Let us look back at the last five year's winners of the Vasai Fashion Show.
Mr. Vasai And Miss Vasai 2015
After the silver jubilee celebration of the Vasai Kala Krida Mahotsav in 2014, the events in 2015 were even more huge in terms of crowd as well as participants. Talking about the Vasai Kala Krida Fashion Show 2015, some amazing talents were a part of the event.
Are you wondering who the Mr. Vasai And Miss Vasai were? Want to know what they have been doing after winning the title? Let us give you some details here. Mr. Vasai 2015 was Aniket Salvi and Miss Vasai 2015 was Parin Shahbandari.
Aniket Salvi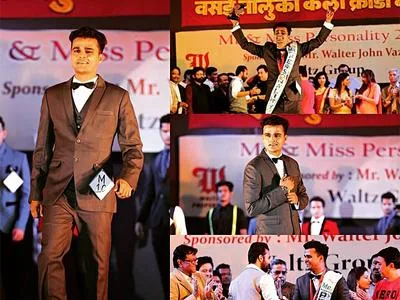 A double degree aerospace engineer, Aniket Salvi is from the science background. Winning the title of Mr. Vasai gave him different opportunities and he made the most of it. Aniket Salvi is now an Influencer on Social Media who is known for his motivational speaking skills and optimistic approach towards life. He is also a corporate trainer, traveller, host, actor and is a fitness enthusiast. After winning the title of Mr. Vasai, Aniket Salvi became a part of the Vasai Kala Krida Team and every year we see him hosting the Fashion show event with utmost enthusiasm.
Parin Shahbandari
She was a part of the Guiness World Record Holder 'The Forgotten Army Azaadi Ke Liye', the largest cinematic Indian band on earth with 1046 musicians. Parin is multi talented and has been a part of different creative sectors. She is a singer, model, bellydancer, she has also won the title of miss metro 2016.
Mr. Vasai And Miss Vasai 2016
The Vasai Kala Krida Mahotsav 2016 was quite an entertaining one! Just like every year there were a number of events held and they were all extremely successful. Many groups and individuals participated in the Kala Krida Fashion Show 2016.
Let's talk about the winners of the fashion show.
Gaurang Solanki
Gaurang is won the title of Mr. Vasai in 2016. It was a great achievement and it gave him a boost for his journey ahead. He is a very hardworking individual and had performed very well in the Vasai Virar Kala Krida Fashion Show 2016.
Haritha Nair
After winning the title of Miss Vasai in 2016, Haritha Nair took forward her modelling journey with great speed. She then was a 1st runner up of Miss Chennai International in 2018 and in the same year she also was a 2nd runner up of Miss Kerala. She is a Fashion Model and is making it big in the industry. Haritha is also quite active and known on her social media platforms.
Mr. Vasai And Miss Vasai 2017
This was the 28th year of the Vasai Kala Krida Mahotsav. Vasai Kala Krida Ground is packed with a huge number of people during this time every year. There are a number of sports events, arts and cultural events held every year. Let's know about the winners of the Kala Krida Fashion Show 2017.
Riddhish Patil
He won the Mr. Personality title during this year and it was a huge achievement for him. Riddhish is very active on his social media platforms. He is quite a fitness lover and also loves travelling. Post winning the title he has been a part of similar events. He has also participated in marathons. He has been doing quite well in different sectors and has surely got a boost post winning the title.
Gandhali
Miss Vasai 2017, Gandhali is achieving immense success in her modelling career. She has been a part of huge events like Times Fashion Week, presenting famous designers and gracing these big platforms with her talent and experience. She has also been a part of big brands like Nykaa and Sugar Cosmetics. Gandhali's social media is filled with her amazing modelling works. Being a professional model, Gandhali is quite serious with her fitness and nutrition.
Mr. Vasai And Miss Vasai 2018
With thousands of participants, the Vasai-Virar Kala Krida 2018 was a huge success. All the events sports, cultural, literature, and arts were successfully completed. The participants worked very hard to get the best results. The fashion show was a huge hit. The winners of the event are moving ahead in their lives quite successfully.
Karan Shetty
Being from a sports background, Karan Shetty has won many sports events since childhood. In 2018 Vasai Virar Kala Krida Fashion Show, he performed extremely well and won the title of Mr. Vasai. He did a few photoshoots and creative video shoots post winning the title. Karan is focused more on sports like football, swimming, basketball, and has been successfully working towards it. His social media gives a hint of his love for trekking, travelling, sports, photoshoots.
Marishca Rodrigues
After winning the title of Miss Vasai, Marishca got a kickstart to her modelling career. She has done some amazing photoshoots and has a very attractive social media presence. She participated in many beauty pageants and also achieved great success. She was among the top 15 of FIQ, was a semifinalist of Miss India Org, Miss Diva Org, Glamanand Supermodel India, and Divine Group India.
Mr. Vasai And Miss Vasai 2019
The Vasai Virar Kala Krida Mahotsav 2019 was indeed a memorable one because after that we couldn't enjoy these amazing events for two whole years due to lockdown. So, the Kala Krida 2019 events hold a special place in our hearts. Even the Kala Krida Fashion Show event winners must feel so lucky to have participated and won as it was the last event pre covid.
Raj Deepak Alka Shah
Mr. Vasai 2019, Raj Deepak Alka Shah is now a creator on his social media platform. He creates reels and has also done many attractive photo shoots which his followers have showered a lot of love on. He loves travelling and is quite a creative mind. His different photoshoots are the highlight of his social media account.
Damini Gawade
Mr. Vasai And Miss Vasai 2022
The 2022 fashion show in Vasai Virar Kala Krida Mahotsav was successful. Many talented participants gave their very best, and the competition was tough. The judges had a hard time deciding the winners. Many marathi industry actors graced the event. The audience had a great time watching their favorite marathi celebrities live. Also, the participants felt very honored to have performed in front of them.
Pranav Nair
Pranav Nair won the title of Mr. Vasai 2022. Pranav has been in the modeling industry for a few years. In the year 2021, he secured the position of 1st runner-up in the Time Fresh Face event. He also won the title of Mr. Mumbai University 2022. He has been part of the clothing brand collab 'Shroomzz,' which is available on Amazon. Apart from being into modeling, Pranav Nair is an enormous fitness enthusiast. He has been working hard to keep himself fit and motivating and helping others stay fit.
Pranav Nair is very active on social media. His pictures tell us a lot about his hard work in this industry.
Poonam Chikhalkar
Poonam Chikhalkar won the Miss Vasai 2022 title. By profession, Poonam is a certified Makeup Artist. She has worked relentlessly in this field and has given the best look to many brides with her exceptional makeup skills.
Poonam has also been the Makeup Artist for various models for their photoshoots. Her Social Media feed shows a variety of makeup looks that tell us a lot about her creativity. Her interest in modeling reflects in her feed.
She has done many creative photoshoots of herself as well. Apart from creativity, Poonam loves to travel and has also been trekking.
Most popularly known as the biker girl. She gave an unforgettable performance and won the well deserved title. Damini has always been a bike lover, and along with it she has been into fitness, travelling, and photoshoots. Winning the title in a Saree, representing herself in the best way is exactly who she is. Even her social media is filled with adventure and things that people often add to their bucket list. She is a track racer, diehard traveller and also a photographer. 
Vasai Kala Krida 2022 Fashion Show
Finally after two long years of waiting, Vasai Virar Kala Krida Mahotsav is back. Last year Late Mrs. Bharati Pradeep Deshmukh, the one who played a key role in starting and running this event successfully every year, passed away. This year will be the first time that this event will be carried forward without her presence. So, this years Kala Krida Fashion Show will be a tribute to Late Mrs. Bharati Pradeep Deshmukh.
Do you wish to be a part of the Vasai Fashion Show 2022? Let us tell you about all the details of this year's fashion show.
Rules For Group Fashion Show 2022
•The Theme Is : Colours of India
•The Group Strength Should Be : 12-16 Participants
•Cut-Off Time : 8 mins Is The Stage Time And 5 mins Is For Auditions
•Prior Permission Will Be Required If Props Are To Be Used
•Special Care And Precautions Should Be Taken For Use Of Country Flag
•There Will Be No Stage Set Up Used
• You Will Get Extra Points For Punctuality And Discipline
Rules For Mr. & Miss. Personality 2022
• The Entry For This Even Is Open Only For Bachelors And Spinster
• The Cultural Decorum Must Be Strictly Maintained By All The Participants At All Times
• The Participants Will Be Judged On The Basis Of Overall Personality. This Includes, Is Not Only Limited To,
Walk
Introduction round
Talent Round
Communication Skills
Costumes
QnA
• You Will Get Extra points for punctuality and discipline
Hope you will give your best and become one of Mr. Vasai And Miss Vasai! Also stay tuned to Vasai Virar News for such daily news, local news, and updates.
Also, get information about Food, Education, Health, Jobs, Entertainment, and the Top 10 things.