A very heartwarming incident happened in Vasai, which is no less than a miracle of Jesus.
On the evening of the 13th of November, a lady named Mary Samuel, residing in Vasai, was heading to the Church with her husband. They recited the prayers and meditated. While returning back, they took a rickshaw from Dewaanman Vasai. They reached the destination, handed the fare for the auto, and left. The auto driver left as well. All of them were unaware of what was about to happen and how their situation would turn out to be a miracle of Jesus.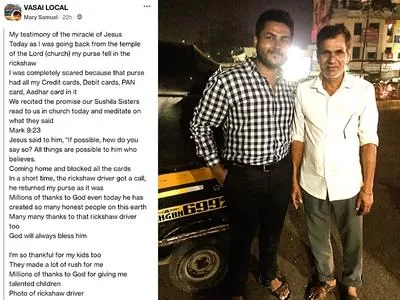 Soon, when she had to check a store's shopping list that she had kept in her purse, she realized that she had left her wallet in the rickshaw. The lady was shaken. She has all of her important documents inside her purse. Documents like Aadhar Card, PAN Card, Credit Cards, etc.
She started panicking, and her family tried calming her down after reaching home. They immediately took action and blocked all her cards. The family was trying their best to think of a solution.
Suddenly, the lady's daughter received a call from an unknown number. On call, there was a man named Vinod Rawat. You will be shocked to know who Vinod was. He was the same rickshaw driver, and he called to inform us that the lady had left her purse in his rickshaw and that he wanted to return it. The family took a breath of relief and soon headed to meet him. But you will be surprised to know that he wasn't waiting alone.
Mr. Vinod Rawat told the family to meet him at Vasai Phata. The lady's daughter and son arrived at the location.
They were surprised to see that he wasn't alone!
There he was with his wife and younger daughter. Even more surprising is what he shared. In the conversation, he and his wife shared how their little daughter was trying her best to find the contact details of the family in the documents left inside the purse. He then found a shopping slip with the lady's daughter's number on it and called her. The purse had all the important documents as it was. The family was highly moved by this gesture of Mr. Vinod and his family. They couldn't thank him enough! To keep this fond memory with them forever, the lady's son clicked a picture with Mr. Vinod.
This incident was no less than a Miracle Of Jesus
It is very difficult to find such honest gentlemen in today's time. Like everywhere we hear and see people becoming increasingly selfish, it is very hard to believe that humanity still exists. The lady expressed immense gratitude and thanked the lord in her latest post on Facebook in the same group. This was brought to light by the lady herself and her daughter on a Facebook group named 'Vasai Local.'
The Comment Section Got Flooded!
The comment section of the posts got flooded with a lot of appreciation from everyone. People have highly appreciated Mr. Vinod's honest gesture. In one of the comments, a lady shared that two auto drivers have returned her iPhone to date. Another lady in the comment said that she knows Mr. Vinod and that he is a really good man. There are tons of comments where people have said God bless him and his family.
What a beautiful incident, and how well it proves that there are still such honest and trustworthy people around us that help us believe in humanity again.
What are your thoughts on this beautiful Miracle of Jesus that restored everyone's faith in humanity? Let us know in the comment section below.
To know more about local news and the latest news, stay tuned with Vasai Virar News. We'll be your one-stop source to know about your local news, local business, and local things as well.