Do you know? There will soon be a Medical College in Vasai! Yes, it has been confirmed recently by Hitendra Thakur himself.
Hitendra Thakur confirmed that he wants to ensure that the students of Vasai would not feel the need to go to foreign countries to pursue their medical careers.
The education system in Vasai is improving with every passing year. And there have been increasing opportunities for students. And now, educational development will reach new heights with the opening of a Medical College in Vasai.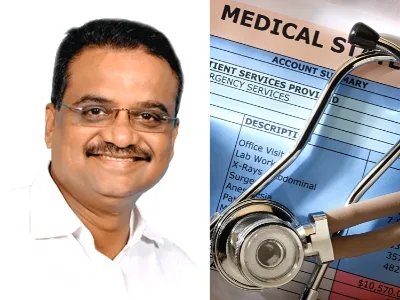 Medical College In Vasai; Hitendra Thakur Confirms
Recently, on 11th January 2023, the 38th Annual Meeting of Agri Samaj Vikas Mandal was held. The meeting went well and also included certain events. The event was held at Virar, Bolinj Kharodi Ground.
There were celebrations like an award ceremony, and an Arts and Sports Festival was organized as well. Overall, the Annual gathering was quite a successful one.
The event's highlight was Mr. Hitendra Thakur's words regarding the development of education in Vasai.
Mr. Hitendra Thakur confirmed that he would soon open a Medical College in Vasai. The location is yet to be confirmed.
In the event, there were other members present as well. The MLA of Manse, Mr. Raju Patil, was present at this event. Along with both the MLAs, the senior leader and former mayor, Mr. Narayan Mankar, the Palghar District Shiv Sena Lok Sabha organizer and former District President of Krushi Sena, Mr.Janardhan Patil (Mama), were present as well.
Hitendra Thakur appealed to the Vasai Pragati Credit Institution of Agri Samaj to provide educational loans to students at low-interest rates. MLA Raju Patil also said that every task is possible if all come together.
Overall, it was a very successful event wherein everyone agreed upon developing and growing education in Vasai-Virar.
Improving Education In Vasai
The news of Hitendra Thakur confirming that soon there will be a Medical College in Vasai has given new hope to all the students aspiring to create careers in the Medical field. That's not it! It also means that there will be a lot of development in other educational areas.
Vasai-Virar has shown immense growth in its educational institutes. There are several known and trusted institutes here. Some of the best schools and best colleges are in Vasai.
Mr. Hitendra Thakur's initiative to start a Medical College in Vasai is because he believes that the students will not have to go to other states or foreign countries to pursue their careers in the Medical field.
We are all eagerly looking forward to the opening of the Medical College in Vasai.
Top 10 Medical Colleges In India
There are many Medical Colleges in India. They are one of the best medical colleges. Let us give you a list of the best medical colleges in India.
All India Institute of Medical Sciences, Delhi
Postgraduate Institute of Medical Education and Research
Christian Medical College, Vellore
National Institute of Mental Health and Neurosciences
Banaras Hindu University
Jawaharlal Institute of Postgraduate Medical Education and Research
Sanjay Gandhi Postgraduate Institute of Medical Sciences
Amrita Center for Nanoscience and Molecular Medicine, Amrita Vishwa Vidyapeetham
Sree Chitra Tirunal Institute for Medical Sciences and Technology
Kasturba Medical College, Manipal, Manipal Academy of Higher Education
Soon, there will be a Medical college in Vasai. Hopefully, the Medical College of Vasai will make it to the list of the top 10 colleges in India.
For such daily updates and local news, stay tuned to Vasai Virar News. Also, get information about education, technology, entertainment, and the top 10.