Looking for the best Cafes in Vasai? What do you look for in a café when planning a food date? The ambiance? The variety of cuisine? Food + Games?
It has been observed that the more a café has to offer other than just good food, the better the customers enjoy visiting the café. Your plans might always keep differing, right? One day you might want to plan a cute aesthetic date with your loved one, and the other day you might want to plan a fun evening with your friends group to enjoy some yummy food and games.
Well, your preferences might change as per your plans. And when we have so many beautiful cafes in Vasai with aesthetic ambiance and super delicious food, it will surely get confusing to select one.
So, we have listed the Top 10 Cafes in Vasai, and have highlighted certain factors that will help you choose the perfect café for your perfect plan!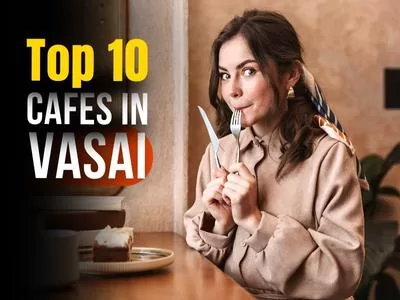 List of Top 10 Cafes In Vasai
1. Urban Juice Cafe
Looking for a comfy and cosy cafe? This cafe is the one for you! Hence it has occupied first rank in Top 10 Cafes In Vasai list.
Ambiance: It has a very friendly vibe with some written graffiti on the walls. The upper floor is also booked for parties. It has a very simple yet classy interior.
Must Try: Along with some yummy pasta and sandwiches being on the must try list, to your surprise we are adding the healthy juices here as well, because they really are worth the try.
Popular Crowd: College groups and huge groups of friends are quite often seen here having the best time and the best food.
Location 1: Jayraj Nagar, Shop No F/11, 100 Ft Road, West, Samta Nagar, Hari Om Nagar, Navghar, Vasai West, Vasai-Virar, Maharashtra 401202
Location 2: Koliwada, Naigaon West, Naigaon, Maharashtra 401201
This cafe literally defines cute aesthetics! It looks like a small bungalow from outside which has been converted into a two floor cafe.
Ambiance: It has a very calm and peaceful surrounding. The upper floor has some beautiful decor and seating arrangements. It is very spacious and comfy.
Must Try: This cafe is known for its luscious Pizzas. The coolers here are quite refreshing as well. Do try their half n half pizza where you can select two of your favourite pizzas in one.
Popular Crowd: It is just the perfect place for dates. Well, friends and families can have a good time here too.
Location: Nanthi-Malungi-Inodi Rd, Vasai West, Vasai-Virar, Maharashtra 401201
3. Pic A Bite
A cafe inspired by American Food! If you love the American Food varieties, then this place is just for you!
Ambiance: Spacious dining with elegant interiors. It also has a pool table and live music.
Must Try: The sandwiches and burgers here are a must try! They also serve pork dishes.Don't miss out on the English Breakfast here!
Popular Crowd: Best to visit with your buddies and have a quality time along with quality food.
Location: Shop 101 First Floor, Empress Tower. Nxt K Moviestar Theatre, above Katyawadi Veg Restaurant, Kaul Heritage City, Vasai West, Sandor, Maharashtra 401202
4. Bubble Bee Waffles & Tea
Want to know why the hype about boba teas? Then this cafe is a must visit for you!
Ambiance: Tiny but quite creatively designed and quite comfortable to sit and eat.
Must Try:The bubble teas here are very rare in Vasai and should totally be on your list. Waffles and snacks like wraps and nachos will make your hearts full.
Popular Crowd: perfect for hanging out with your friends.
Location: Manickpur, Vasai West, Vasai-Virar, Maharashtra 401202
5. Cafe Brosten
Cafe Brosten is not just known for their tasty food, but is also known for their humble staff and super friendly owner! What better than chit chatting with the staff while eating yummy food?
Ambiance: The cafe has a compact yet comfortable space. It has a chill and cosy vibe. They also have board games and UNO cards making it even better to have fun.
Must Try: Chicken Burmese Khow Suey, Chicken Sandwiches, Kahani Mai Twist Pasta are a few of the many tasty dishes here.
Popular Crowd: This cafe is perfect for small groups of friends or just a cute date.
Location: Shop no. D-39, kingston towers, Kauls Heritage City, Vasai West, Vasai-Virar, Maharashtra 401202
6. Del Porto's
This place is levelling up the cafe game of Vasai! If it is not on your list already, here's your sign to add it!
Ambiance: Very stylish and comfy space though not huge but very decently spacious.
Must Try: Their Cheesecake will surely make you say cheese! They also have a variety of unique desserts. Crispy Chicken Nuggets, Chicken Stuffed Bread, Cappuccino, the list can keep going on.
Popular Crowd: You can enjoy a comfy dining with your friends or family. This place also suits well for dates.
Location: Shop No.1, 2 Hari Niwas Apt, Near Diwanman Talav, Vasai(w, Vasai-Virar, Maharashtra 401202
7. Big Little Bombaye
This place is not just perfect for a yummy meal while chilling with your friends, it is also perfect for working and for professional meetings!
Ambiance: Very spacious and aesthetic. There are different types of seatings arranged quite comfortably. There's live music and a cute little outdoor seating as well.
Must Try: Chicken Fondue, Kheema Ghotala, Fish Fingers,also the shakes here are really filling and tasty.
Popular Crowd: You will see many working people here along with the regular crowd. It suits everyone; families, friends, dates!
Location: Naigaon, Naigaon West, Mulgaon, Maharashtra 401201
8. TGC : The Gargi's Café
The place is heaven for milkshake lovers! The place seems tiny but has a huge variety of menu food and beverages to try! They have a variety of milk products here, they use fresh milk and fresh cream for their milkshakes!
Ambiance: There aren't separate dinnings and the place is compact but the food and shakes here are worth the try..
Must Try: The thick shakes here are really THICK! You are going to love the menu!
Popular Crowd: Perfect for a quick meetup with friends over some snacks and drinks.
Location: 2nd floor, Dfactory, Above IDBI Bank 60ft road, Vasai Rd, near Old Swami Narayan Mandir, west, Vasai-Virar, Maharashtra 401202
Very peaceful and aesthetic is what best describes this cafe! The best part? The Pizzas here are made from scratch!
Ambiance: You will have a hard time choosing your favorite aesthetic corner because every seating has a cute decor. Compact yet quite comfortable seating arrangements.
Must Try: Very minimal options for drinks but do try their Peached Iced Tea, Half n Half Pizza with your two most favorite flavour and Lasagna is something you wouldn't want to miss out on.
Popular Crowd: This one can be your go to cafe for dates! You can also hangout with your group of friends here.
Location: Parvati Cross, near Union Bank, Manickpur, Vasai West, Vasai-Virar, Maharashtra 401202
10. Maria's Goan Eatery & Bakery
Who doesn't love Goa? Well, we cannot literally take you there but this place can surely give you the taste of Goa! But, this place is only open on weekends.
Ambiance: This small eatery has a variety of Goan dishes. They also have a few games and the interiors are pretty and vintage. Not very spacious but just gives you a homely feeling with delicious food.
Must Try: Chicken Cafreal, Animal Sandwich, Cheese Cake, Irish Coffee, well, we just gave you the perfect meal course to enjoy!
Popular Crowd: You can visit here with your friends or can even plan a cute little date!
Location: Maria's Goan Eatery & Bakery, Maulana Azad Rd, opp. Mudra Studio, Remedy, Vasai West, Vasai-Virar, Maharashtra 401201
Now you have the list of Best Cafes in Vasai. Enjoy the yummiest food with your friends and family.
Also, get information about Top 10 things, Food, Education, Health, Job in Vasai, Nallasopara, and Virar region.