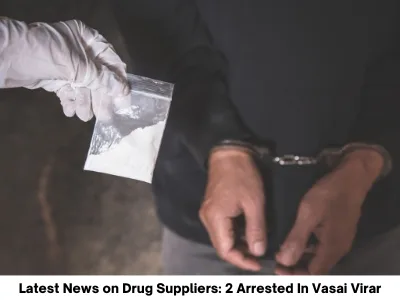 Vasai Virar News: The drinking water levels in Vasai Virar are drastically decreasing, while the supply of drugs is rapidly increasing. Yes, you read it correctly. The Vasai Virar police are apprehending drug suppliers who are ruining lives daily. It has become crucial for the residents of Vasai and Virar to distance themselves from such activities and also inform the police if they come across anyone involved in drug dealing. Let's find out where and who has been arrested for drug dealing.
Drug Supplier Arrested in Nallasopara
On May 30th, 2023, at Karari Mill, Gass Road, around 8:30 pm, the Nallasopara police arrested Mohamed Adnan Sufi, 39 years old, with 10 grams of Brown Sugar valued at Rs. 2 lacks. The police caught him in the act of attempting to sell it.
Drug Supplier Arrested in Naygaon
On May 30th, 2023, at Bhausaheb Chawl, Wakipada, Naygaon East, around 4 pm, the police arrested Gulandeep Rampal Gupta, 57 years old, with 450 grams of ganja valued at Rs. 11,250. The police caught him in the act of attempting to sell it.
Drug suppliers play a significant role in the global illicit drug trade, which has far-reaching consequences for societies and individuals worldwide. These suppliers are individuals, organisations, or networks involved in producing, transporting, and distributing illegal substances, such as cocaine, heroin, methamphetamine, and various synthetic drugs.
The impact of drug suppliers extends far beyond the realm of legality. As addiction takes hold, families are torn apart, and communities suffer, lives are shattered. The substances peddled by these dealers have immediate physical and psychological effects on users and contribute to long-term health issues. The societal consequences are profound, with increased crime rates, strained healthcare systems, and reduced economic productivity.
Child Kidnapping News Today: Child Kidnapping Cases Are Increasing In Vasai Virar
Governments, law enforcement agencies, and non-profit organisations are battling tirelessly against drug suppliers. Strategies include proactive measures like intelligence gathering, targeted operations, and border control. Rehabilitation programs and public awareness campaigns also play a vital role, focusing on preventing, educating, and treating substance abuse. International cooperation and intelligence sharing are crucial for disrupting global drug trafficking networks.
Drug dealers represent a dark underbelly of society, perpetuating addiction, violence, and suffering. The battle against them requires a multi-faceted approach, combining law enforcement efforts, rehabilitation programs, and community empowerment. By understanding the motivations and consequences of drug dealing, we can work together to dismantle these criminal networks, offering hope to individuals trapped in addiction and rebuilding communities torn apart by their destructive influence. We can bring about lasting change through collective action and create a safer, healthier society for all.
For such Daily News and Local News, Vasai News Today stay connected with Vasai Virar News.