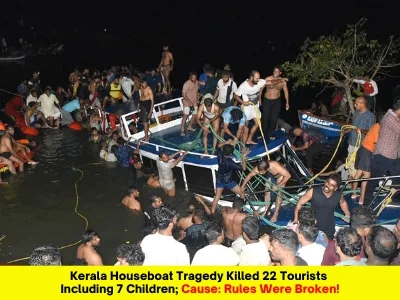 Kerala News: Recently, there has been a shocking incident in Kerala's Malappuram district, the social media is flooded with the Kerala Houseboat Tragedy that killed 22 tourists including 7 children. It is a very heart wrenching incident that took place in Kerala on 7th May, 2023.
But, would this incident be avoided if the rules were strictly followed? Maybe these many lives could have been saved only if proper precautions were taken.
The Kerala Houseboat with more than 30 passengers capsizes and leads to many tragic deaths. The count uptill now has been 22, this also includes 7 children. Many Leaders have expressed their condolences to the families who lost their loved one's in this unfortunate event.
What Caused The Kerala Houseboat Tragedy?
On Sunday, the double-decker boat overturned and sank near the Thoovaltheeram beach. The Kerala Houseboat news indeed is very sad. But, what caused this Houseboat in Kerala to overturn. To your surprise, multiple rules that must be strictly followed to have a safe Houseboat experience were broken.
It has been revealed that around 40 tickets were sold for the houseboat ride but many individuals without tickets had also joined in. In short, the houseboat was overcrowded. And the worst part is that the passengers were not given life jackets as well. Also, the ride was past 7pm, whereas the Houseboat rides were prohibited post sunset.
That's not it!
This particular houseboat is also not issued the safety certificate; a certificate that is compulsory for all tourist boats.
Not just one but so many important rules were broken, had these rules been strictly followed, it might have stopped this tragic houseboat incident in Kerala. So many lives would have been saved only if these rules were followed by each and every individual.
The houseboat's owner has now been missing as a case has been filed against him.
Rescue Operation of Kerala Houseboat
The rescue operation of the Kerala Houseboat is still underway and the search of the missing passengers is still on.
On Sunday night, Sports Minister V Abdurahiman informed that only around 15 passengers among the dead could be identified so far. ANd most among the passengers killed were women and children.
Indian Navy's Chetak helicopter also arrived to assist in the rescue operation. Kerala CM Pinarayi Vijayan visited the Tanur Hospital in Tirurangadi Malappuram. As all the survivors of this tragic Kerala Houseboat incident were admitted here. He will also be visiting the spot of the incident.
Many Leaders Express Grief
Kerala CM Pinarayi Vijayan shared his condolences and also directed the district administration to coordinate rescue operations effectively.
Prime Minister Narendra Modi expressed grief and announced an ex-gratia of Rs.2 lakhs to the families of those who lost their loved one's in this Kerala boat accident.
President Droupadi Murmu shared her condolences to all the families who lost their close ones in this incident.
Vice President Jagdeep Dhankar tweeted expressing how deeply saddened he was due to the lives lost in this boat capsize.
Rahul Gandhi took to twitter to share his condolences and has also appealed to congress workers to assist the rescue operation team.
Health Minister Veena George has instructed to speed up the post-mortem process to make sure the bodies can quickly be released to their families. She has also said to give best treatment to the survivors of this incident.
Many people have expressed their grief for the lives lost and some have shared their anger towards the carelessness of the one's responsible.
The NDRF and the Indian Coast Guards still have the search operation underway to find the missing people.
We pray for the speedy recovery of the survivors and send our heartfelt condolences to all the families suffering the loss due to this Kerala Houseboat Tragedy.
For more such daily news, stay tuned to Vasai Virar News. Also, get updates on local news, Bollywood news, technology, food and education.