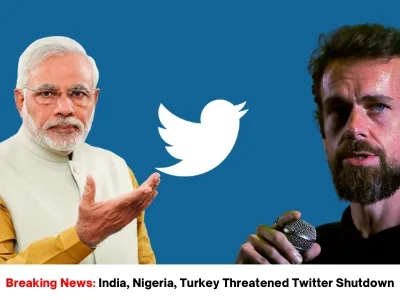 According to Jack Dorsey, the co-founder and former CEO of Twitter, India, Nigeria, and Turkey were allegedly involved in pressuring Twitter to comply with their demands or face potential shutdowns. Dorsey claimed that in India, the government threatened Twitter with a shutdown and raids on employees if it did not comply with requests to remove posts and restrict accounts critical of the government during the farmers' protests in 2020 and 2021. The Indian government, however, dismissed Dorsey's allegations as "outright lies" and stated that no one was jailed or the platform shut down. The protests concluded in late 2021 after the farmers won concessions.
During the farmers' protests, the Indian government requested the "emergency blocking" of the Twitter hashtag "#ModiPlanningFarmerGenocide" and several accounts, citing them as provocative. Twitter initially complied but later restored most of the accounts, stating that there was insufficient justification to continue the suspensions. Indian police also visited a Twitter office as part of another inquiry related to tagging certain governing party posts as manipulated. Dorsey mentioned that many content takedown requests during the protests targeted journalists critical of the government.
Modi Regime had threatened to shut down Twitter and raid the homes of Twitter employees during Farmers Protest- The So-called Mother of Democracy! pic.twitter.com/BcCXj7h3Qy

— Ashok Swain (@ashoswai) June 12, 2023
Dorsey also alleged similar pressure from the governments of Nigeria and Turkey. In Nigeria, Twitter faced restrictions and was unable to have employees on the ground due to fears of government actions. Under President Muhammadu Buhari, Nigeria suspended Twitter in 2021 after the platform removed a post from Buhari threatening punishment for regional secessionists. The ban was lifted in January 2022 after Twitter reportedly agreed to open a local office and comply with Nigerian laws. The conditions of the agreement and whether Twitter fully complied remain unclear.
In Turkey, Dorsey stated that they faced numerous requests from the government and fought legal battles in Turkish courts. Although Twitter often won those cases, Turkey constantly threatened to shut down the platform.
ALSO READ: Neuralink; Elon Musk's Brain Chip Gets Approval For Human Trial
These allegations by Dorsey shed light on the challenges faced by foreign tech companies operating under the governments of India, Nigeria, and Turkey. Activists for free speech have criticized these governments for excessive content censorship, while the governments argue that their actions aim to protect users and maintain national sovereignty.
For such daily updates stay connected with Vasai Virar News.