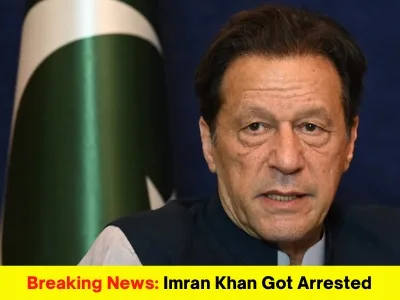 Imran Khan Arrest Live Updates, May 10, 2023: Security has been increased at Police Lines in Islamabad's H-11 with a significant deployment of police officers in preparation for Imran Khan's court appearance later today. In the meantime, Pakistan Tehreek-e-Insaf (PTI) has urged for nationwide protests.
After the arrest of the former Prime Minister of Pakistan, protests escalated in multiple cities within the country, such as Quetta, Karachi, Peshawar, Rawalpindi, and Lahore. These demonstrations resulted in the unfortunate loss of one life and left several people injured. Local media reports indicated that PTI supporters engaged in extraordinary events, including forcibly entering the Pakistan Army headquarters in Rawalpindi and the residence of the Corps Commander in Lahore. Khan, the chairman of PTI, was apprehended at the Islamabad HC premises during the Al-Qadir Trust case hearing. According to Dawn, Khan and his spouse face allegations of accepting "billions of rupees from a real estate company to legitimize a laundered sum of Rs 50 billion."
Let's know what are the Imran Khan Arrest Live Updates.
Imran Khan News: Imran Khan Arrest Live Updates
Pakistan police reported today that clashes between Imran Khan's supporters and law enforcement officials in Punjab province resulted in injuries to over 130 police officials. Additionally, more than 25 police vehicles were set ablaze during the unrest. The police further stated that over 14 government buildings were both damaged and subjected to looting subsequent to Khan's arrest.
Chief Imran Khan's legal team has been authorized to meet the former prime minister before his case hearing in Islamabad. However, earlier today, they were initially prevented from seeing him. Babar Awan, a member of Khan's legal team, informed Geo News that they were unable to meet their client. At NUST University Chowk, the legal team and PTI leaders were denied access to the police lines.
On Wednesday, the Pakistani rupee experienced a decline of 1.3%, reaching a new all-time low of 288.5 against the US dollar. This drop occurred shortly after the anti-corruption agency in Islamabad arrested former Prime Minister Imran Khan. According to data from Tradeweb, Pakistan's international bonds saw a slight decrease, with the 2024 issue dropping by 0.4 cents on the dollar. These bonds are currently being traded at significantly distressed levels. Shorter-dated maturities are valued at approximately 49 cents on the dollar, while longer-dated ones are exchanged at around 33 cents.
PTI leader and former lawmaker Asad Umar has been taken into custody, according to reports from Pakistani media today. He was apprehended at the premises of the Islamabad High Court by the Anti-Terrorist Squad of the Islamabad police. Umar, along with other PTI leaders, was in the process of submitting a request for a meeting with Imran Khan when the arrest took place. Khan himself was detained yesterday afternoon.
Ahead of Imran Khan's court appearance, security has been significantly increased at Police Lines in Islamabad's H-11. A large number of police officers have been deployed, and additional barricades are being constructed to enhance security measures
Imran Khan's political party, Pakistan Tehreek-e-Insaf (PTI), has urged the public to participate in peaceful demonstrations throughout the country following Imran's recent arrest. Shah Mahmood Qureshi, a senior leader of PTI, stated that the party's leadership is currently in Islamabad, actively advocating for Imran's release after his arrest at the Islamabad High Court premises yesterday afternoon. Qureshi emphasized that PTI urges its members, supporters, and the Pakistani populace to join them in peaceful protests against this unconstitutional action. He firmly asserted that no individual should be allowed to disregard the law.
Farooq Abdullah, the leader of the National Conference, emphasized the importance of a stable Pakistan for fostering peace in the sub-continent and expressed his best wishes for the country's well-being.
Mobile internet services and access to social media sites such as Twitter and Facebook remained available in Pakistan without any restrictions on the day following the initial imposition of limitations following the arrest of former Prime Minister Imran Khan, according to a report by the Pakistani daily Dawn.
Stay tuned with Vasai Virar News for such a trending news.