Are you about to get into the industry you wish for?
Is it your first time appearing for the job? Or looking for a new job.
You must know Interview Etiquette. With basic interview etiquette, you can significantly impact the employer and possibly improve your chances of getting hired. People usually ignore basic etiquette during interview sessions, but it can help you reap the benefits many times.
Are you ready to know how you should behave during the interview? Let's dive into the details.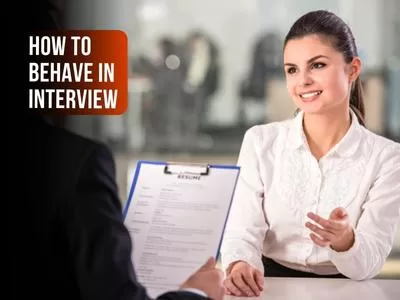 Know how to behave during the Interview?
How your body language should be?
Sit up Straight – Sitting in a good posture indicates confidence and a robust sense of self-esteem. So to have a good posture, sit on a chair and examine yourself in the mirror. First, lift your chin and roll your shoulders back, and your back should be straight and neutral. When your spine is in a straight position, you feel active and act accordingly.
Try to analyze and copy the Employer's body language
If you are not aware of how you should keep your body language, then you can make it proper by analyzing your interviewer. Analyze their gestures, how they sit and how they move. Remember, the more you mimic them, the more you'll feel and seem confident. When someone feels in sync with you, it creates a better chance to make a better impression. Keep in mind that you are not coping with your interviewer too closely, as you might seem creepy.
Use hand Gestures
Your hand gestures play an essential role as they show you more confidence about what you are saying. You'll also leave the impression on the employer that the person he is talking to is energetic and enthusiastic about the opportunity.
Always maintain eye contact
Eye contact is key to confidence when speaking with interviewers. Practice with someone from your family member or friend before you interview if you have trouble maintaining eye contact with others. Understanding the difference between staring and eye contact is essential because it can cause you to lose your cool. Even staring at the door, window, or clock leaves the impression that you are bored or less interested in giving an interview.
Things to consider inside and outside of the Interview room
What to wear?
Even if you're interviewing in a casual industry, presenting a professional and neat appearance is essential. Avoid wearing jeans or graphic t-shirts. Your clothes must be fits you well, as during the interview you'll feel the need to adjust them every time you move constantly.
Avoid strong perfumes
Strong smells make some people feel irritated. Your interview will likely take place in a closed conference room or office with limited ventilation. There is a chance the interviewer you are meeting has allergies. So it can create a mess or make your interviewer distract you.
When should you leave for an interview?
Interviews should be held at least 15 minutes before the start time. You will be able to demonstrate time management skills and show your preparation by arriving before the appointed time.
Arriving before time is good etiquette.
Treat everyone with respect.
Treating people with respect extends to all areas of life. You must treat every person you meet at the interview place. You never know who will be your interviewer or boss who will make good opinions to you. Even this kind of behavior creates chances to make better corporate networks. Treating people with respect includes all individuals starting from security personnel, receptionists, and anyone who comes your way to the interview room. The interviewer might ask them to give feedback on you.
Ace the introduction
The situation might happen where you are sitting, and someone approaches you; in such situations, first, stand up and then shake your hand with them. While handshaking, do not grip their hand too firmly, or your hand isn't limp. Then make eye contact and smile and greet them by saying it's nice to meet you. Your eye contact doesn't need to be continuous or too intense. You need to use it strategically to indicate that you are listening to them.
Pause before you speak
It often happens when someone asks a question to us; we say it without thinking a while about it, and then it creates a blunder. Therefore, when the employer asks you any question, take a few seconds, map out your response to the question, and start speaking. If you hurry, you might fumble due to the interview stress.
Look for clarification for confusing questions.
While the conversation, if any word or sentence is not clear to you, make sure you'll first get an understanding of that particular word or sentence. If not getting anything, don't just predict it and answer what you think they asked. Instead, better get clarification so you know you are providing the correct information to the interviewer. To ask for clarification, repeat their sentence with a start, "I hear you as saying:" It gives the interviewer a clear idea that you understood the question, or they can correct you with the right one. Before you move on, be sure to thank them for their clarification.
Before you leave, here are some things to remember
At the end of your interview, tell your interviewer how interested and passionate you are about the job and working in the company. You should thank them for the opportunity and smile at them. Do not take your mobile out until you have left the building.
Last Words
Getting a job is not just about questions and answers. Your behavior is as important as your question and answers. Starting from your outfit to how you treat inside and outside the interview room, every small thing matter. So before appearing for the interview, understand the importance of all the above pointers and ace your interview with confidence.
Now you know How to behave during the Interview, so now you can do best in the interview.
Also, get information about Job, Food, Education, Health, Top 10 things in Vasai, Nallasopara, and Virar region.