Are you a fan of homemade snacks? Would you choose to snack on some homemade snacks over street food snacks? If your answer is 'Yes', then you surely must be having a hard time finding homemade snacks suppliers Virar & Nalasopara.
But not anymore! We are here with a quick list for you!
Homemade snacks are slowly experiencing increased demand due to their increasing quality of taste and services. Many people only depend on homemade food when they stock up on their snacks.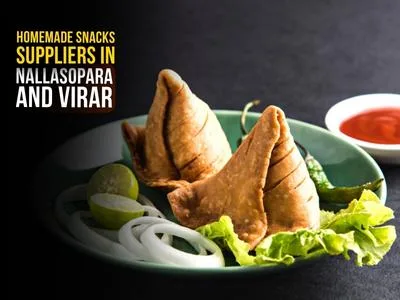 Well, that's not it! There are even homemade lunch options where you can enjoy a yummy filling meal. From the below listed you will find varieties like:
Lunch food
Papads
Khakra
Sweets
There aren't many homemade snack suppliers in Virar and Nalasopara. But we have noted a few of them that are enough to satisfy your cravings for homemade food!
Quickly scroll through the list to check out these amazing homemade snack suppliers. And if you are lucky enough, you might just find one in your own locality!
Also, Know The Homemade Snacks Suppliers In Vasai
List Of Homemade Snacks Suppliers
Name of Homemade Snacks Suppliers
Contact Number
Address
Opening And Closing Time
Juwlekar's Foods
098199 88231
E-402, Viva Dronagiri, Manvelpada Rd, near Bhushan Hospital, Virar East, Maharashtra 401305
Open 24 hours
Sunday Closed.
Suvarna's Food Products
Vishnu park bldg.no.11, A wing room no 12, near Mangal Murti mandir, Y K Nagar, Virar West, Maharashtra 401303
9am–2pm, 4–9pm
SHRINIDHHI HOME FOODS
082910 93750
Shree Krishna Garden, Building No.1, C Wing-102, Opp. Royal Palace, Mira Bhayandar, Maharashtra 401107
9am–9pm
Manjiri Home Food Products
Bhaji market Tirupati nagar phase 1virar west Nr.banjara hotel, Bolinj Rd, Maharashtra 401303
Mamacha Vada Tiffin Services | Virar West
095450 81580
Shop No 7, Swastik apt, Datt Mandir Rd, near to Kabutar Khana, near Garba ground, Virar West, Maharashtra 401303
11am–3pm, 7:30–9pm
Rashmi's Healthy Snacks
091377 06947
Shop no.10, Maitri park Tirupati Nagar Phase -2 Opposite SVC bank, near Reliance Digital, Virar West, Maharashtra 401201
3–10pm
Rajasoundaram's homemade snacks
POONAM PALASH, A wing 405, Nalasopara West, Maharashtra 401203
Kalash Home made food
C203, Shivtej apartment, Achole Rd, opposite Alliance Hospital, Nalasopara East, Maharashtra 401209
8am–10pm
Khakhra Papad
078228 70261
Khakhra papad supplier, Shreeniketan, 163, behind laxminarayan mandir, Nalasopara West, Maharashtra 401203
8:30am–7pm
Thu- Open 24 Hours.
Heena Sweets & Snacks
B/12,b-202, New Ami park, Station Rd, Nalasopara West, Maharashtra 401203
9am–5pm
Sunday Closed.
Home Made Paratha
082926 02831
auto stand & axis bank, near, Strawberry building, Tapasya Rd, Nalasopara West, Maharashtra 401203
11am–11pm
Mon, Wed- Closed.
We hope our list of Homemade Snacks Suppliers will help you find the best homemade snacks in Virar and Nalasopara.
Also, get information about Food, Education, Health, Jobs, Entertainment, and the Top 10 things.