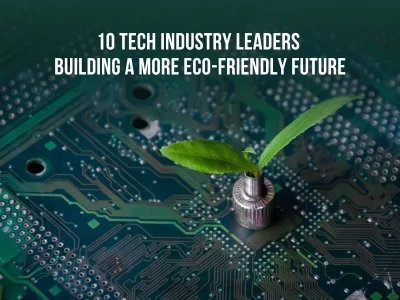 Green World Approach By Companies!
Ever wonder which tech companies are leading the charge for a greener planet? It turns out that some of Silicon Valley's greatest names have prioritized sustainability and renewable energy. We're talking about businesses investing billions in solar and wind energy, cutting waste, greening their data centres, and improving the sustainability of their supply chains. These innovative businesses are demonstrating how technology and environmentalism can coexist. Discover which tech behemoths are constructing a better future for all of us by reading on. The next decade is critical for combating climate change, so the actions of these industry leaders could have a huge impact.
List of Top 10 Organization Working To Achieve Green World Approach By Companies
Some of the world's largest tech firms are making considerable progress towards sustainability. These are:-
Apple
Google
Microsoft
Amazon
Salesforce
Intel
Dell
HP
Cisco
Oracle
The development of a sustainable future depends substantially on the tech sector. By making environmental responsibility a priority, these companies are not only reducing their own impact but also driving innovation in clean energy and green technologies that can benefit us all.
Google's Green Initiatives
Google, one of the biggest digital corporations in the world, is taking significant steps towards sustainability. Here are a few of their major green initiatives:
Google has been carbon neutral since 2007 and is determined to run its operations on 100% renewable energy. They've invested in solar and wind farms across the globe to make this vision a reality. By the end of 2018, Google had matched 100% of their annual electricity use with renewable energy, putting them well on track to reaching their goal.
Google is at first number in the list of making Green World Approach By Companies. Their data centres use 50% less energy than typical data centres, and they're working to achieve zero waste at all their offices. They've banned single-use plastics and donated or recycled the majority of their waste.
Transportation is another area where Google is going green. They offer shuttle services, bike sharing, and incentives for employees to carpool or use public transit for their commute. In an effort to cut emissions, Google is also funding the research and creation of self-driving electric vehicles.
Google is exploring novel approaches to optimise energy use in its offices and data centres using artificial intelligence and machine learning. Only the amount of energy required is generated since their DeepMind AI can forecast when and where it will be needed.
Google has a long way to go before they can significantly minimise their environmental effect, but they are making headway in switching to renewable energy and creating sustainable infrastructure. For other IT goliaths to follow, their initiatives are establishing an example. Google is well on its way to constructing a cleaner future through developments in artificial intelligence and a corporate-wide commitment to sustainability.
ALSO READ | Neuralink; Elon Musk's Brain Chip Gets Approval For Human Trial
Apple's Environmental Responsibility
In the electronics sector, Apple has long been a pioneer in environmental sustainability. And it holds second position in the list of making Green World Approach By Companies. The business has been promoting sustainability and lowering its carbon impact for many years. Here are a few examples of how Apple is fostering a greener future:
Apple uses only renewable energy to run its whole business. This includes retail stores, offices, and data centres. They've also convinced many of their suppliers to switch to clean energy. By reducing dependence on fossil fuels, Apple is significantly cutting greenhouse gas emissions.
Apple products are designed to be energy-efficient and long-lasting. Things like smart power management, efficient batteries, and durable, upgradeable designs mean you can use your Apple devices for years before replacing them. This reduces waste and the environmental impact.
Apple aims to one day make all its products from recycled or renewable materials. They've already started using recycled aluminium, tin, and rare earth elements in some devices. Apple also offers free recycling of old iPhones, iPads, Macs, and other products so the materials can be reused.
Transportation makes up a major portion of Apple's emissions, so they're transitioning their fleet to electric vehicles and biofuels. They're also working with suppliers to encourage sustainable transportation practises.
No company is perfect, but Apple is pushing the tech industry in a greener direction. Their environmental responsibility initiatives are making a real difference in creating a healthier planet for future generations. While there's still more work to be done, Apple's progress gives us hope that sustainability and business success can go hand in hand.
Microsoft's Carbon-Neutral Push
Microsoft is one of the large IT company and holds third position in the list of making Green World Approach By Companies. Additionally they follows some ambitious sustainability goals, including becoming carbon negative by 2030 and removing more carbon than it emits each year. To reach this target, Microsoft is making changes across its operations and supply chain.
Reducing carbon emissions
Microsoft is focused on decreasing the carbon footprint of its data centres and buildings. The business is switching to electric vehicles, increasing its use of renewable energy, and boosting its energy efficiency. Microsoft currently uses 60% renewable energy in its data centres, and by 2025, the business wants to use only renewable energy.
Offsetting remaining emissions
For emissions that Microsoft can't eliminate, the company invests in carbon offset projects that remove carbon dioxide from the atmosphere. These projects protect forests, support sustainable agriculture, and develop renewable energy sources. Microsoft has pledged to remove more carbon than it emits each year by 2030 through these carbon offset initiatives.
Greening the Supply Chain
Microsoft is also working with its suppliers and partners to reduce emissions across the supply chain. The company provides its suppliers with tools and resources to track and decrease their carbon footprints. Microsoft's suppliers have cut over 10 million metric tonnes of carbon emissions through these programmes.
Empowering Customers
In addition to improving its own sustainability, Microsoft creates products and services that enable its customers to reduce their environmental impact. For example, Microsoft Azure offers cloud tools for managing renewable energy and optimising sustainability initiatives. Microsoft 365 provides digital tools for remote work and collaboration, reducing the need for travel.
Through these steps, Microsoft is making progress towards building a greener future and inspiring other companies to take action against climate change. The tech giant's carbon-neutral push shows how organisations of all sizes can drive meaningful change through sustainable business practises and environmental innovation.
Amazon's Sustainability Efforts
Amazon is one of the largest companies in the world and must needed to be included in the list of making Green World Approach By Companies, because of their sustainability efforts that have major impacts. They've set some ambitious goals to reduce their environmental footprint and push for greener innovations.
Reducing carbon emissions
Amazon aims to reach net zero carbon emissions by 2040. They're investing in renewable energy like solar and wind to power their operations and have over 100 renewable energy projects in the U.S. and Europe. They're also making their packaging more efficient and sustainable by using less material and more recycled content.
Sustainable Products and Services
Amazon offers many eco-friendly products and makes it easy for customers to find sustainable options. Their Climate Pledge Friendly programme highlights products that meet sustainability standards for being made with recycled materials, being more energy efficient, or reducing waste. Amazon also offers trade-in and recycling programmes for electronics, books, and other items so they can be reused or properly disposed of.
Greener Transportation
Amazon is working to reduce emissions from its transportation network. They have over 10,000 electric delivery vehicles on the road and are investing in alternative fuels like renewable natural gas for their trucks and planes. Amazon Air's fleet includes more efficient aircraft, and they optimise routes and loading to move more items with fewer flights.
Nature Conservation
Amazon has pledged $100 million to nature conservation and restoration projects around the world. They support organisations protecting habitats like the Amazon rainforest, as well as projects for reforestation, wetlands restoration, and conservation of at-risk species. Locally, Amazon has given more than $20 million to environmental charities in Seattle and other places they do business.
Amazon's sustainability goals and actions are a positive start in the right direction, despite the fact that it still has a long way to go to decrease its significant environmental imprint. Changes at Amazon can have a tremendous influence due to their enormous size, thus their efforts to create a greener future are important. If applied wisely and ethically, concentrating on renewable energy, efficiency, recycling, and environment preservation are all tactics that can help ensure our planet is habitable for future generations.
ALSO READ | Gmail Blue Tick: Now Gmail Has Blue Verified Checkmark Icons Too
Facebook's Renewable Energy Use
Facebook is one of the largest tech companies in the world and holds fifth position in the list of making Green World Approach By Companies, so their environmental impact and energy usage are substantial. To help reduce their carbon footprint, Facebook has made major investments in renewable energy.
Transitioning Data Centres to Renewable Energy
Facebook's data centres require an enormous amount of electricity to power their servers 24/7. To make these data centres more eco-friendly, Facebook has transitioned many to run on 100% renewable energy from solar and wind. Their data centre in Los Lunas, New Mexico, runs entirely on solar and wind energy. Facebook's data centre in Clonee, Ireland, runs on 100% renewable energy, mostly wind power.
Investing in New Renewable Energy Projects
Facebook doesn't just buy renewable energy from existing sources; it also invests in building new solar and wind farms. Facebook has funded multiple solar energy projects to power their data centres, including a 200 MW solar farm in West Texas and a 139 MW solar farm in North Carolina. They invested in building a 200-MW wind farm in Nebraska to power their data centre in Papillion.
Setting Ambitious Renewable Energy Goals
Facebook has set goals to reach 100% renewable energy for all its global operations by 2020 and to have net zero greenhouse gas emissions. They have already reached 100% renewable energy for their data centres and offices in the US and Canada. Their renewable energy projects and investments in solar and wind power have significantly reduced Facebook's greenhouse gas emissions and environmental impact.
Although Facebook has a long way to go before reducing waste and becoming totally sustainable, their switch to renewable energy and investments in solar and wind power show their dedication to fostering a more environmentally friendly future and combating climate change. They set an example for other tech behemoths to follow with their lofty environmental aims. Facebook is taking significant steps towards a future that is more environmentally friendly by converting to renewable energy, investing in brand-new solar and wind farms, and establishing targets for 100% renewable energy and net zero emissions.
IBM's Decade-Long Eco-Drive
IBM has been working to reduce its environmental impact and thus listed at sixth position in the list of making Green World Approach By Companies. Since the mid-2000s, the tech giant has invested heavily in environmental initiatives and set ambitious sustainability goals.
Reducing energy usage
IBM cut its energy usage by over 9% from 2005 to 2020 through efficiency upgrades at its facilities and data centres. The company also sources renewable energy for many of its operations. By 2020, over 60% of the electricity IBM consumed would come from renewable sources like solar and wind.
Improving Product Design
IBM incorporates environmental considerations into how it designs, builds, and delivers its products and services. The company aims to reduce waste and use sustainable materials whenever possible. IBM's product packaging is over 90% recyclable, and the company offers hardware recycling and trade-in programmes for clients.
Conserving Resources
IBM set a goal to achieve zero waste-to-landfill at over 200 of its major sites by 2025. The company has reduced its waste by over 60% since 2005 through recycling and composting programmes. IBM also minimizes its water usage, especially in water-stressed areas. The company cut its water consumption by over 40% from 2005 to 2020 through efficiency upgrades and water reuse systems.
Supporting Environmental Research
IBM supports environmental research and partnerships aimed at tackling issues like climate change. The company has collaborated with organisations such as The Nature Conservancy to develop technologies for monitoring ecosystems and natural disasters. IBM also works with startups in its Global Entrepreneur Programme for the Environment to help bring innovative green technologies to market.
Through steady progress across its operations, product design, and partnerships, IBM has established itself as an environmental leader in the tech industry. The company's decade-long eco-drive demonstrates how sustainability and business success can go hand in hand. IBM's green initiatives will likely only accelerate in the coming years as technology plays an increasingly crucial role in building a greener future.
Cisco's Green Technology Investments
One of the biggest IT firms in the world, Cisco Systems, is heavily investing in sustainable development and green technologies. Additionally due to their large investment in sustainable development they have been listed in the rankings of making Green World Approach By Companies.
Reducing energy consumption
Cisco aims to reduce energy consumption in its products and data centres. They have created energy efficiency standards for all new products and retrofitted older equipment. Cisco data centres are using AI to optimise cooling and heating, reducing energy usage. They have also begun using renewable energy sources like solar and wind to power some data centres and buildings.
Conserving Resources
Cisco is working to minimize waste and use sustainable materials. They have reduced paper usage by digitizing many processes and using recycled paper when needed. Cisco also aims to reduce single-use plastics and recycle as much as possible in their offices and cafeterias. Products are designed to be more durable, reusable as well as recyclable. Cisco even offers product take-back and recycling programs for customers.
Investing in Green Technologies
Cisco invests in startups focused on renewable energy, transportation, agriculture, and other green technologies. They have invested in companies developing new solar panel materials, electric vehicle charging, vertical farming, and more. Cisco also partners with environmental organizations like the World Wildlife Fund to support conservation and environmental education programmes.
Setting ambitious goals
Cisco has set goals to reduce greenhouse gas emissions, water usage, and waste in their operations and supply chain. By 2022, Cisco aims to reduce Scope 1 and 2 emissions by 60% and get 85% of its electricity from renewable sources. They are also working with suppliers to set sustainability standards and goals for reducing environmental impacts across their supply chain. Through ambitious goals and targeted actions, Cisco is building a greener future for technology.
Intel's Environmental Impact
Intel is one of the world's largest semiconductor chip makers, but they also aim to be one of the greenest. Intel has set ambitious environmental goals to reduce their environmental impact and push for more sustainable practises and with their sustainable goals they holds ninth position in the list of making Green World Approach By Companies.
Reducing carbon emissions
Intel has pledged to achieve net zero greenhouse gas emissions in its operations by 2040. By using more renewable energy, carbon offsets, and energy efficiency, they intend to reduce emissions. To lower emissions throughout the entire supply chain, Intel is also collaborating with vendors and clients.
Resource conservation
By 2030, Intel wants to eliminate all trash from landfills. They have concentrated on minimising waste generated during their manufacturing operations and on recycling and reuse initiatives. In particular in water-stressed areas, Intel seeks to reduce water use. They have funded water conservation projects that have saved billions of litres of water.
Greener Products
Intel considers sustainability at every stage of the product lifecycle, from design to end-of-life. They aim to make their chips and other technologies more environmentally friendly and more energy-efficient. Additionally, Intel offers its clients knowledge and tools to assist them in creating greener products and solutions.
Giving Back
Intel donates over $100 million each year to environmental initiatives and STEM education programmes. They provide grants for renewable energy, clean water, and biodiversity projects around the world. Intel also matches employee donations and volunteer hours for eligible environmental causes.
By setting ambitious goals, investing in new technologies, and collaborating across industries, Intel is working to build a greener future for us all. Their environmental initiatives are an inspiration, showing how large companies can drive real change and make a difference.
Oracle's Sustainability Solutions
Oracle, one of the world's largest software companies, is also making big moves towards sustainability. Through their products and internal operations, Oracle is working to build a greener future for technology. They have done huge contribution & support towards sustainability and so that, mentioned in the list of making Green World Approach By Companies.
Reducing Environmental Impact
Oracle has committed to reducing greenhouse gas emissions by 25% and water usage by 20% at its facilities by 2025. They're taking steps like optimising heating and cooling systems, reducing waste, and transitioning to renewable energy sources. Oracle's headquarters in Austin, Texas, is LEED Platinum certified, meaning it meets the highest standards for energy efficiency and sustainability.
Cloud Services for a Sustainable Future
Oracle's cloud services enable companies to operate more sustainably. Their cloud infrastructure is up to 93% more energy efficient than on-premise data centres. By migrating to the Oracle Cloud, companies can slash their carbon footprint and energy usage.
Sustainability Solutions for Customers
Oracle also offers software solutions to help its 400,000+ customers achieve their sustainability goals. Their Environmental Accounting and Reporting Cloud Service allows companies to collect, analyse, and report on environmental metrics to improve performance and compliance. The Oracle Utilities platform helps utility companies better forecast renewable energy production and manage smart grids.
Oracle is committed to integrating sustainability into its internal processes as well as the goods and services it offers to customers. Oracle is helping to shape a better future for the tech industry by maximising the energy efficiency of their data centres and cloud services and empowering businesses to operate more responsibly. Overall, Oracle is a great illustration of how major IT firms can use their resources and skills to address important environmental issues.
Dell's Recycling and Renewable Energy Programmes
Dell is one of the world's largest technology companies, and they are making big strides towards sustainability. Through innovative recycling and renewable energy programmes, Dell is working to reduce its environmental impact.
Recycling Efforts
Dell has an aggressive goal to recycle or reuse 100% of its packaging and products. They currently recycle more than 90% of the materials in their IT equipment, like plastics, glass, and metals. Dell also offers free consumer recycling for any brand of computer equipment. Simply print a free shipping label from their website and send your old devices to be recycled.
Renewable Energy Use
Dell has pledged to get 100% of its electricity from renewable sources like solar and wind. They've installed solar panels at many of their facilities and bought renewable energy credits to offset traditional power use. Dell's headquarters in Round Rock, Texas, is 100% powered by renewable energy from a wind farm in Texas.
Reducing carbon emissions
Dell has set up a target to reduce its greenhouse gas emissions by 60% by 2030 in accordance with the Paris Climate Agreement. They plan to be carbon-neutral by 2050. Dell is improving efficiency in their supply chain and logistics, using sustainable materials, and transitioning to renewable energy to lower their carbon footprint.
Through these initiatives, Dell is making important progress towards building a greener future for technology. Their recycling, renewable energy, and carbon reduction programmes are all steps in the right direction to make the tech industry more sustainable. By setting ambitious goals and sharing their environmental impact, Dell is inspiring other companies to take action against climate change. Overall, Dell's eco-friendly efforts show how large corporations can drive real change to shape a healthier planet for generations to come.
Conclusion
So there you have it: ten of the most recognizable names in technology who are actually moving society towards a sustainable future. While tech firms have in the past come under fire for their impact on the environment, many are now leading the drive for reform. These businesses are demonstrating that technology and sustainability can coexist by making investments in renewable energy, cutting waste, and developing cutting-edge new goods that are better for the environment. And their actions are inspiring other companies and individuals to make a difference as well. The future is looking a little bit greener due to these industry leaders. Here's hoping more tech giants will follow in their footsteps. Our planet depends on it.