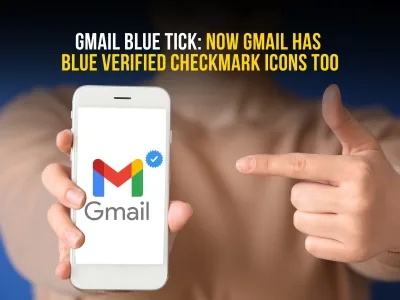 Hey, Gmail users! Good news! You now have access to something similar to the well-known blue verified checkmark icons that are used on social media sites. This time, it's coming from Gmail itself.
Gmail recently rolled out an update that allows users to add a blue verified email checkmark next to their names when they appear in the recipient's inbox. This is a fantastic technique to increase the sense of security that prospective clients and consumers have when they receive emails from you. Additionally, it can lessen the likelihood that someone will send harmful emails in your name.
In this article, we'll take a closer look at how the Gmail blue tick verified checkmark works and what you need to know before adding it to your account.
Gmail Blue Tick: Gmail Rolls Out Verified Checkmark Icons
If you've ever sent an email and wondered if it was securely delivered to the recipient, worry no more—the Gmail blue tick verified checkmark icon will let you know if your email has been authenticated by Gmail. This new feature was introduced in the world's most popular email client, allowing you to verify certain information about a sender before opening an email.
You can tell if emails are coming from a trusted sender by looking for this blue verified checkmark indicator next to a contact's name rather than from someone who might be impersonating them. Additionally, it means that any private information transmitted in those emails is safe because Gmail uses encryption to ensure that no one can read or copy messages without the sender's permission.
Furthermore, this new functionality makes it simple to validate an email address. Setting up two-factor authentication on your account will add an extra degree of security against any fraudulent individuals attempting to access your emails. With this verified checkmark, users now have another tool at their disposal for ensuring their data remains secure.
How To Get Verified In Gmail?
Gmail blue tick checkmark icons too, and it's a great way to show your customers you mean business. It would help if you validated the domain name of your website in Google Search Console in order to become confirmed in Gmail. This method will require some technical preparation. Therefore, your web administrator or a skilled web developer may be needed.
You can use G Suite to start sending emails from the domain once it has been confirmed. Once configured, Gmail will recognise emails received from the domain automatically and add the checkmark icon to them. Users will have peace of mind while communicating with you online because this will demonstrate that your emails are coming from a secure source.
Making sure your emails have the Gmail blue tick checkmark icon is one more layer of security for all of your customers—and one more reason for them to trust you as an authority in your industry.
Buy Best Headphones Under 2000
Why Verification Matters For Brands And Influencers?
You may be wondering why verification matters for brands and influencers. It's simple—it builds trust.
When consumers see a blue checkmark, it indicates that the account is legitimate and not a copycat or duplicate account. That reassures potential customers that the brand or influencer is who they say they are and not some imposter; plus, it helps to strengthen relationships between brands and influencers, building loyalty among target audiences.
Verification also makes it easier for people to identify trusted brands and influencers quickly and easily. For brands, it sends an important message of authority—you're legit! It's also great for brand visibility—it provides better searchability in social media searches, which makes it easier to find the right accounts and engage with the right people.
Verified accounts provide additional promotional benefits, too; verified accounts are more likely to appear in keyword search results since Google prioritises them. Verified accounts can also include a link to their website homepage or product page in their bio, giving them another way to promote their business. Plus, verified accounts look great on resumes or job applications!
How Gmail Verified Checkmarks Help Combat Impersonation?
It's no surprise that Gmail has started using blue checkmark icons, given the rise in email impersonation scams.
Identifies your domain
The blue checkmark gives you and your customers peace of mind that it's really coming from you and is not a malicious attack. It's a verified symbol, and when seen by users, it creates the trustworthiness associated with your brand.
Authenticates Emails
As an email service provider (ESP), Gmail is known for being a secure platform. Now, with blue checkmarks, ESPs can more easily authenticate emails from domains. This helps reduce the chances of impersonation, as ISPs can detect whether an email address is spoofed or not.
As you can see, a verified Gmail blue tick helps to protect both you and your customers from emails sent by spammers or hackers who are attempting to impersonate an email owner. By verifying your domain with Gmail, you can ensure that emails using your domain are authentic and help prevent scammers from using your name to gain access to confidential information.
What The Gmail Blue Tick Means For Regular Gmail Users?
If you're a regular Gmail user, you might be wondering what this new blue verified checkmark icon means for you. The answer is that using a verified email address can help improve your email experience in ways you might not even realise.
First of all, you'll be able to tell whether an email is coming from someone you can trust and respond accordingly. For instance, if an email appears to be from your bank, it will have the verified icon, so you won't have to fear that it contains a harmful link or is phishing-related.
Another benefit of having the Gmail blue tick is better security. Your emails are more secure when they are sent from an organisation with a trusted domain name. That's because they can use encryption, which means that any information sent back and forth between your emails can't be intercepted by hackers.
Lastly, having a verified badge also helps keep spam out of your inbox. It's much less likely for spam messages to come from verified domains since domains have strict rules about who can send emails on their behalf—so you won't have to worry about sorting through so many unwanted messages!
Gmail Blue Tick FAQs
How to spot Legitimate Verified Accounts in Gmail?
Another thing you need to know is how to spot legitimate, verified accounts in Gmail. The blue verified checkmark icon is a surefire way to identify trusted Google-verified accounts. It has two variations: one with a white backdrop and the other with a blue background, and it shows next to the user's profile photo.
How do you know it's Legit?
Looking for the blue checkmark indicator is one approach to make sure you're interacting with a verified source, even if it might be difficult to tell the difference between legitimate and phoney accounts sometimes. You will immediately be aware that Google has verified a user's account and is a part of their Verified Accounts programme if you see this icon next to their profile picture.
How do you get a Verified Account?
Getting your account verified is easy! All you have just to do is visit the Google Verified Account page, fill out your information, and then submit your application for review. Once Google approves your application, they'll send you an email to confirm your verification status.
Now that gmail blue tick Verified Checkmark Icons, too, there's no reason not to get verified! It's fast, easy, and will give more legitimacy and trustworthiness to your account for everyone who sees it—so why not sign up today?
Conclusion
Gmail makes it easier to know who you are receiving messages from. With the blue checkmark icons, it's now easier than ever to ensure that the sender is who they say they are.
The blue checkmark icon is a great way to easily distinguish between a legitimate message and a phishing attempt. This added layer of security will help protect users from any potential scams or malicious emails.
Gmail blue tick checkmark icon is an excellent way to protect yourself from fraud and malicious emails. With this extra layer of verification, it's now easier than ever to ensure that you are only receiving emails from authentic sources.
For such trending technology news, stay tuned with the Vasai Virar News.