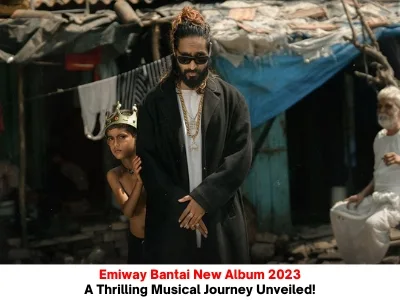 Hey there! If you're looking for the latest scoop on Emiway Bantai New Album 2023, you've come to the right place. Emiway Bantai, a renowned Indian rapper, recently released his latest album, "King Of The Streets," on June 5, 2023. In this blog post, we'll take you on a tour of Emiway Bantai's inspiring journey, his rise to fame, and his undeniable impact on the Indian music scene. So, sit back, relax, and get ready to dive into the world of this extraordinary artist and his new rap album 2023!
Emiway Bantai
Today, we're going to introduce you to a trailblazer in the Indian hip-hop scene, Emiway Bantai. Born Bilal Shaikh in Mumbai, India, Emiway Bantai has been making waves in the music industry since 2013 with his energetic performances and captivating lyrics. Known for his distinctive fusion of Hindi and English rap, Emiway has managed to create a unique sound that resonates with fans across the globe.
From his humble beginnings as a young rapper uploading tracks to YouTube, Emiway has come a long way. With multiple chart-topping hits like "Machayenge," "Khatam," and "Freeverse Feast," he has established himself as a force to be reckoned with in the world of hip-hop.
What is Emiway Bantai New Album 2023 All About?
Here are some details on each Emiway Bantai new album songs 2023:
KOTS (Prelude): This is a short intro track that introduces the theme of the Emiway Bantai new album and Emiway's rap skills. It has a dark and ominous vibe that sets the mood for the rest of the songs.
KOTS (Intro): This is another intro track that features Emiway's signature flow and wordplay. He raps about his journey, his achievements, his challenges and his goals. He also declares himself as the king of the streets and the king of Indian hip hop.
Chhod Dala: This is a hard-hitting and aggressive track from Emiway Bantai new album showcases Emiway's confidence and attitude. He raps about his success, his fame, his money and his lifestyle. He also disses his haters and critics and tells them to leave him alone.
Jhakas: This is a catchy and upbeat track that celebrates Emiway's success and fame in the rap industry. It features catchy hooks and witty lyrics that will make you want to dance along. He also raps about his fans, his friends and his family who support him.
Meherbani: This is a heartfelt and emotional track that expresses Emiway's gratitude to his fans, family and friends for supporting him throughout his journey. It also reflects on his struggles and challenges that he overcame with their help. He also thanks God for giving him this opportunity and blessing him with talent.
Company: This is a smooth and melodic track that features Emiway's singing skills. He sings about his love interest and how he wants to spend time with her. He also raps about how he treats her well and how he makes her happy.
Beta Karta Rap: This is a fast-paced and energetic track that features Emiway's rapid-fire rap skills. He raps about his passion for rap, his dedication to his craft, his work ethic and his ambition. He also raps about how he inspires others with his rap and how he is different from other rappers.
Kya Din The Woh: This is a nostalgic and sentimental track that features Emiway's storytelling skills. He raps about his childhood, his memories, his dreams and his aspirations. He also raps about how he has changed over the years and how he has grown as a person and as an artist.
Roots: This is a patriotic and inspirational track that features Emiway's pride for his country and his culture. He raps about his roots, his heritage, his identity and his values. He also raps about how he represents India on the global stage and how he respects his fellow Indians.
Scene Change: This is a fun and playful track that features Emiway's humor and creativity. He raps about how he changes the scene with his rap, how he experiments with different styles, how he surprises his fans and how he enjoys himself. He also raps about how he collaborates with other artists and how he learns from them.
Rule no. 123: This is a motivational and uplifting track that features Emiway's wisdom and advice. He raps about the rules that he follows in life, such as being positive, being humble, being honest, being loyal, being respectful and being grateful. He also raps about how these rules help him achieve success and happiness in life.
Waqt Ke Saath (Interlude): This is a short interlude track that features Emiway's voice over a piano instrumental. He talks about how time changes everything, how people change, how situations change, how rap changes and how he changes with time. He also talks about how he adapts to change and how he stays true to himself.
Survive: This is a collaboration with V Break, another talented rapper from India. The song is about overcoming obstacles and hardships in life and staying strong and resilient. It has a powerful message and a catchy chorus that will inspire you to keep going.
KOTS (Freestyle): This is a freestyle track that features Emiway's improvisation skills. He raps about whatever comes to his mind, such as rap, music, life, love, hate, etc. He also raps about how he can rap on any beat, any topic, any time and any place.
Kya Bolti Public: This is a fun and playful track that features Young Galib, a rising star in the Indian rap scene. The song is about interacting with the fans and asking them what they think of Emiway and his music. It has a humorous and friendly vibe that will make you smile.
Classy Chapri: This is a sarcastic and ironic track that features Emiway's self-deprecation skills. He raps about how he is a classy chapri, which is a slang term for a low-class person who tries to act high-class. He also raps about how he is proud of being a chapri and how he doesn't care what others think of him.
King Of Indian Hip Hop: This is the final and longest track of the Emiway Bantai new album that features Emiway's declaration skills. He raps about how he is the king of Indian hip hop, how he has achieved this status, how he has influenced the rap scene, how he has challenged the rap game and how he has earned the respect of his peers and fans. He also raps about his future plans and goals and how he will continue to rap till he dies.
These are some details on each Emiway Bantai new album songs 2023.
ALSO KNOW | Yo Yo Honey Singh's Comeback With New Album | Honey Singh Talks About His Health Problems
Emiway's Musical Journey
Emiway Bantai's musical journey is a tale of passion, determination, and hard work. Born and raised in the bustling city of Mumbai, young Bilal Shaikh developed a keen interest in hip-hop music early in life. He was inspired by the likes of Eminem, Lil Wayne, and other international rap artists, as well as Indian rappers like Yo Yo Honey Singh and Raftaar.
Emiway's journey began in 2013 when he started uploading his music to YouTube under the moniker "Emiway Bantai." His first track, "Aur Bantai," showcased his raw talent and unique ability to seamlessly blend Hindi and English lyrics. As his online presence grew, Emiway continued to release tracks that resonated with the youth of India, exploring themes of ambition, love, and social issues.
His big break came in 2018 with the release of the viral hit "Machayenge," which skyrocketed his popularity and placed him firmly on the map of Indian hip-hop. Since then, Emiway has released several successful tracks and albums, including "No Brands," "Bajo," and "Dhundke Dikha."
A major turning point in Emiway's career came with the release of his 2019 diss track, "Samajh Mein Aaya Kya?" which was aimed at fellow Indian rapper Raftaar. This track sparked a heated rivalry that dominated headlines and generated widespread interest in the Indian hip-hop scene. Throughout the feud, Emiway held his own, showcasing his lyrical prowess and further cementing his place as a key player in the industry.
Today, Emiway Bantai stands as a testament to the power of perseverance and dedication. His journey from a young rapper with a dream to an influential figure in Indian hip-hop inspires aspiring artists everywhere. And with each new release, Emiway continues to push the boundaries and redefine the landscape of Indian music.
The Impact Of His Unique Sound On The Indian Hip-Hop Scene
Emiway Bantai's unique sound has significantly impacted the Indian hip-hop scene, paving the way for a new generation of artists and redefining the genre. Here are a few ways Emiway's sound has influenced the landscape of Indian hip-hop:
Blending Languages: Emiway's ability to seamlessly mix Hindi and English lyrics has created a distinct sound that resonates with a wider audience, both locally and internationally. This skill has encouraged other Indian rappers to experiment with different languages, expanding the reach of Indian hip-hop.
Authenticity: Emiway's raw and unfiltered style has resonated with fans across India, as it represents a genuine reflection of his life experiences and thoughts.
Independent Success: Emiway has managed to achieve massive success as an independent artist, proving that it's possible to break through the barriers of the music industry without the support of major labels.
Encouraging Collaboration: Emiway's collaborations with various artists, locally and internationally, have helped bridge the gap between Indian hip-hop and the global music scene.
Social Impact: Emiway's music often touches on social issues and challenges faced by the youth in India, giving voice to concerns that are often overlooked in mainstream media. Through his music, Emiway has encouraged important conversations and brought attention to issues that matter to his fans.
Emiway Bantai Rap Songs
Emiway Bantai has released numerous rap songs throughout his career, showcasing his unique style and lyrical prowess. Here's a list of some of his popular tracks:
"Machayenge" (2019): This viral hit helped Emiway gain widespread recognition and solidify his place in the Indian hip-hop scene.
"Samajh Mein Aaya Kya?" (2018): This diss track aimed at fellow Indian rapper Raftaar generated significant buzz and showcased Emiway's sharp lyricism.
"Khatam" (2018): Another diss track in response to Raftaar, further fueling their rivalry and adding to Emiway's growing reputation.
"Jump Kar" (2018): is an energetic track that encourages listeners to take a leap of faith and pursue their dreams.
"Freeverse Feast (Daawat)" (2019): This track showcases Emiway's ability to deliver rapid-fire verses and clever wordplay.
"Checkmate" (2019): A hard-hitting track with a catchy hook that demonstrates Emiway's confidence and determination.
"Bajo" (2019): An upbeat party anthem that showcases Emiway's versatility as an artist.
"Seedha Takeover" (2019): A track that highlights Emiway's determination to take control of his career and make an impact on the Indian hip-hop scene.
"Firse Machayenge" (2020): A sequel to his hit "Machayenge," this track features a catchy beat and Emiway's trademark blend of Hindi and English lyrics.
"No Brands" (2019): A four-part EP where Emiway talks about his journey, success, and staying true to his roots.
These are just a few examples of Emiway Bantai's extensive discography, including numerous singles and emiway bantai albums that have made him a prominent figure in the Indian hip-hop scene.
Musical Style of Emiway Bantai
Emiway Bantai's musical style is primarily rooted in hip-hop, but he often experiments with various subgenres and incorporates elements of other musical styles into his work. Here are some key aspects of his musical style:
Multilingual Lyrics: Emiway skillfully blends Hindi and English in his lyrics, creating a unique sound that appeals to a wider audience both within India and internationally. This multilingual approach has become a defining characteristic of his musical style.
Authentic Storytelling: Emiway's songs often revolve around his personal experiences, struggles, and aspirations. This authentic storytelling connects with his audience and makes his music relatable.
Energetic Flow: Emiway is known for his energetic and dynamic flow, which keeps listeners engaged and entertained. He often experiments with different rhythms and patterns, showcasing his versatility as a rapper.
Catchy Hooks and Melodies: Many of Emiway's songs feature catchy hooks and melodies that make them memorable and easy to sing along with. This accessibility has helped broaden his appeal and make his music more approachable to mainstream audiences.
Fusion of Genres: While primarily a hip-hop artist, Emiway has dabbled in various subgenres like trap, rap-rock, and desi hip-hop. He has also incorporated elements of traditional Indian music, electronic music, and dancehall, showcasing his willingness to experiment and push the boundaries of his sound.
Emiway Bantai's musical style is a dynamic fusion of hip-hop and various other influences, characterised by his multilingual lyrics, authentic storytelling, energetic flow, and catchy hooks. This unique sound has helped him stand out in the Indian hip-hop scene and gain a dedicated fanbase.
ALSO READ | Get Ready To Rock: The Top 10 Music Festivals Around The World
Bantai's family background
Emiway Bantai, whose real name is Bilal Shaikh, was born in Mumbai, India on November 13, 1995. He belongs to a middle-class Muslim family. His father, Ismail Shah, is a businessman, and his mother, Kuresha Shaikh, is a homemaker. He also has a sister named Rufina Shaikh.
Growing up in the Kurla West area of Mumbai, Emiway faced various challenges and hardships, which he often mentions in his songs. His family background and experiences have played a significant role in shaping his music, as he draws inspiration from real-life events and emotions.
Although there's limited information about his family's specific background, it's evident that Emiway Bantai's humble beginnings and strong support system have contributed to his success as a prominent figure in the Indian hip-hop scene.
How to Stay Up to Date on Emiway Bantai New Album Releases?
Here are some tips to help you keep track of the latest Emiway Bantai wew album releases:
Follow artists on social media: Most musicians and bands actively promote their new albums on social media platforms like Instagram, Twitter, and Facebook.
Subscribe to streaming services: Platforms like Spotify, Apple Music, and Tidal often feature new releases and curated playlists. By subscribing to these services, you can discover Emiway Bantai new albums and receive personalised recommendations based on your listening habits.
Sign up for newsletters and mailing lists: Many artists and record labels offer newsletters and mailing lists that provide updates on new releases, tour dates, and other relevant news. Subscribing to these can help you stay informed about upcoming Emiway Bantai new albums.
Check out music news websites and blogs: Websites like Pitchfork, Rolling Stone, and Consequence of Sound frequently post news about Emiway Bantai new album releases, reviews, and interviews.
Use emiway bantai new album release calendars: Some websites and apps offer release calendars that list upcoming Emiway Bantai new albums by date, making it easy to keep track of what's coming soon. Examples include AllMusic and Metacritic, which provide comprehensive lists of upcoming releases.
Join online communities and forums: Participating in online communities, such as Reddit's r/music or r/hiphopheads, can help you stay updated on new releases and discuss them with fellow music enthusiasts.
How Bantai Got the Inspiration to Become a Rapper And Produce Songs?
Emiway Bantai's journey to becoming a rapper and producing songs began with his exposure to hip-hop music and the influence of some prominent artists. Here's a look at how he found inspiration and started his career:
Early exposure to hip-hop: Emiway's interest in rap music started when he was in school. While in the 10th grade, he came across the famous American rapper Lil Wayne, and his passion for rap and hip-hop began to grow.
Influence of Eminem: Emiway cites Eminem as one of his biggest inspirations, and his stage name is a combination of Eminem's name and his own nickname, 'Bantai.' Eminem's powerful lyrics, storytelling, and unique style resonated with Emiway, further fueling his desire to become a rapper.
Local rap scene: Emiway also found inspiration in the local rap scene in Mumbai, which was flourishing with talented artists. This environment encouraged him to pursue his passion and create music that reflected his own experiences and emotions.
Personal struggles and experiences: Emiway's music often revolves around his personal life, struggles, and aspirations. By sharing his authentic stories through rap, he connects with his audience on a deeper level and finds the motivation to continue creating music.
Drive to succeed: Emiway's determination to make a name for himself in the Indian hip-hop scene pushed him to work hard, hone his skills, and produce music that resonated with people.
Lastly, Emiway Bantai's inspiration to become a rapper and produce songs came from his early exposure to hip-hop, the influence of artists like Eminem, his experiences within the local rap scene, his personal struggles, and his unwavering drive to succeed. These factors came together to shape his journey and help him become the prominent figure in Indian hip-hop that he is today.
Conclusion
In conclusion, Emiway Bantai has undoubtedly made a significant impact on the Indian hip-hop scene with his powerful lyrics, unique style, and authentic storytelling. His career, which started with early inspirations from artists like Lil Wayne and Eminem, has culminated in a run of hit Emiway Bantai new albums that display his boundless talent and commitment to his craft. Emiway's success has been largely attributed to his capacity to engage his listeners through his songs by focusing on his own challenges and experiences. As fans eagerly anticipate his future releases, there's no denying that Emiway Bantai will continue to be a driving force in the ever-evolving landscape of Indian hip-hop. We hope you will enjoy Emiway Bantai New Album 2023.