Influencer Marketing to promote brands has gained a lot of interest over the past few years. According to Google Analytics, the number of Google searches for influencer marketing has increased by 1500% in the last 3 years.
Who thought this sort of marketing would boom on a massive level?
But it's happening, and the future of influencer marketing is rising with more opportunities. As more brands become aware of the benefits of influencer marketing, they are willing to invest more money into it. It has become a trending way to market products and services to attract audiences through the power of influence.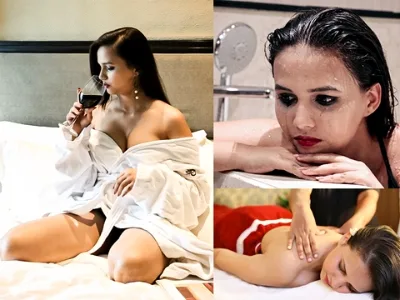 It is a fact that Influencer marketing strategy is accelerating the trend by generating better ROI than other methods of marketing. As per one case study, 9 out of 10 marketers feel it is an effective way to generate better leads and brand reach.
But another part of the story is where influencers get trapped in fake brands.
You must be thinking, why are we saying this?
The incident happened with one of the well-known influencers Monika Saini from the Vasai region. On 29 December 2022, Monika Saini posted some screenshots on her Instagram Story and a letter; she posted some videos stating some issues with the well known brand of Ayurveda.
Who Is Monika Saini?
Monika Saini is an influencer from Palghar. She is very hardworking towards her career. She is a model by profession and also, do product brand promotion. She is a travel freak who love to explore places. Till date she got several offers for adult web series but she refused to take it as she is very focused on her career. She knows what is right and what will be the best to built the career in the industry.
Let's checkout some glimpse from her Instagram Account
Chat Screenshots From Influencer Monika Saini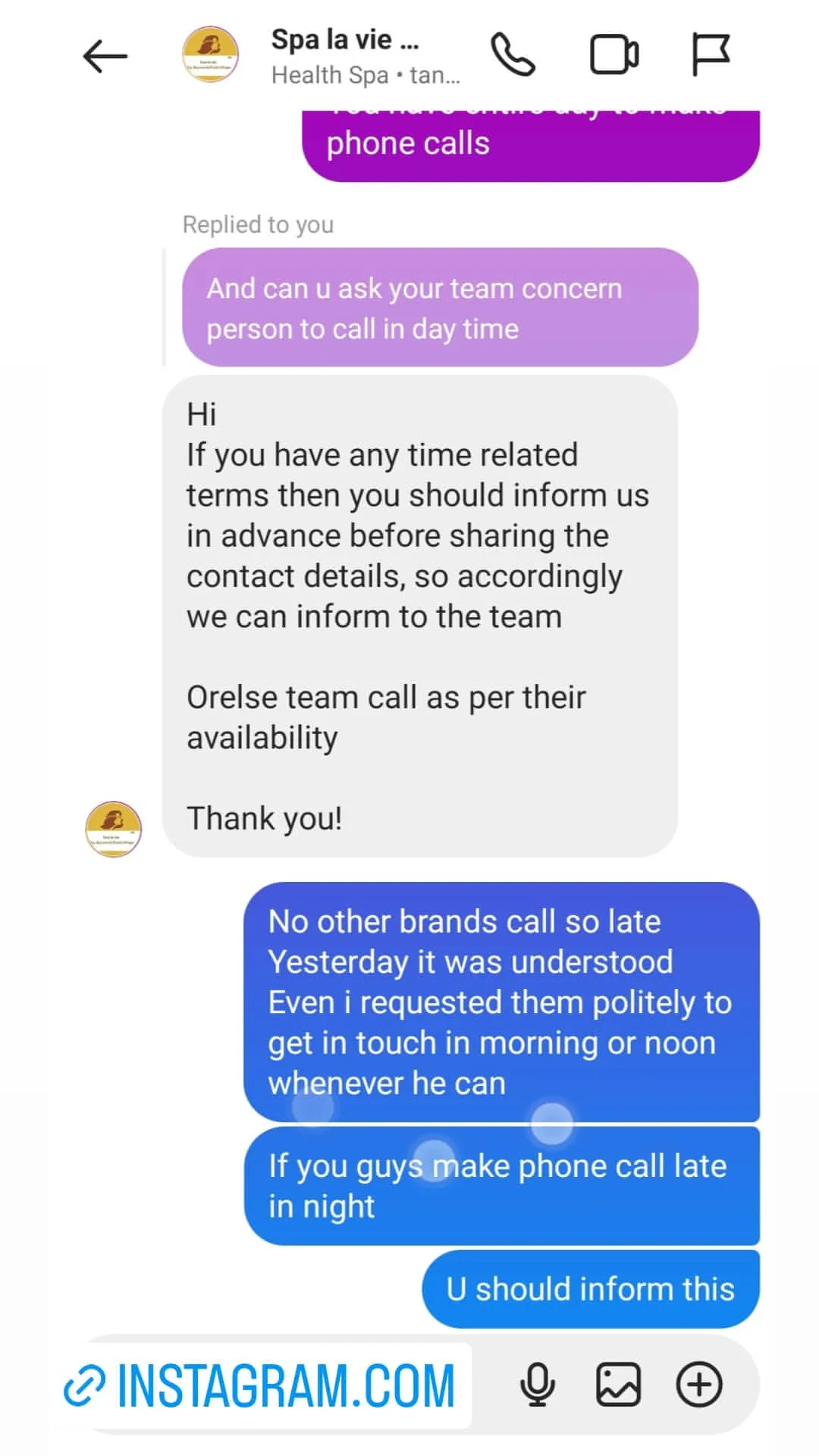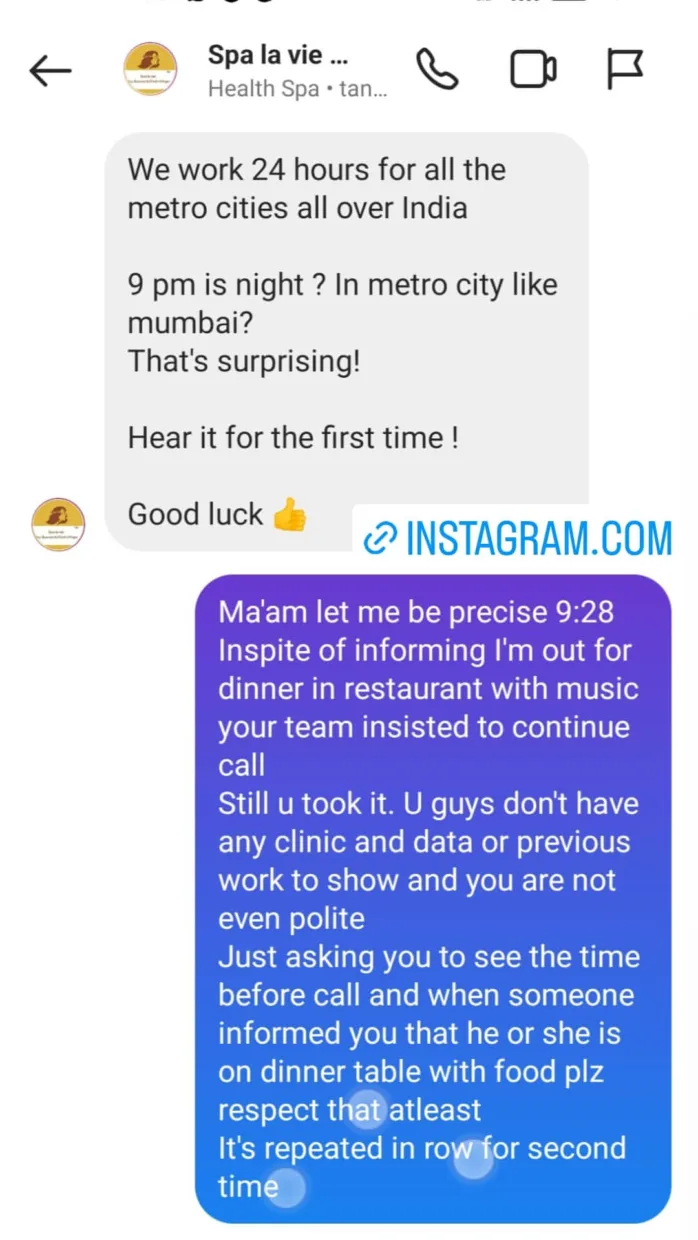 From the above screenshots, you can understand the representative or business executive of the brand is talking inappropriately with the influencer. There is one more significant point to highlight the brand needs to have a permanent center/location. This came out when the brand representative misbehaved with the influencer, and then she spoke about it.
But what about other influencers who have already done influence marketing for the brand?
Now it's a big question of whom we should trust.
Instagram Videos From The Influencer Monika Saini
In the video, Influencer Monika Saini was pissed off with the behavior of the brand Ayurveda Yoga executives. This started when the brand coordinator forced her to have a word on call while she was having dinner. She refused to talk as it was late and she was with her friends to have dinner. But the coordinator kept forcing her to speak, and then the other coordinator on chat started talking rudely. She kept saying that you should understand the privacy of others and not interrupt them late at night.
While talking about the misbehavior of the brand, she also stated that they don't have any particular place and asked her to come to their booked property. She found this very weird, so she refused to collaborate with them.
She also stated that the brand was forcing her to get a massage from the male massager even after she asked for a female massager. This is not it; she said that the male massager touches the private parts while giving the massage, which is inappropriate.
Getting brand collaboration is good, but you should be aware of fraud!
How Are Influencers Suffering Because Of Brands?
Rude Behaviors: Sometimes, brands talk rudely to influencers when influencers ask for their privacy or scheduling time. Brands should understand that influencers might be busy with other projects or brand collaborations. They need to understand their privacy.
Fake Services/Products: Many influencers are caught in a trap of fake services or products. Fake brands are smart enough who understand the power of influencer marketing. They ensure influencers that they are a real brand with quality products and services. After doing the brand promotion, they commit fraud with customers who got influenced by the influencer's brand promotions.
Less Pay: Influencers don't get enough pay for influencer marketing. Some brands try to get massive brand promotions for less money.
Blame For Less Reach: Social media platforms have their own algorithms to promote any post/reel. Getting less reach is not the fault of the influencer. Influencers always try to provide their best to the brands.
What Are The Types Of Influencers Available For Influencer Marketing?
Brands are more than happy and feel worth spending 5x when they find the right influencer to work with. How can one get the best influencer to promote products and services? It is difficult to understand which influencer you should get for brand promotion, as there are 5 types of influencers.
Let's understand them one by one.
Mega Influencers – This type of influencer carries more than a million followers. Mega influencers majorly involve celebrities. Due to their celebrity status, they generate a ton of engagement. This thing brings them top priority among brands but also makes them incredibly expensive.
Macro Influencers – Macro Influencers carry a smaller audience size, between 5 lacks to 1 million followers. This type incorporates some celebrities, TV personalities, and athletes. Since brands can leverage their reputation to gain followers on influencer marketing platforms, they can expect high charges but not as hefty as mega influencers. Brands can get an extensive reach from this sort of influencer but have to compromise with less engagement.
Mid-tier Influencers – The influencers who are known as a powerful group of content creators trusted by their followers with audiences between 50K to 500K. Such influencers provide an enormous reach and slightly more engagement than macro and mega influencers.
Micro Influencers – While this type of influencing has a much smaller following, brands typically consider this influencer group to be much more effective in terms of engagement and trust. Behind approaching such groups is they have an intimate connection with their followers and tend to be more niche-focused. According to a study, 82% of customers are more likely to buy a product or service recommended by a micro-influencer.
Nano Influencers – Influencers having 100 to 10,000 followers are called Nano influencers. With the help of these influencers, you get local brand reach. Your brand can be promoted locally well.
Last Words
Influencer Marketing is becoming one of the most preferred marketing for brand promotion, but it takes a lot of work for influencers to deal with. There are a lot of efforts behind every promotion. We should respect everyone's work and what they deserve.
Also, get information about Food, Education, Health, Jobs, Entertainment, and the Top 10 things.