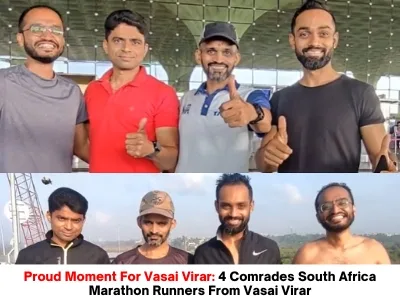 Vasai Virar: A total of 403 Indian runners have taken up the challenge of covering the distance from Pietermaritzburg to Durban in the Comrades Marathon 2023. It is noteworthy that India has recorded the highest number of international participants in this esteemed event. What's even more impressive is that 4 enthusiastic participants are from Vasai Virar. This is undoubtedly a proud moment for the people of Vasai Virar, as these individuals represent not only India but also our Vasai Virar region.
What is the Comrades Marathon?
The Comrades Marathon is an esteemed ultramarathon held annually in South Africa's KwaZulu-Natal province. Spanning a distance of approximately 89 kilometres (55 miles), it serves as the oldest and largest ultramarathon race worldwide. The race course alternates yearly, with the "up" run covering 87 kilometres from Durban to Pietermaritzburg and the "down" run encompassing 90.184 kilometres from Pietermaritzburg to Durban.
Details of Comrades Marathon Runners 2023 From Vasai Virar
Let's know about the Comrades Marathon Runners from Vasai Virar region.
Pranesh Chaudhari
Pranesh Chaudhari is from Nallasopara and works in a bank. He has participated in more than 100 marathons to date, including the Vasai Virar marathon, Mumbai Marathon, and Goa Marathon. He has completed marathons of distances ranging from 50km to 21km. Additionally, he accomplished a 12-hour, 93km stadium run, and in 2015, he completed a 2063km cycling trip from Vasai to Kathmandu.
Yogesh Patil
Yogesh Patil is from Aaghasi Virar and works in a private firm. He has participated in numerous marathons to date. Notably, he has completed cycling trips from Vasai to Kanyakumari and Vasai to Ladakh. He has also successfully finished a 12-hour stadium run.
Swapnil Patil
Swapnil Patil works at Mazgaon Dock and has participated in various marathons.
Prashant Chauhan
Prashant Chauhan also works at Mazgaon Dock and has participated in different marathons.
ALSO READ | Vasai Virar News Today: Unveiling The Latest Happenings
What is the History of the Comrades Marathon?
The Comrades Marathon, an annual race held in South Africa, has a rich history and has been running since its inception on 24 May 1921, with the exception of breaks during World War II and the COVID-19 pandemic-impacted year of 2020. Over 300,000 runners have successfully completed the race to date.
The concept for the race originated from Vic Clapham, a veteran of World War I, as a way to honour the South African soldiers who lost their lives during the war. Drawing from his own experiences of enduring a gruelling 2,700-kilometer march in sweltering German East Africa, Clapham envisioned the race as a unique test of physical endurance for the participants. The race's constitution emphasizes the celebration of the human spirit in overcoming adversity. Notably, Antony Clapham, the great-grandson of Vic Clapham, completed the race and earned four Vic Clapham medals consecutively from 2012 to 2015.
From 1962 to 1994, the Comrades Marathon took place on Republic Day, which fell on 31 May each year. However, following the South African government's abolition of this public holiday in 1995, the race date was shifted to Youth Day on 16 June. In 2007, under controversial circumstances, the race organizers yielded to political pressure from the ANC Youth League. They believed that the race detracted attention from Youth Day's significance and rescheduled the event to Sunday, 17 June 2007 and 15 June 2008.
Furthermore, in 2009 and 2010, the race dates were adjusted to accommodate the Confederations Cup (2009) and the World Cup (2010) held in South Africa. These changes resulted in the race taking place on 24 May and 30 May, respectively. Unfortunately, the 2020 edition of the Comrades Marathon had to be cancelled due to the unprecedented challenges posed by the coronavirus pandemic.
Date & Time Of Race For Comrades Marathon Runners
The race is scheduled to take place on Sunday, 11 June 2023, commencing at 05:30 AM and concluding at 05:30 PM. The race follows the "gun to gun" rule.
Route & Distance
The race is known as the "DOWN RUN" and starts at City Hall in Pietermaritzburg, concluding in Durban. The approximate distance of the race is 90 kilometres. Please note that the distance is subject to potential changes, and the final and confirmed details will be provided in the Final Race Instructions (FRI).
Awards And Price Money For Comrades Marathon Runners
General Awards
All participants who successfully complete the entire distance within the designated 12-hour time limit will receive badges and medals to recognize their achievement.
MEDALS
Gold
First 10 Men and Women
Wally Hayward (Men)
Isabel-Roche Kelly (Women)
Position 11 to sub 6hrs 00min
Position 11 to sub 7hrs 30min
Silver (Men Only)
6hrs 00min to sub 7hrs 30min
Bill Rowan
7hrs 30min to sub 9hrs 00min
Robert Mtshali
9hrs 00min to sub 10hrs 00min
Bronze
10hrs 00min to sub 11hrs 00min
Vic Clapham
11hrs 00min to sub 12hrs 00min
PRIZE MONEY
| | | |
| --- | --- | --- |
| POSITION | MEN | WOMEN |
| 1st Position | R 500 000,00 | R 500 000,00 |
| 2nd Position | R 250 000,00 | R 250 000,00 |
| 3rd Position | R 180 000,00 | R 180 000,00 |
| 4th Position | R 90 000,00 | R 90 000,00 |
| 5th Position | R 70 000,00 | R 70 000,00 |
| 6th Position | R 40 000,00 | R 40 000,00 |
| 7th Position | R 35 000,00 | R 35 000,00 |
| 8th Position | R 30 000,00 | R 30 000,00 |
| 9th Position | R 25 000,00 | R 25 000,00 |
| 10th Position | R 20 000,00 | R 20 000,00 |
So this is all about the South Africa Comrades Marathon and the Comrades Marathon Runners from Vasai Virar. Stay updated with Vasai Virar News for such local news.