Are you about to start a career in the Sales industry? Want to know the common Sales Interview Questions? Then you are at the right place.
Do you know if the sales team can take any company on high or can take it down? They generate the leads/clients/income for the company. The sales representative role is vital to any organization. You can denote the sales team as a significant pillar of the company.
Hence employers look for crucial attributes in sales person like the ability to hit targets, tactics, and handle rejection. If you have these skills, then you must go for Sale Executive Role. But before applying for a Sales job role, understand what kind of sales interview questions the employer asks.
Here you'll get all the common sales interview questions to prepare yourself for the sales interview.
Let's take you deep into the details, so read the blog till the end.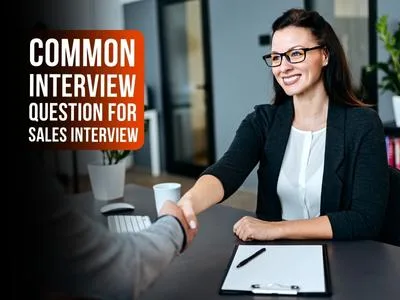 12 Sales Interview Questions
Question: Tell us about yourself.
Answer: You must be thinking this is a very common and easy sales interview question. And you're right too. But as a sales repetitive, this could be your first and last impression question. In this question, don't talk about limited or particular points. Cover most of the points as it shows your confidence and ability to keep people engaged with you.
Question: Why do you wish to work in the sale?
Answer: Here, tell your plus points so the employer will not heisted while selecting you.
Talk about your confidence, how you can engage with people easily, and what your expertise is in selling any product.
Explain how you are good at understanding the company and its product, and the target customer.
Question: Do you have any idea about our company and our product or service?
Answer: This is very major that you do some kind of research work before you go for any sales interview. Your job is going to be the more information type wherein you talk about products/ services as well as the company.
Question: Why do you want this sales job role?
Answer: This is a very tricky Sales Interview Question. Here employers don't want to hear about it, but they want to hear about the company you are applying for. Talk about the company's reputation and, after getting the job, how you will get an opportunity to expand your knowledge and skills. At last, talk about your skills and strengths; those will help the company to gain more leads/clients.
Question: Where do you see yourself in the upcoming years?
Answer: I have set some bars for my career, so I'll first work hard to achieve my short-term goals to reach my primary goal. And I think soon I'll reach my goal of being the head of the sales department or sales director.
Question: According to you, what is the quality that makes you the right fit for a sales position?
Answer: When employers ask this kind of question, you need to give the perfect answer that will help you to get short-listed for the sales job role. You can state that you are good at communicating with people. Tell them how easily you make the connection and gain people's trust. How you are good is search work.
Question: Can you sell this book to us?
Answer: This question is evergreen in every Sales Interview. Make sure you will crack it will like a hero. Don't reply in a hurry; first, analyze the notebook. How many pages are there, what page quality is the brand/company, what kind of pictures are on the cover pages, and other small details?
Then take a deep breath and start with the greetings. And then start with some facts or statistics about the notebook. Then talk about the brand/ company. Give some approximate years of the company. Tell some benefits of the notebook. Then woo them with the offer, for example, this book is for Rs. 200, but you are selling it for Rs. 150.
Question: Are you comfortable with doing cold calls?
Answer: Your answer must be yes, as cold calls are an integral part of an organization's sales strategies. Tell them you understand the importance of cold calls for the sales leads. How good you are at cold calls.
Question: Can you state the 4 Ps of sale?
Answer: The 4 P's of sales are The Product which includes Goods and services. The Price includes what the consumer pays, then The Place that includes the location where a product is marketed. And the last one is Promotion which includes advertising.
Question: According to you, which words attract customers during a sales pitch?
Answer: According to my research work and as a human, I have come across a few words that attract customers, and those are Free, Offer, Exclusive, Limited, Value, and Deal.
Question: According to you, can our company improve?
Answer: As you have already searched and analyzed the company, you can tell them some areas that can be improved from your point of view. For example, you can suggest something on their social media pages. Explain some good points that can help them to spread awareness. Tell them how your suggestion can help the company to gain more leads.
Question: Are you familiar with sales software and technology?
Answer: Some software is available for sales departments, like Salesforce and Pipedrive. They are robust, and their cloud feature is fabulous.
Last Words
Our sales interview questions and answers will help you get selected for the Sales representative job role. But you have to be quick on your feet while answering. Try to be fluent while speaking and with proper eye contact.
To know how to behave in the interview, read our blog on How To Behave During The Interview?