Hey, are you looking for common Digital Marketing Interview Questions?
Even if you are not looking for a digital marketing interview question, let's tell you digital marketing is the future of every industry. Everyone needs digital marketing to display their services in the food or fitness industry. Digital marketing is the best way to gain people's trust, as people find such services trustworthy.
So if you are interested in digital marketing, you can take it as your profession. And when you take it as a profession, our list of Digital Marketing Interview questions will surely help you get a job.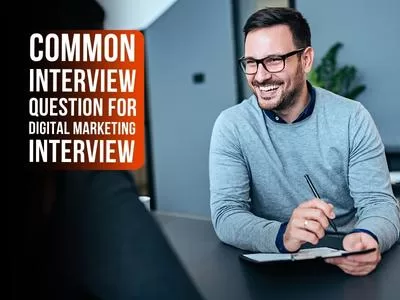 List of Digital Marketing Interview Questions
Following are the some of Digital Marketing Interview Questions and Answers:
Question: Tell us what exactly Digital Marketing Means.
Answer: This is one of the most common and major question from the digital Marketing Interview Questions. Digital Marketing is nothing but business marketing done on digital platforms that appear on a computer, phone, tablet, or any other electronic device. It includes promotional messaging through social media posts, online videos, display ads, SEO, and paid social ads.
Question: How many formats of Digital Marketing are available in the industry?
Answer: Social media profiles, different types of websites, image and video content, blog posts, reviews and client testimonials, and brand logos.
Question: Why should one go for digital marketing instead of traditional marketing?
Answer: Digital marketing source directly connects customer with their needs. It provides better exposure to product and service outreach and analytics. Digital marketing is a more convenient approach to connecting with people from around the world, whereas traditional marketing is limited to a particular area. If mistaken at any part, digital marketing permits changes almost immediately.
Question: What are the current trends in the Digital Marketing industry?
Answer: Short DIY videos are trending along with story-telling, audience-targeted content, personalized content, utilizing Artificial Intelligence in content, and using NFTs.
Question: Can you tell us some of the most used digital marketing tools?
Answer: Google Analytics to track the performance of social media sites and to calculate the advertisement's ROI.
Ahref for backlinks and SEO analysis.
Mailchimp for email marketing.
Google Keyword Planner to get proper keywords for content and campaigns.
SEMrush to gain web visibility and learn about marketing, including SEO, PPC, SMM, Keywords, Competitive Research, etc.
Question: Do you know the four C's of Digital Marketing?
Answer: Customer, Content, Context, and Conversation.
Question: What is SEO?
Answer: SEO stand for Search Engine Optimization, which helps in the process of improving the structure, content, and organization of your site.
Question: What are Keywords, and what are the key areas where you can use keywords to optimize the site ranking?
Answer: In simple words, the keyword is the word user enters into a search engine to find specific data/information. You can use keywords in the Website URL, Website Title, Meta Tag, Website Content, and Headlines.
Question: What is the difference between Dofollow and Nofollow links?
Answer: Making links Dofollow permits search engine crawlers to follow a link to give it a boost from the result page and pass on the link juice. Where Nofollow links stop search engine crawlers from following the link.
Question: Do you know what PPC stands for and how it works?
Answer: PPC stands for Pay-Per-Click. It is online advertising wherein a business only pays when someone clicks on their ad on a search engine.
Question: Can you state the different formats of Ads available on Google Ads?
Answer: The first and basic ad format is "Text Ad," which only contains text content.
Then comes the "Responsive Display Ad," which adjusts its size and format based on available space. Such ads can be text or image ads.
Then there are "Image Ads." As the name says, these incorporate interactive images with image formats like .gif, .jpeg, and flash.
Just like Image Ads, there are "Video Ads" that can be run stand-alone or inserted into another streaming video.
We also have "Product Shopping Ads," which show product details, including name, price, and store name.
Like product shopping ads, we get an option of "Showcase Shopping Ads" that allow us to add an image and a description that expands on being clicked.
Lastly, we have "Call-Only Ads" that enable users to connect to the business directly utilizing the contact number provided.
Question: Many times, Google Ads get rejected. Can you tell us the reason behind the rejection?
Answer: Behind every ad rejection, there is only one reason, which is violating Google's advertising policies. Which include Prohibited Content, Restricted Content, Prohibited Practices, and Editorial and Technical policies.
Question: In your opinion, what should be the excellent strategy to improve the Click-through-rate of your email?
Answer: There should be an exciting subject line as it creates the first impact. Then the email should be mobile-friendly with engaging email content. The email must be visually appealing and include relevant images. Last but not least, these should be CTA where it's easily visible to visitors.
Question: Can you state different types of Facebook ads?
Answer: There are 6 types of Facebook Ads available on Facebook:
Single Image Ad – This Ad type provides a single image advertisement in which you can add text, a link to the website, and a call to action.
Multi-Product Ad – These ads allow users to view multiple products and a call to action.
Video Ad – Video Ad allows a video of a few seconds to 120 minutes. It is one of the most engaging forms of ads.
Lead Ad: Lead ads allow us to obtain email IDs or phone numbers.
Slideshow Ad: Such ads allow some imagery, image carousels, zooming detail, and tilting views using the combination of single, multi-image, and video ads.
Collection Ad – This ad is a collection of diffract ads like video ads, slideshow ads, or product image ads.
Question: What are the best ways to promote live content?
Answer: There are many ways to promote live content, but among all, some are the best ways to try:
Send the live content on the email broadcast.
Share content in communities like social media groups, content promotion networks, and other online communities.
Run paid ads on Facebook and Instagram for higher reach and impression.
Sharing on different social media platforms.
Perform guest posting and blogging to attract people from the web.
Question: How does the content marketing process work?
Answer:
First, we need to decide the content campaign goals to achieve.
Now required to define buyer personas. In simple words determines the best-suited audience.
Running content audits
Selecting a proper content management system.
Brainstorming ideas for new content
Settling on a specific required content
At last, we need to publish and manage the content
Question: What is the formula to target the right audience?
Answer: The most successful formula is to target the audience by collecting and analyzing the audience based on website visitors, email subscribers, and social media followers.
Question: Can you tell us what kind of content impacts every stage of the customer?
Answer: Awareness, Engagement, Purchase, Post-Purchase, and Advocacy.
Question: State the benefits of having a content or social media calendar.
Answer: It helps with important dates.
Let you stick to a consistent posting schedule.
The content calendar saves time.
Help you figure out what works and what does not.
Make sure fresh content for each content.
Now you are almost ready to crack the Digital Marketing Interview with our list of Digital Marketing Interview Questions.
Also, get information about Food, Education, Health, Job, Entertainment, and Top 10 things.