Accountants are respected business professionals, and accounting is among the most honorable professions. Accounting is a steady profession with an increasing demand for accountants in different industries. If you have some accounting knowledge, it can be a great career choice.
You have found the right place if you are planning to interview as an accountant and want to know the most common accounting interview questions asked during the interview.
Let's get started with accounting interview questions and answers.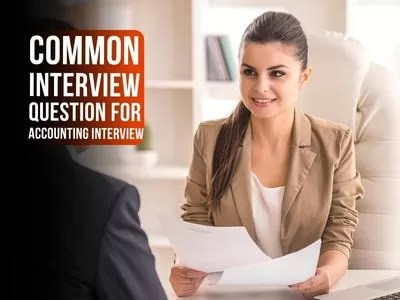 List of Common Accounting Interview Questions
Q. Give me a brief about yourself?
Answer – This question come first in the Accounting Interview Questions. When an employer asks you this question, it doesn't mean he just wants to know about your family members and hobbies. He must be curious to learn about your life and the moments that brought you to the accounting profession.
Q. What are the different sorts of Accounting?
Answer – These are the fundamental interview questions for an accountant. There are five types of accounting; Financial Accounting, Administrative Accounting, Tax Accounting, Cost Accounting, and Management Accounting.
Q. Can you elaborate on each accounting type?
Answer – Financial Accounting includes records, summaries, and reports of the business transactions in the organization.
Administrative Accounting is centered on the administrative aspects of the organization. Administrative accounting helps to evaluate the achievement of established objectives and implement strategies.
Tax Accounting includes preparing and registering tax returns for the public treasury and paying taxes.
Cost Accounting is more applicable to industrial organizations. It helps in analyzing the various organizational aspects such as the unit cost of production, sales, and the production process.
The management accounting records all the company's financial and economic information to make short-term and longer-term decisions.
Q. What is working capital in accounting?
Answer – Working capital in accounting incorporates calculating current assets minus current liabilities in daily trading.
Q. What is TDS (Tax Deducted at Source)?
Answer – In simple words, TDS includes collecting taxes on every source of income.
Q. Where do we show TDS on a balance sheet?
Answer: In a balance sheet, we show TDS in the assets section, after the current asset head.
Q. Can you distinguish between a trial balance and a balance sheet?
Answer – A trial balance is a list of all the balances in a ledger account. It is used to verify the accuracy of recording and posting. A balance sheet is a summary of a company's assets and liabilities. It is used to determine its financial position at a given date.
Q. Tell me the typical mistakes in accounting?
Answer – There might be many mistakes made in the accounting, but in my opinion/my experience, some common mistakes in accounting are:
Merging personal accounts with the company
There is less communication between the accountant and the company.
Failure to maintain the backup
Receipts not saved and preserved
Negligence in keeping the accounting books up to date.
Q. Do you know the accounting standards, and can you state them?
Answer – It is essential to read the most recent accounting standards changes before your interview. So, there are 41 accounting standards generally issued by the International Accounting Standards Board (IASB).
Q. Suppose, if a company has three bank accounts for processing payments, what is the less number of ledgers it requires?
Answer – Three ledgers are required for each account to reconcile and record accounting transactions correctly; three ledgers are needed for each account.
Q. Do you know any popular accounting applications?
Answer – It would be great if you know any accounting applications but if you don't know about them, then let us tell you some of the popular accounting applications. There are many accounting software options on the market, including Microsoft Dynamics AX, Software, Financial Force, and Microsoft Accounting Professional.
Q. What is tally accounting?
Answer – It is software developed by Tally Solutions. Small businesses and shops use it to manage routine accounting transactions. It assists with accounting-related activities, such as financial transactions and generating statements about liabilities and assets.
Q. Can you brief the basic accounting equation?
Answer – Sure, the basic accounting equation is Assets=Liabilities + Owners Equity, as the accounting is all about assets, liabilities, and capital.
Q. What is the meaning of purchase return in accounting?
Answer – A purchase return is a transaction in which the buyer returns defective or unsatisfactory products to the seller.
Q. What are the bills receivable?
Answer – This is the most Frequently Asked Question in Accounting Interview Questions. Bills receivable are the payment an organization will receive from its customers.
Q. Do you know what an MSI report is?
Answer – MSI is Management Information System. This report can be used to determine the efficiency of any department within an organization.
Q. Give me a few examples of liability accounts.
Answers – Sure, there are a few examples of liability accounts such as bonds payable, accrued expenses, accounts payable, customer deposits, income taxes payable, interest payable, mortgage loans payable, notes payable, salaries payable, warranty liability, lawsuits payable, and installment loans payable.
Q. Can you tell me common budgeting methods?
Answer – Yes, zero-based budgeting, incremental budgeting, and value-based budgeting are the common budgeting methods in accounting.
Q. What are three financial statements?
Answer – Financial statements are balance sheets, income statements, and cash flow statements.
Q. Do you know what GAAP is?
Answer – GAAP stands for Generally Accepted Accounting Principles. It is issued by the Institute of Chartered Accountants of India under the Companies Act, 1956. It's used by organizations to accurately record financial information, consolidate accounting records into financial statements, and share information as required.
Q. What is executive accounting?
Answer – This type of accounting is mainly designed for service-based businesses.
Q. Do you think accounting standards are mandatory?
Answer – Accounting Standards are essential in the preparation of a financial report that is accurate and reliable. It is necessary for financial statements to be reliable and relevant.
Last Words
So, above are some of the common interview questions for accountants. We hope you understood all the accounting interview questions and their answer. But don't limit yourself to these questions; there are a lot many questions that can be asked during the interview so prepare for that.
Also, get information about Food, Education, Health, Job, Top 10 things in Vasai, Nallasopara, and Virar region.