Vasai Virar has several Restaurants, and if you are looking for a budget-friendly restaurant in Vasai Virar, then you can stop your search because we have the best restaurant and bar nearby that is perfect for you.
We are talking about Panchvati Kitchen & Bar Vasai. There are a variety of restaurants in Vasai, but the one that fits your budget and is also worth spending is a little difficult.
We have cut the hassle of finding a budget-friendly restaurant and bar in Vasai.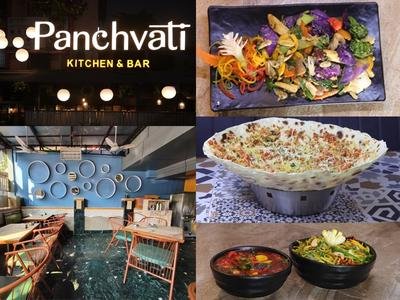 New Look Of Panchvati Kitchen & Bar Vasai
Panchvati hotel has been in Vasai for several years. And many are familiar with its simple and decent outlook. But only a few know that Panchvati Kitchen & Bar has recently been renovated.
Yes! And the new look is a massive surprise for all. The ambiance here is very welcoming, and it has beautiful interiors.
Let us tell you about the seating arrangements here; there are two different types. There is open and peaceful outdoor seating. They also have a bar section in the outdoor seating. You will love the outdoor seating here if you love yummy food in a cool, breezy, and aesthetic environment.
They have spacious, classy indoor seating with AC and TV. The lighting is gorgeous, and the seats are super comfy. The indoor seating has a very royal outlook and is perfect for family dinners, dates, and even celebrations.
Overall this beautiful restaurant in Vasai has a very aesthetic environment where you can enjoy yummy food and click some amazing pictures.
Also Know Most Popular Seafood Restaurant in Vasai-Virar: The Village Koliwada
Staff And Service At Panchvati Restaurant
The restaurant has a group of professional staff. The staff makes sure you have the best dine-in experience. Also, there has to be a special mention of their fast service. No matter how busy the restaurant is, the chefs and the entire staff are prompt with their service.
They have a professional bartender who serves some fantastic drinks and adds his creativity while presenting the drinks. Overall the staff is quite attentive and helps you select the best dishes.
Being polite, attentive, helpful, and supportive best describes the staff here. So, if you have difficulty deciding what to order, you don't have to worry about it, as the staff here will help you through it.
Must Try Dishes
There are various cuisines served at Panchvati restaurant. Not just food but many soft drinks and hard drinks are served here. You will find Mangalorean, Punjabi, Kashmiri, Kolhapuri, Hyderabadi, Malwani, Afghani, and Chinese here.
All the varieties served here are very delicious, but certain dishes are a must-try. Let us list them below,
Cream Of Mushroom Soup
Chicken Tom Yum Soup
Stuffed Mushroom
Paneer Pesto Tikka
Chicken Rozali Kebab
Barbeque Chicken Wings
Mutton Seekh Kebab
Prawns Butter Chilly
Pomfret Tandoori
Mutton Rogan Ghosh
Special mention of the best Mangalorean dishes in Vasai,
Chicken Sukka, Mutton Sukka, or Prawns Sukka with Neer Dosa is an absolute must-try.
This budget-friendly restaurant in Vasai Virar serves Pizzas, Pasta, and Nachos. They serve 8-inch Pizzas, Pasta in Penne and Spaghetti, and Nachos varieties.
List of Top 10 Restaurants In Vasai | Best Restaurant In Vasai 2023
Best Biryani In Vasai Virar
If you love Biryani, you will fall in love with this restaurant in Mumbai. Panchvati Kitchen & Bar has some unique varieties of Biryanis. You can dine in and enjoy your serving or even place an order by the kilo.
The starting price of Biryani by kilo is just Rs.800; per plate, non-veg Biryani starts at just Rs.200, and veg biryani starts at just Rs.210.
Panchvati Kitchen & Bar's amazing taste and filling quantity cannot be compared with any other restaurant in Vasai-Virar as it is so authentic and delicious.
There are both veg and non-veg biryani varieties here. They also provide Biryani by the kilo and give a 10% discount on bulk orders. Some of the must-try Biryanis at Panchvati Kitchen & Bar are,
Paneer Tikka Biryani
Chicken / Mutton Hyderabadi Biryani
Prawns Biryani
If you are a Biryani lover, you must visit this restaurant and try these delicious varieties!
Details
Let us put down the details for your easy access to the best restaurant in Vasai.
Location: Deewan Park Building, Ambadi Rd, Vishal Nagar, Vasai West – 401201
Contact Numbers: 9028966367 / 9579999432
Instagram:
https://www.instagram.com/panchvati.vasai/
Facebook:
https://www.facebook.com/panchvati.vasai/
Google: