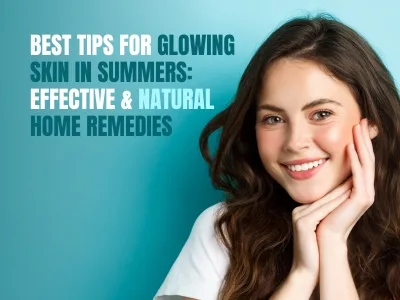 Health Tips: Summer is here and one concern that bothers everyone during summers is their skin health. But, don't stress as we have some of the best tips for glowing skin in Summers and these are quite easy to follow tips that only require your dedication and consistency! That's not it! We even have some very effective and natural home remedies for instant glowing skin.
So, if you were about to plan your summer skin care routine then you have the best tips for your skin health right here!
Maintaining healthy and glowing skin sure is a challenge and this gets even more difficult during Summers. There are a number of skin problems that people experience during Summers like Skin Tan, Acne, Oily Skin, Pigmentation, Sunburn, Rashes, and so on. On top of that, if you do not follow a healthy routine then it makes things worse.
So, it is very important for you to follow the right routine and add certain habits to your day-to-day life.
5 Simple Tips For Glowing Skin
Let us give you 8 simple tips for a naturally glowing skin!
Stay Hydrated
Yes, this tip is not new for you and everybody knows this already but what you do not know is how much water intake is enough for you to maintain healthy skin. Just as drinking less water is not good for your health, drinking too much water is also not good.
As per research you must drink at least 2-3 litres of water daily. Staying rightly hydrated is the best way to maintain healthy and glowing skin.
Sunscreen
Using sunscreen is extremely important not just in Summers but even on a regular basis. A sunscreen with at least SPF 30 or more will provide a very good protective layer from the sun. And the second most important is 'Broad Spectrum', which means that the sunscreen will protect from both UVA and UVB rays. These are the two main factors to look at when selecting a sunscreen.
Exfoliate
It is very necessary to exfoliate your skin at least once a week. Rightly exfoliating your skin will help to reduce tan and also get rid of dead skin cells. Exfoliating gives you baby-soft skin as well. But, ensure to do it right as excessive scrubbing can harm your skin. Let us give you three very simple DIY Scrubs that you can make at home!
Coffee + Coconut Oil Scrub
Honey + Brown Sugar Scrub
Rolled Oats + Yogurt + Coconut Oil Scrub
Please Note: Skincare is very subjective and even though these are all natural ingredients, some ingredients might not suit certain individuals. Make sure to try a tiny amount on your elbow to test whether it suits you or not.
Wash Your Face
Summers tend to make your skin more oily and sticky, which causes dirt and dust to stick on your skin. This further damages your skin and also leads to acne and pimples. So, make sure to wash your face at least twice daily with clean water. This will keep your skin clean and healthy.
Exercise
Post-workout glow is no secret anymore! There is absolutely no comparison to the glow that you get after a good workout. Now you don't have to hit the gym everyday for a vigorous workout session. All you need to do is do any form of exercise at least 3 times a week. Let us give you some different options for working out!
Following these 5 tips for glowing skin regularly will show drastic improvement in your skin. Why not give yourself a 7 days glowing skin challenge and see for yourself how well the skincare tips work.
Home Remedies For Instant Glow On Face
Do you want some quick and easy DIY facepack ideas? We have some that will help you get glowing skin naturally!
Turmeric Facepack
All you need is half teaspoon of turmeric powder, 2 tablespoons of gram flour which is also known as chickpea flour and some milk. Mix them well to make a thick paste and apply on your face and neck. Keep it for at least 15 to 20 mins and rinse clean, you will be surprised with the results.
Cucumber Facepack
Cucumber is known for providing the best cooling and hydrating effect. For this cooling facepack you need to grate a small cucumber and add 2 tablespoons of yoghurt to it. Apply this mixture on your face and neck and leave it for 5-10 min, then wash with cool water and see the magic.
Orange Peel
Oranges are the best when it comes to skincare. For this orange peel face mask you need to grind the orange peel along with rose water. Once an applicable paste is formed, apply it on your face and neck and keep it for around 15 mins. Rinse clean and you will be surprised to see the glow on your face.
These were the easy tips for glowing skin and home remedies for glowing skin. Do follow these steps to see a drastic change in your skin.
For more such beauty and health tips, stay tuned to Vasai Virar News. Also, get daily updates on local news, Bollywood news, education, technology and food.