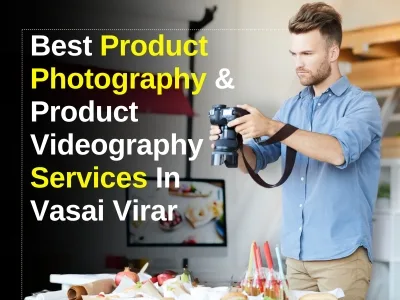 Finding the Best Product Photography & Videography Services in Vasai feels challenging. Not any more! Because Digital Vasai is right here to take your brand's visual presence to another level!
Have you ever stopped to think about the importance of product photography and product videography? Whether you're a retailer, food and beverage business, or service provider, engaging visuals are a key factor in driving your success.
If you're looking to stand out from your competition, you need to understand how product photography and videography can help boost your brand.
Digital Vasai is a digital marketing company in Vasai that provides the best product photography and videography services which helps create a very strong presence for your business on digital platforms.
What Is Product Photography and Videography?
Product photography and videography are visual mediums used to showcase your brand in its best light. Through photos and videos, you can create an impactful, memorable brand narrative that reaches both potential customers as well as existing ones. Whether it's showcasing your products in a creative photo shoot or launching a video content series on YouTube, product photography and videography will capture the attention of people around the world.
Product photography is a great way to showcase the details of your product in the best possible light. It's all about capturing the aesthetic of your product and creating images that successfully draw people in. With photos, you can focus on specific details (such as zooming in on on-brand colours or taking flat-lay shots) to show off what's unique about your product or service.
Videography is more powerful than ever before. Videos allow you to go beyond just visuals—show customers what it's like to unbox their new purchase or use the product they just bought with helpful tutorials they can watch over and over again. Plus, with the advent of platforms like TikTok, you have even more opportunities to reach potential customers with creative videos that tell your story in an engaging way, whether it's mini clips or full-length movies!
Importance Of Product Photography and Videography
Your customers can't really touch and feel your products, so you have to make sure you're conveying that experience in the best way possible. That's where product photography and videography come in. In fact, a study by CXL revealed that 63% of shoppers said they'd spend more on a product with images that showed multiple angles.
Product Photography
Product photography is crucial for eCommerce stores because it helps consumers understand how your product works, how it can benefit them, and why they should choose it over alternatives.
Additionally, you can display pictures of various sizes, colour options, materials, additional features, and more to help customers better grasp what they're purchasing. The key is to capture excellent photos that will effectively market your products and set them apart from the competition.
Product Videography
A product video can be even better than still photos for getting across the points mentioned above—it adds motion to attract attention. It makes it easier for people to recall information about the product even after watching it once. Plus, using video gives customers an up-close view of the look and feel of your products, making them trust your product even more.
By taking advantage of both product photography and videography of Digital Vasai, you'll be able to create visuals that accurately showcase products' features, which will help boost your brand image.
Trends In Product Photography And Videography
Now that you know about the importance of product photography and videography, let's take a look at the trends in these disciplines that are sure to boost your brand.
Animated Product Photos
Videos have become increasingly popular for product photography, allowing brands to showcase their products in action. Animated product photos are also gaining traction, with videos like "explainer videos" and GIFs giving customers a more dynamic view of a product. These tools help breathe life into products and bring them to life, making them more attractive and engaging.
Video Tutorials
Video tutorials are also very popular nowadays, as they provide customers with step-by-step instructions on how to use products or services. This allows customers to feel more confident in their decision-making process and will increase the likelihood of them purchasing a product based on the knowledge they've gained.
Social Media Videos
Finally, social media videos can be used to create brand awareness by showcasing products or services in an interactive way. Videos on platforms such as Instagram, Facebook, and Youtube can help brands engage with target audiences in an entertaining manner while still delivering information about their products or services.
What Types of Product Photography and Videography Services Can You Get At Digital Vasai?
What types of product photography and videography are there to choose from? Well, the possibilities are virtually endless!
Below are just a few examples of their photography & videography services:
Standard Product Shoot: This is where they take basic photos of your products, showcasing them in all of their glory. With this type of photo shoot, it's important to clearly show the features that make your product stand out from your competitors. They mainly focus on highlighting the details of your product.
Model/Lifestyle Photography & Videography: This involves taking photos or videos of people interacting with your products in an authentic way. It's great for conveying emotion and creating an engaging story that helps customers connect with your brand. This also creates trust among the audience as they see an individual interaction with your product.
Video Marketing: Video can be used to showcase your product in greater detail than still images—think tutorials and how-to videos that demonstrate how to use your products in real-life settings. Videos have become increasingly popular among brands looking to engage customers on a deeper level.
No matter which type of photography or videography service you choose, the key is to create content that tells an interesting story about your brand and resonates with your target customers, at which Digital Vasai completely excels. Doing so can really help you boost engagement and stand out from the competition—so don't be afraid to get creative!
Benefits of Hiring Digital Vasai, a Professional Photography and Videography Service Provider
A professional photographer and videographer can help your business in a number of ways! Digital Vasai is known for its top-notch product photography & videography services, and their skills and expertise will benefit you in many ways, some of which are listed below:
Experienced Professionals
They have a team of professional photographers and videographers that bring their experience and expertise to the project, ensuring that every shot is perfect. Hiring an experienced pro means that you're getting top-notch visuals for your brand.
Creativity
Not all photography is alike, and great photography requires a good eye for composition, lighting, colour, and more. Their professional photographers and videographers, along with their creative team, bring a uniquely creative touch to your brand that makes it stand out.
Equipment
Digital Vasai has the latest photography and videography technology available. This ensures that you're getting only the best equipment—no sacrifices here! And when the best equipment is used, the outcome has to be the best.
Quality Control
When you take the photography & videography services of Digital Vasai, you're paying a professional who knows how to get quality video clips or photos. They also have a team for your post-production finishing and editing. So, you do not have to worry about anything, as everything is handled by them, be it production to post-production work. And you get the best quality photos and videos of your product.
What Makes Digital Vasai The Best Product Photographer and Videographer In Vasai?
When it comes to product photography and videography, you want to work with a professional who can accurately represent your brand and product. Here's what makes Digital Vasai stand out:
Experienced Team
Experience speaks volumes, Digital Vasai's team is well-versed in the field of product photography & videography and has provided quality services to a variety of industries. You can look into their portfolio of previous projects and set up a phone call to get a better understanding of how they work.
Photo & Video Quality
High-quality shots are essential—they make your products look professional, attractive, and desirable. It's also important that they're done with consistency, as this will help create trust with customers over the long term. This is exactly what Digital Vasai excels at!
On brand messaging
Digital Vasai's team creates a unique strategy to tell your brand's story. They analyse if there are any special details that need emphasising and aim at taking the best shots that convey the right message. They also explore certain unique angles that best suit your product. The team ensures that the visual storytelling is on point.
The bottom line is this: Investing in experienced, high-quality product photography and videography services is essential for building your brand effectively. Invest in Digital Vasai's photography & videography services as they understand the power of visuals that contribute to your success.
Wondering Where to Showcase Your Product in Photos and Videos?
You have a lot of choices when it comes to showcasing the incredible product images and videos captured, but one of the best places to start is social media. This makes it very easy for customers to view your visuals on a regular basis and provides them with a simple method of disseminating them to their own audience.
Additionally, since the majority of social media platforms provide powerful analysis tools, like the capability to view how many times your content was viewed, engaged with, and shared, you'll gain valuable knowledge about which goods and images captured the attention of your customers.
Showcase It on Your Website
Additionally, you should confirm that your website features your product videos and photos—ideally in the product sections. This will offer potential customers a preview of what to anticipate from your products, and it may even assist them in choosing which ones to buy.
The pictures on your website can also be used for other things, like making gorgeous banners or advertising images for deals and discounts. The possibilities are limitless! In the end, using expert photography and videography services is a great way to ensure that your brand sticks out from the crowd.
Want To Supercharge Your Brand's Online Presence?
Connect with Digital Vasai, The Best Digital Marketing Company
If you are looking to elevate your business's online presence and reach a broader audience, then look no further than Digital Vasai, your one-stop shop for all your digital marketing needs. From social media marketing and promotion to web design and SEO, Digital Vasai has got you covered.
Navigating the world of social media marketing can be overwhelming, but worry not! Digital Vasai offers a variety of packages to fit any budget, ensuring that your brand gets the attention it deserves. Their expertise in social media promotion will help you connect with your target audience and boost your online visibility.
A well-designed website is crucial for any business, and Digital Vasai understands this. They offer affordable web design options, ensuring that your website not only looks great but functions smoothly for your visitors. No more grappling with complex design processes; let Digital Vasai handle it all for you.
But what's a beautiful website without proper visibility? That's where SEO comes in. Digital Vasai's SEO services will help your website rank high on search engine results pages, driving more organic traffic to your site. They focus on both on-page and off-page SEO, optimising your site's structure and building high-quality backlinks.
And let's not forget about technical SEO! Digital Vasai ensures that your website is easily crawlable and indexable by search engines, addressing any potential issues that could harm your rankings. With their technical expertise, they'll ensure that your site is always in tip-top shape.
So, what are you waiting for? Boost your online presence and grow your business with Digital Vasai's comprehensive digital marketing services. Visit their website today and let them help you achieve your online goals.
Contact Info:-
Digital Vasai – Digital Marketing Company
077699 60066
https://maps.app.goo.gl/MfapjJsCUVeHTeZ7A
For more such daily updates and information about local businesses, stay tuned to Vasai Virar News. Also, get information on education, technology, food, and the top 10.