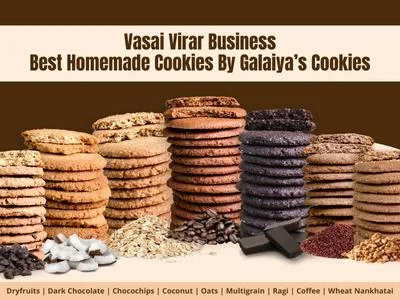 Galaiya's Cookies use only the freshest, highest quality ingredients to create delicious, nutrient-dense cookies that are both satisfying and good for you. They are known for the amazing taste and quality of their cookies.
This best homemade cookies business is run by Mr.Hemal Galaiya, who has been making many homes smile through these sweet treats!
If you are from Vasai Virar, and you haven't tried Galaiya's Cookies, then you are really missing out on one of the most tasty and healthy homemade cookies. And if you think this is a newly started business, you are wrong! Galaiya's Cookies have been delivering their delicious cookies for many years now.
But, do you know what makes Galaiya's Cookies so special? It is their perfect balance of tasty and healthy nutrients. Let us tell you more about the journey of Galaiya's Cookies Vasai.
Know The Journey Of Galaiya's Cookies
Do Galaiya's Cookies use any secret ingredient for their cookies? Well, the magic started many years ago. In 2004, Mr. Hemal Galaiya's mom started making these cookies that are packed with healthy nutrients while being amazingly tasty. Mr. Galaiya wanted to share this joy of eating healthy and tasty cookies with everyone and in 2020 he started this business of making and delivering healthy and the best homemade cookies not just in Vasai Virar but all over Mumbai as well.
And since then, each and everyone who tried Galaiya's Cookies, just cannot feel satisfied enough with any other cookies. Because once you get the best, you just cannot compromise!
Secret Of Tasty Recipe
Wondering how Galaiya's Cookies are both healthy and tasty? Let us tell you about the main factors,
No Maida Used
Only Premium Quality Butter Used
No Artificial Flavours or Colors
No Preservatives
Galaiya's Cookies use only pure whole wheat flour which makes it very healthy for everyone. And the flavours in the taste or even the color of the cookies is through natural ingredients as they do not make use of any artificial flavours or colors. Being a wheat based cookie makes it ideal to add in your routine as a healthy snack.
And the best part is that there isn't just one type of cookie, at Galaiya's Cookies, you will get seven delicious varieties of healthy and tasty cookies. Do you want to know which flavours of best homemade cookies you can get at Galaiya's Cookies? Here you go!
7 Varieties Of Healthy & Tasty Cookies
Dark Chocolate Cookies
If you love dark chocolate, and are looking for a yummy treat made with dark chocolate, then these cookies are perfect for you! Rich in antioxidants and delicious in taste, these dark chocolate cookies will take care of both your cravings and your health.
Coffee Cookies
Here's the best one for all the coffee lovers! These coffee cookies can be the perfect companion of your coffee time or even a perfect switch for your coffee! If you often crave coffee but want to cut-down on the intake or maybe just switch to another option, then these coffee cookies are a must try for you. They will satisfy your coffee cravings and also make you feel energised.
Also, Know About The Famous Vasai Virar Creator Davesh Pokale
Choco Chips Cookies
Chocolate is everyone's favourite and when you add it to cookies it just becomes the perfect treat! These Choco Chips Cookies by Galaiya's Cookies are just the right snack if you often crave for something sweet. Don't binge on unhealthy snacks, instead get these sweet treats that will do no harm to your health.
Multigrain Cookies
Looking for more healthier options? These nutrient packed Multigrain Cookies are perfect for you. You might avoid grains in your regular diet, but you cannot avoid these multigrain cookies by Galaiya's Cookies. They are power packed with nutrients and rich in protein. These cookies are a must add to your diet!
Coconut Cookies
If you love crispy and crunchy cookies, these coconut cookies will fill your heart with happiness. They have just the right amount of coconut that makes it very tasty and you just cannot stop after just eating one!
Ragi Cookies
Ragi is a good source of Vitamin D and if you fail to add it to your diet, here's the best way to add it. Ragi Cookies by Galaiya's Cookies taste so good that you won't believe it being a normal Ragi Cookie.
Oats Cookies
Whether you like having oats or not, one thing we can assure is that you will absolutely love these Oats Cookies. They are higher in fibre and lower in calories which makes it a perfectly healthy snack for everyone.
Best Healthy Snacks For Kids & Adults
These best homemade cookies are the best healthy snack option for everyone, be it kids, adults or even senior citizens. Due to its ingredients it is good for the health and the best part is that all the flavours of cookies are very tasty.
Galaiya's cookies have really made healthy snacking easy for all. And if you think that these cookies might be very costly, they are not!
How To Order Cookies Online?
If you want to order Galaiya's Cookies online, then it is very simple! All you have to do is go to their website mentioned in the details below, check out the flavours and place your order on their WhatsApp. You can even directly give them a call and place your order. Everything is mentioned on their website.
They provide doorstep delivery within three days of your order being confirmed. So place the order for your favourite cookies, sit back and relax as your delicious treats arrive safely at your doorstep.
Details
Website:
Contact No:
97733 96697
Instagram:
View this post on Instagram
Facebook:
https://www.facebook.com/galaiyascookies?mibextid=ZbWKwL
Google:
https://maps.app.goo.gl/MEp4MikWWEYHYpH89
We hope you'll like the Galaiya's Best Homemade Cookies.
For more such details about Vasai Virar Business, stay tuned to Vasai Virar News. Also, stay updated with local news, Bollywood news, technology, and education.