Are you ready to rock your next job interview in your field?
Getting a job isn't easy. You need to do some preparation before you appear for it.
Interview preparation includes being prepared to answer the typical questions employers ask. But what before and during the interview? There are a few Interview Preparation Tips to consider and prepare before appearing in any type of interview.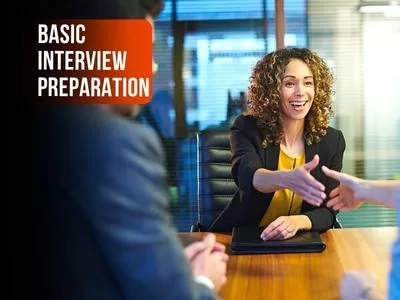 Interview Preparation Tips: Pre-Interview Preparation
The following are some essential steps for pre-interview preparation:
Check out the job description
This tips is one of the major Interview Preparation Tips. Read the job description to understand what the employer is looking for entirely. Pay close attention to the employer's keywords and key phrases to explain their expectations. Interviewers will be more impressed if you can match your skills and qualifications with the job description. The job description may give you clues about the interviewer's possible questions.
Take into account your eligibility for the job.
Consider your experience and qualifications. Ask yourself why you are qualified to do the job and why the employer should hire your skills. Interviewers will be more likely to accept you if you are able to show them how the job fits your career path and what you can bring to the company.
Find out more about the company.
The company's website, social media pages, and employee reviews provide detailed information. Find out about the company's mission and management as well as its work culture. Learn more about the company's products and clients. Learn about the company's most recent revenue and growth prospects. Also, learn about its business plans. Companies' "about us pages" usually contain information about the management. Employment information can be found on the page "Careers" or "Work with Us."
Doing thorough research will make it easier to align your CV with the company's expectations. Doing thorough research will help you align your CV with company expectations. This will allow you to answer any questions about the company during your interview.
Make a list of questions you expect to be asked during an interview.
Prepare a list of the questions you anticipate being asked during an interview.
You will be able to give impressive answers to the questions that allow you to showcase your skills and passion for the job. These are not only questions that you should answer for your position but also common questions.
Please tell me about yourself.
Are you looking to make a career change?
What are you passionate about?
Which are your strengths?
What motivates and inspires you?
In five years, where do you see yourself?
Make a list of common interview questions to help you prepare thoughtful answers. Mock interviews can help you feel more confident and create an environment similar to an interview. Ask friends and family to conduct mock interviews for you. To analyze your performance, consider recording the whole process. You can practice the interview with a mirror if you cannot find an interviewer.
Update your social media profile
Make sure your profile is current if you use LinkedIn, Facebook, Twitter, or other social media platforms. Employers frequently check your social media profiles to gain insight into your personality and background. To see the results of a Google search for your name, Prepare yourself to answer any questions the interviewer may ask about anything that isn't pleasant.
The company sent you a location map. Google Maps also allows you to find directions to the location. You can determine the best mode of transportation based on the distance and time taken to get there. Keep the contact information for the HR department handy in case you need assistance finding the company.
Interview Preparation Tips: Tips to Improve Interview Performance
The following are some essential tips to improve interview performance:
Your interviewer will want to know your passion for the job. Learning about the hospital, nursing home, and company you are applying for is essential. This information will help you determine if the company is right for you. Interviews may ask questions like "How old is the hospital?" or "What are its major divisions?" These questions will allow you to show your sincerity and commitment to the job that you want.
Keep the CV and other documents organized.
Your CV is your declaration of expertise and experience. Your documents are your testimonials. These documents should be organized in a file, starting with the latest and ending with the oldest. This will allow the interviewer to verify the information if necessary. Your organization of documents speaks volumes about how organized you are. An organized file speaks volumes about how you approach work.
This is something we cannot stress enough. Employers across all industries value punctuality. This is a sign of how important the interview is to you. We recommend that you arrive on time for the interview and be there at least 15 minutes early.
Although it may sound cliché, dressing to impress is good for all interviews. Make sure you dress up in formal wear and clean your shoes/footwear. A neatly tied hairstyle is a must for women. Don't forget to make an excellent first impression on the interviewer by how you look.
Soft Skills Are Required For The Interview
Only Interview Preparation Tips won't help you crack the interview. Your soft skills can tell a lot about your personality. Everything is essential and assessed at every interview. This includes your body language, intonation, and how you present yourself. These are the most important things to remember:
Don't play with your pen, file, or hair. This sends a message that you lack confidence and is not a positive trait to convey. Don't be nervous, and don't fiddle with your interview.
Handshake with the interviewer: A firm handshake indicates confidence.
Position: Keep your back straight while balancing your hands on the table. To express your points and opinions, you can use your hands gently to move your fingers.
Be attentive: Take your time answering questions. Listen carefully to the interviewer's questions, then take your time to understand them and then answer fully.
Keep a smile on your face: Everyone wants to have pleasant experience, not just the interviewer.
Expression and pitch: Try to keep your volume down and not be too aggressive, even if you disagree with someone. Your message will be better communicated if you use a calm tone and a low pitch.
If you follow the above Interview Preparation Tips, you can definitely leave a good impression on the employer, which can help you get short-listed.
Also, get information about Job, Food, Education, Health, Top 10 things in Vasai, Nallasopara, and Virar region.