Are you excited to watch Avatar 2: Way Of Water? Do you want to know all the details about Avatar 2? You will find it all right here!
Here you will get to know everything about Avatar: Way Of Water.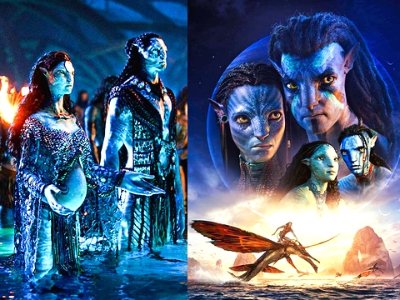 The Longest Film Of 2022?
As per the Censor Certificate, the length of this film is 192.10 minutes which makes its run time 3 hours and 12 mins. James Cameron is not new to making long films. He also makes sure these long hours of watching his movies are worth every minute.
Avatar: Way Of Water is the longest movie of 2022, crossing the run time of the widely enjoyed Telugu film 'RRR' which is 3 hours 2 mins and also the duration of the Tamil film 'Cobra' which is 3 hours 3 mins.
Avatar 2 runtime is just two minutes shorter than Camerons longest film 'Titanic'. Cameron says that the film is much more focused on the story, the emotions, and the relationships.
This long movie is going to be the best visual treat of 2022!
Did CBFC Pass The Film With U/A Certificate?
If this question has been bothering you, here's a detailed explanation. The Central Board Of Film Condition has passed Avatar: Way Of Water with U/A certificate.
The movie had no visual cuts. There were only issues regarding the language and some changes were made for the same. To be precise, around 12 cuss terms are muted so a total of 18 places the abusive words have been muted.
First Reaction Of Avatar 2
There has been a bombard of reactions from various critics and celebrities since they watched the movie at the premier. Their reactions give us a clear idea of how majestic the movie will be. Let us give you some hints of their reactions!
The famous movie commenter Erick Davis, said that the movie is bigger, better, and more emotional that Avatar. He was highly impressed with the visuals and tagged the film as 'Visually Breathtaking'. His tweet was filled with applauding words and expressed how highly impressed he was with the film.
Amanda Salas, the Independent Film Critic called it a 'Cinematic Masterpiece'. She also expressed how the film helps us realise the factors that really matter in our life, directing it to 'family, home, nature, & survival'. Amanda Salas claimed Avatar 2 to be her top film of the year!
Perri Nemiroff, a known movie producer who has been a part of Collider since 2012, said that she was already expecting that James Cameron will be raising the bar but still the visuals highly impressed her. She called the visuals to be 'Mind Blowing'.
Germain Lussier said the action scenes to be the most impressive and he specially applauded the performances of the Kids. He called the film 'Visually Stunning and Emotionally Overwhelming'.
Majority Of Avatar 2 Scenes Were Shot Underwater!
James Cameron has been a diehard sea lover. He wanted to make Avatar 2 look visually fantastic. James Cameron and his team created special cameras to shoot underwater. They teamed up with Weta Digital for the creation of the digital characters and environment as well as post-production enhancement. Reportedly 800 digital characters were created.
As Cameron wanted to make the film as real as possible, the majority of the scenes were shot underwater. Many actors had to practise holding their breath underwater for months prior to the shoot. Kate Winslet even set a record of holding her breath underwater for a whole 7 mins which is commendable.
All the actors had to work very hard to do justice to the underwater scenes. Not just the actors but the whole crew had to make sure the scenes looked perfect. From creating a special camera just for the film to teaming up with Weta Digital, James Cameron left no stone unturned making this film the most beautiful experience not just for the team but for the audiences as well.
Avatar 2: Way Of Water Box Office Collection
'Avatar: Way Of Water' is the sequel to Avatar, 2009. Everyone is super excited to witness the sequel almost after 13 years of Avatar's release.
In 2009, Avatar was a huge commercial hit! It has become the first film to cross 2.9 billion at the Global Box Office. And now Avatar 2 is on its way to create another milestone.
Avatar: Way Of Water pre booking opened on 22nd November, 2022. And the film has already crossed 2 crores in just its pre-booking in India! There have been lakhs of Avatar 2 tickets sold already.
Avatar: Way Of Water's box office collection will surely create history!
Avatar 2: Way Of Water Budget, Release Date, & Cast
Avatar 2 is expected to be the fourth highest grossing movie in history with an estimated budget of 350-400 million dollars. James Cameron is known for creating the most expensive movies. And there's no surprise that Avatar: Way Of Water will make history. The shoot itself took 3 years to complete. Everyone has been wondering why Avatar 2 took so long to release. But when you look at the whole process of shooting and the money invested, your question will be answered.
Avatar: Way Of Water is a high budget film and it will surely get Cameron his money back as he always has. The smart move that Cameron played was to shoot both Avatar 2 and Avatar 3 together. Given the amount of time it took for Avatar 2 to get started, this was a super move by Cameron.
Avatar 2 release date is 16th December 2022. The audience are grabbing every opportunity to get their spot among the pre-booked tickets. Avatar showtimes are from early morning to late night shows.
This masterpiece directed by James Cameron has a huge cast with a set of amazing actors. Avatar characters are amazingly designed.
The Avatar 2 movie cast includes: Sam Worthington, Zoe Saldana, Sigourney Weaver, Stephen Lang, Kate Winslet, Cliff Curtis, Joel David Moore, CCH Pounder, Edie Falco, Brendan Cowell, Jemaine Clement, Jamie Flatters, Britain Dalton, Trinity Jo-Li Bliss, Jack Champion, Bailey Bass, Filip Geljo, Duane Evans Jr., Giovanni Ribisi, Dileep Rao, Matt Gerald, Robert Okumu, Jennifer Stafford, Keston John, Kevin Dorman, Alicia Vela-Bailey, Sean Anthony Moran, Andrew Arrabito, Johnny Alexander, Kim Do, Victor Lopez, Maria Walker,
Phil Brown, Jocelyn Christian, Joel Tobeck, Moana Ete, Phil Peleton, Jamie Landau, Jim Moore, Benjamin Hoetjes, Nikita Tu-Bryant, Anthony Ahern, Shane Rangi, Rick Lucas, Tanya Drewery, Ava Diakhaby, Isaac Te Rina, Eric Farmer, Philip Mtambo, Daniel Lough, Cruz Moir, Alex Lucas, Scarlett Fernandez, Chloe Coleman, Jeremy Irwin.
So, when we say the movie is huge, we mean it! And not just for the movie and its cast, but also for its success. Avatar: Way Of Water is going to be a huge success and there is absolutely no doubt in that.
Have you pre-booked your Avatar 2 tickets? If not, hurry up! This movie is a must watch in theatres and missing out on this one will make you regret it.
Stay tuned to Vasai Virar News for such daily news and movie updates.
Also, get information about Food, Education, Health, Jobs, Entertainment, and the Top 10 things.