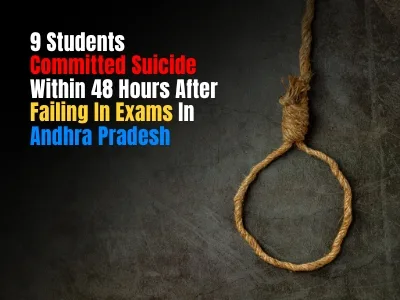 Andhra Pradesh News: Recently, 9 students committed suicide within just 48 hours after failing in the winter exams in Andhra Pradesh. It has left everyone shocked as so many students died within 48 hours. It all happened after their results were disclosed.
This Andhra Pradesh shocker is quite in the talks as it is questioning the pressure that the education system has on our students. Is this amount of pressure right? Where is the education system going wrong? Everyone is lifting many such questions with regards to all the suicide cases of students who died due to their results or the pressure of exams.
Here's Why The 9 Students Committed Suicide In Andhra Pradesh
On Wednesday, 26th April, the results of the intermediate examinations held in March-April, in Andhra Pradesh were declared. These nine students couldn't handle the pressure of a bad result and committed suicide.
It is very shocking to know that back to back 9 students committed suicide due to their results. Since the results were declared on Wednesday within just 48 hours as many as 9 students commit suicide which is very sad. Here are the names of the students who committed suicide in Andhra Pradesh.
Jagannatham Vani : This 17 year old first year student failed in one of her subjects. She committed suicide by hanging herself to the ceiling fan of her hostel bedroom when all her classmates and roomates left for class.
Akhilasree : Just 16 year old first year student hanged herself and committed suicide due to failing in some of her subjects.
Jagadeesh : This second year student, 18 years old, hanged himself in his own residence as he failed in one of his subjects.
Anusha : 17 year old student killed herself by jumping in a lake in Chittor district. She was depressed due to her results.
Babu : Second year student, committed suicide by intaking pesticides as he couldn't clear his intermediate second year exams. He was just 17 years old, from Chittor district.
Kiran : This 17 year old student hanged self for securing very low marks in his intermediate examination.
Tarun : This student was again just 17 years old and failed in a few of his subjects. He was very disheartened and jumped in front of a running train to kill himself.
Mahesh : Hanged himself for not being able to clear his exams. This student was just 17 years old.
Shaikh Jaan Saida : Just 16 years old student committed suicide by hanging on a ceiling fan.
This news is still quite difficult to process as so many students have committed suicide due to their results.
Vasai Virar Mahanagarpalika Took Action Against Roadside Handcarts
Increasing Suicide Cases Of Students Due To Academic Pressure
Are marks so important? Is a non-satisfactory result worth a student's life? Are exams more important than life?
Many such questions are crossing everyone's mind after reading this news. The most important question is that is our Education system logging somewhere? Are schools and colleges failing to help their students understand that exams are important, marks are important but not more than their life.
Failing in a particular subject or an exam should not lead the students to commit suicide. Nowadays, suicide is becoming very common and this is raising a huge question mark on the mental health of the people. There has to be certain steps undertaken to manage the academic stress of students.
Schools and colleges should make sure to direct special attention and guidance on each and every student's mental health. Helping the students understand the importance of education and exams is being done but what about failures? It is very crucial in today's time to make students understand that failing is not the end. You can always try again.
Let's hope for Schools and Colleges and the whole education system give special attention to the student's mental health.
To stay updated to daily news stay tuned to Vasai Virar News. Also, get all updates about technology, education, food and top 10.