With the release of its most recent artificial intelligence (AI) platform, Amazon has once again set its eyes on revolutionising the world of technology. As we dive into the details of this ground-breaking innovation, we'll explore how Amazon's newest offering aims to revolutionise industries, empower businesses, and create exciting opportunities for AI enthusiasts and developers alike. So, buckle up and join us as we uncover the potential of this game-changing platform and what it means for the future of AI.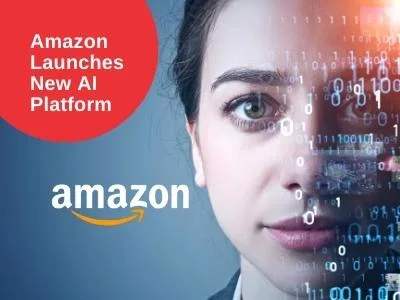 What Is Amazon Artificial Intelligence?
Amazon Artificial Intelligence better known as AI refers to a group of tools and services related to artificial intelligence (AI) along with machine learning (ML), provided by Amazon Web Services (AWS), the cloud computing platform of Amazon.com Inc. These services enable businesses, developers, and data scientists to build, train, and deploy intelligent applications and solutions without requiring deep expertise in AI or ML.
Some of the key Amazon AI services and tools include:
Amazon SageMaker: A fully managed service that simplifies the process of building, training, and deploying ML models at scale, allowing developers to quickly create and optimize custom ML algorithms.
Amazon Comprehend: A natural language processing (NLP) service that uses ML to analyze text and extract insights about entities, key phrases, sentiments, and more.
Amazon Rekognition: A deep learning-based image and video analysis service that can identify objects, people, scenes, and activities, as well as detect and analyze faces in images.
Amazon Lex: A service for building conversational interfaces, such as chatbots, using voice and text, powered by the same deep learning technology that underpins Amazon Alexa.
Amazon Polly: A text-to-speech service that converts text into lifelike speech using advanced deep learning techniques.
Amazon Forecast: A fully managed service that uses ML to generate highly accurate forecasts based on historical data, helping businesses make better, data-driven decisions.
These services, among others, empower organizations to harness the power of AI and ML, enhancing their products, automating processes, and driving innovation across various industries.
What is Amazon AI name?
Amazon's most well-known AI-powered virtual assistant is called Alexa. Alexa is an intelligent voice assistant that can perform various tasks, such as answering questions, playing music, setting alarms, controlling smart home devices, and more. Alexa is integrated into several Amazon devices, including the Amazon Echo line of smart speakers, Fire TV, and some Kindle devices.
In addition to Alexa, Amazon has a range of AI and machine learning services under the Amazon Web Services (AWS) umbrella, as previously mentioned. These services, such as Amazon SageMaker, Amazon Lex, and Amazon Rekognition, are designed for developers and businesses to build and implement AI-powered solutions into their applications and infrastructure. However, these services are not named as a single AI entity like Alexa.
What Is Bedrock Service?
Bedrock is a term used to describe fundamental, foundational, or core services in various contexts. However, if you're referring to Bedrock in the context of technology or cloud services, it likely refers to Bedrock: The Cloud Foundation Service by VMware.
VMware Bedrock is a fully managed infrastructure service that enables organizations to modernize their applications, infrastructure, and operations. Bedrock provides a consistent, secure, and reliable platform for deploying, managing, and scaling applications across private, public, and edge clouds. It is designed to simplify the management of hybrid and multi-cloud environments and help organizations accelerate their digital transformation journey.
Bedrock encompasses various VMware technologies, such as VMware Cloud Foundation (VCF), VMware Tanzu, and VMware NSX, to deliver a complete and unified infrastructure platform that integrates compute, storage, networking, and management components.
What is Amazon.com Inc.'s (AMZN.O) Cloud?
The cloud computing platform supplied by Amazon.com, Inc. is called Amazon Web Services (AWS). AWS offers a vast array of services, including content distribution, databases, and computing power, among others. By enabling them to create, distribute, and administer applications and services in the cloud, these services assist companies and organisations in scaling and growing. AWS is a well-liked option for enterprises of all sizes across all industries because of its flexibility, security, and affordability.
How Is Bedrock Related To Amazon AI?
Bedrock is an AI system developed by Amazon. It is intended specifically to assist Amazon Web Services (AWS) users in more effectively developing, deploying, and managing machine learning models. By automating several machine learning processes, including feature engineering, model selection, and data pre-processing, Bedrock attempts to streamline the development process. This allows AWS users to focus on the core aspects of their machine learning projects while Bedrock takes care of the underlying complexities.
How Does The Amazon Artificial Intelligence Platform Work?
The secret to comprehending Amazon artificial intelligence (AI) platform is its capacity to recognise and respond to millions of intricate data patterns. The platform has access to a vast amount of organised and unstructured data, allowing it to learn from the past and apply that knowledge to the present and future to solve problems.
Using natural language processing, it can process large volumes of information quickly, accurately identify potential solutions, and take action accordingly. Additionally, it's able to make decisions based on the context of the query and its relevancy to certain topics and contents.
The platform also has the ability to continually adjust its parameters over time, making it smarter each time it processes an operation or task.
Features and Benefits of Amazon Artificial Intelligence Platform
Amazon Artificial Intelligence Platform is ideal if you're looking for a way to advance your company. The goal of this innovative and potent platform is to make it simpler than ever for companies of all sizes to utilize AI.
This platform offers a wide range of features and benefits, including:
Deep learning capabilities that allow you to develop complex AI solutions
comprehensive library of pre-trained models that can be used for a variety of tasks.
automation of repetitive tasks, allowing you to free up valuable time for other projects.
Seamless integration with AWS cloud services allows you to quickly deploy and update your AI applications.
affordable pricing structure that allows businesses at any budget level to get access to this powerful technology.
Whether you want to automate mundane tasks or develop advanced AI solutions, Amazon Artificial Intelligence Platform can help you achieve your goals. With its deep learning capabilities, vast library of pre-trained models, automation features, and cost effectiveness, it's no wonder why this is the clear choice when it comes to AI platforms.
Challenges and Opportunities for Amazon's AI Platform
Are you ready to take advantage of the myriad opportunities available with Amazon's new AI platform? You'll need to keep a few things in mind first.
Amazon's new platform brings with it a number of challenges, including managing data and computing resources, understanding what customers want and need, providing personalised customer service, and ensuring security. But these challenges also bring opportunities. Managing data and computing resources can allow for cost savings and improved efficiency. Understanding customer desires can lead to a better customer service experience. And strong security protocols allow for greater customer trust.
The opportunities presented by Amazon's new AI platform are immense.
Increased scalability: Amazon artificial intelligence platform allows businesses the flexibility to scale quickly by leveraging the existing infrastructure. You can use Amazon's present systems for your needs, so you won't have to worry about making costly hardware or software modifications as your company expands.
Advanced analytics: Companies can swiftly analyse vast volumes of data using Amazon's AI platform, and then use the insights to make better decisions faster than ever. Businesses can obtain important insights about the preferences, actions, and interests of their customers in order to develop marketing campaigns that are more successful or to customise particular goods or services to better satisfy client needs.
Cost savings: By using amazon artificial intelligence platform, businesses can reduce upfront costs by avoiding costly software and hardware investments, as well as benefit from reduced maintenance costs due to the automated nature of the system. Additionally, businesses can optimise their cost-per-customer ratio by leveraging the cloud storage options provided through the platform and avoiding hefty upfront investments in physical storage capacity or associated maintenance fees.
What to Expect From Amazon AI Platform?
Are you curious what you can expect from Amazon's new AI platform? With AWS DeepLens, Amazon has created a powerful amazon artificial intelligence platform that can be used to develop, train, and deploy deep learning models quickly and easily. Here's what you need to know:
AI-Enabled Computer Vision
You must first realise that computer vision will be the foundation of the new AI platform. With the use of this technology, the platform will be able to recognise things in pictures and videos without the need for manual input from developers, making it simpler for them to make more accurate applications.
Advanced Machine Learning Capabilities
The AI platform will also include advanced machine learning capabilities, enabling programmers to create more intricate apps using advanced algorithms and potent data processing tools. This means developers can build applications that can accurately recognise objects in images and videos, detect patterns in data sets, generate insights from audio and video recordings, and more.
Cloud-Based Services
The amazon artificial intelligence platform will additionally provide cloud-based services that let programmers control their applications from any device with an internet connection. This enables developers to swiftly scale their applications up or down in accordance with their demands without worrying about hardware deployment or maintenance.
Amazon's new AI platform is sure to revolutionise how developers create and deploy applications using artificial intelligence technology. With its powerful computer vision capabilities, advanced machine learning algorithms, and cloud-hosting services for easy scalability, the possibilities are endless for this revolutionary technology.
What Is New Cloud Tools?
While it's challenging to cover all the latest cloud tools, some notable recent additions and updates across these platforms include:
AWS DevOps Guru: This managed operations service uses machine learning to automatically detect operational issues and recommend specific actions to resolve them, helping improve application availability and performance.
Amazon Lookout for Metrics: This fully managed anomaly detection service helps businesses proactively monitor their data, identify anomalies, and diagnose root causes with minimal user intervention.
Azure Purview: A unified data governance service that helps organizations discover and manage their data across on-premises, multi-cloud, and SaaS environments.
Azure Communication Services: A set of APIs and SDKs that enable developers to easily add voice, video, chat, and SMS capabilities to their applications, using the same secure infrastructure that powers Microsoft Teams.
Google Cloud Vertex AI: A managed machine learning platform that brings together Google's AI tools and services, simplifying the process of building, training, and deploying machine learning models.
Google Cloud Workflows: A fully managed service that helps developers build, deploy, and manage serverless workflows to orchestrate various Google Cloud services, APIs, and SaaS applications.
Also, Know 35 AI Marketing Tools
What is Microsoft-Backed OpenAI?
Microsoft-backed The partnership between Microsoft and OpenAI, a business that conducts artificial intelligence research, is known as OpenAI. OpenAI was established in December 2015 by Elon Musk, Sam Altman, and other well-known people in the IT industry to ensure that artificial general intelligence (AGI) benefits all of humanity.
In July 2019, Microsoft and OpenAI jointly declared their collaboration and a $1 billion investment in OpenAI's research and development initiatives. OpenAI agreed to use Microsoft Azure as its primary cloud platform as part of the partnership. The association wants to enhance AI research and develop new technologies that could have a big social impact.
The well-known language model GPT-3, developed by Microsoft and OpenAI as part of their partnership, is one of the most sophisticated natural language processing models currently on the market. By guaranteeing that these technologies are secure, moral, and available to a variety of businesses and people, the collaboration seeks to hasten the development of AI.
Conclusion
The introduction of Amazon's new artificial intelligence platform will undoubtedly have a significant effect on the tech industry. By enabling us to speak to our devices in plain language and basing our judgments on intricate computations, it has the potential to completely transform the way we interact with technology. Additionally, it will give companies new opportunities to leverage AI solutions to further streamline their processes. The world is prepared for a new era of innovation and advancement with the use of Amazon's platform.
For such trending blogs and trending news stay updated with Vasai Virar News.