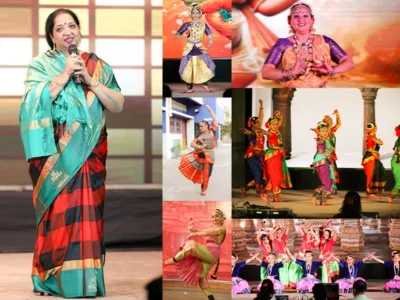 In Vasai-Virar, an artistic gem has been thriving for over 25 years, nurturing the timeless art form of Bharatanatyam. Abhinayaa Institute Of Research & Fine Arts, the brainchild of Guru Dr. Chitra Vishwanathan, has not only upheld the traditions of this captivating dance style but has also become a symbol of excellence and artistic expression.
With ISO-certified courses, certified examinations, exquisite costumes, and remarkable opportunities for national and international performances, this institute has truly carved a niche for itself in the realm of dance education and is one of the best Bharatanatyam Dance Classes in Vasai-Virar.
Guru Dr. Chitra Vishwanathan
Guru Dr. Chitra Vishwanathan, a renowned name in the world of Bharatanatyam, has been imparting her knowledge and expertise for over two decades. Her journey in dance began at the tender age of 4, when she embarked on her quest to master Bharatanatyam, along with several other dance forms. With a prestigious career spanning years of dedication, she has become a beacon of inspiration for many who aspire to become successful Bharatanatyam dancers.
Under the guidance of Guru Dr. Chitra Vishwanathan, more than 250 students have had the privilege of completing their Arangetram. Her commitment to nurturing the potential within each student has resulted in the training of over 3000 individuals who have gone on to achieve remarkable feats in the field of dance.
Guru Dr. Chitra Vishwanathan's contributions to the art form have been acknowledged through numerous accolades and awards. She has been honoured with the prestigious Savitri Bai Phule award, recognizing her exceptional dedication and significant contributions to the field of dance. Additionally, she has been bestowed with the esteemed title of GURU by Bharat Vikas Parishad, further solidifying her position as a respected mentor and teacher.
The achievements of Guru Dr. Chitra Vishwanathan extend beyond recognition and awards. Her true impact lies in the transformation she brings to her students' lives, instilling discipline, perseverance, and a deep appreciation for the art form. Through her guidance, she imparts technical proficiency and nurtures a sense of passion and artistic expression in each of her students.
As a beacon of knowledge and inspiration, Guru Dr. Chitra Vishwanathan continues to shape the future of Bharatanatyam, producing talented dancers who embody the essence and grace of this ancient art form. Her legacy serves as a testament to her unwavering dedication and the profound impact she has had on the dance community.
ALSO KNOW | Best Product Photography & Product Videography Services In Vasai Virar
'Nache Mayuri' Fame Sudha Chandran & Guru Dr. Chitra Vishwanathan
In addition to her teaching and mentoring roles, Guru Dr. Chitra Vishwanathan has also made significant contributions as a choreographer. One of her notable collaborations has been with the renowned dancer and Actress Sudha Chandran. With her keen artistic vision and deep understanding of classical and semi-classical dances, she has choreographed a multitude of Sudha Chandran's captivating performances.
Her choreographic expertise, combined with Sudha Chandran's exceptional talent, has resulted in the creation of classical and semi-classical dance pieces that leave a lasting impression.
Sudha Chandran has also performed in a few of the Annual Celebration and shows organised by Abhinayaa Institute. Many students of this institute have had the beautiful opportunity to share the stage with the Nache Mayuri fame Sudha Chandran.
Preserving Tradition and Promoting Excellence
Abhinayaa Institute Of Research & Fine Arts stands as a bastion of tradition, striving to preserve and promote the essence of Bharatanatyam. Founded over two decades ago, the institute has been dedicated to imparting this ancient dance form's profound knowledge and grace. Led by seasoned dance instructors, the institute has cultivated a strong foundation of expertise and has produced numerous skilled dancers who have brought glory to the art form.
Certified Bharatanatyam Courses At Abhinayaa Institute
At Abhinayaa Institute, there is a wide range of certified Bharatanatyam courses from beginner level to advanced level. Let us name a few of their courses,
Prarambhik
Prathamik
Nrithya Prabha
Nrithya Visharad
Nrithya Alankar
Special Training For Arangetram
They also provide short-term Bharatanatyam Courses where you can complete your certified Bharatanatyam course quickly and with flexible timings.
ISO-Certified Courses and Certified Examinations
What sets Abhinayaa Institute apart is its commitment to providing a structured curriculum that adheres to international standards. With ISO certification, students can be assured of a comprehensive and well-rounded learning experience. The courses are designed to cater to dancers of all levels, from beginners to advanced practitioners. Additionally, the institute conducts certified examinations, ensuring that student's progress is recognized and validated by esteemed examiners.
Exquisite Bharatanatyam Costumes and Jewellery
One of the hallmarks of Abhinayaa Institute is its unwavering dedication to detail and aesthetics. The institute takes great pride in offering the finest Bharatanatyam costumes and jewellery in Vasai-Virar. Adorned with intricate designs, these costumes are meticulously crafted to enhance the grace and beauty of the dancers. The exquisite jewellery adds a touch of authenticity, allowing students to immerse themselves in the cultural richness of the dance truly.
Opportunities for National and International Performances
At Abhinayaa Institute, the learning experience goes beyond the classroom. The institute actively provides opportunities for its students to showcase their talent on both national and international stages. Through carefully curated events, festivals, and competitions, students get the chance to perform and gain exposure, nurturing their artistic growth and confidence. Such platforms not only instil a sense of pride but also inspire the dancers to strive for excellence.
Examination Affiliation Opportunities For Bharatanatyam Teachers
Guru Dr. Chitra Vishwanathan has opened opportunities for all Bharatanatyam teachers who wish to provide recognised certification to their students. They have started an examination affiliation program where Bharatanatyam teachers can let their students give exams and get recognised certification from Guru Dr. Chitra Vishwanathan. These certifications also help the students to win extra marks in their 10th grade.
Whether you are a new teacher or face limitations in providing recognized certifications, this program offers tremendous advantages. By joining forces with Guru Dr. Chitra Vishwanathan, teachers can ensure their students receive comprehensive benefits and recognition while mastering this cherished art form.
Community and Cultural Impact
Abhinayaa Institute has made a significant impact on the local community and the cultural landscape of Vasai-Virar. By promoting Bharatanatyam and organising cultural events, the institute has helped to preserve and enrich the artistic heritage of the region. The students, empowered by their dance education, have become ambassadors of this classical art form, spreading its charm far and wide.
For more than 25 years, Abhinayaa Institute Of Research & Fine Arts a Vasai Virar Business has been a beacon of excellence in the field of Bharatanatyam dance education. Through ISO-certified courses, certified examinations, exceptional costumes, and remarkable performance opportunities, the institute has nurtured and elevated the talents of countless dancers. As it continues to inspire generations, Abhinayaa Institute remains an invaluable institution, safeguarding the elegance and grandeur of Bharatanatyam in Vasai-Virar and beyond.
Get In Touch With Them,
Contact Number: 9175368128 / 9561196290
Instagram:
Facebook:
Google: https://maps.app.goo.gl/vG47yFqctvJeYhVf6
If you wish to know more about Vasai-Virar Business, stay connected with Vasai Virar News.